Contractor charged in 'Big Dig' fraud
By Chris Sleight24 June 2008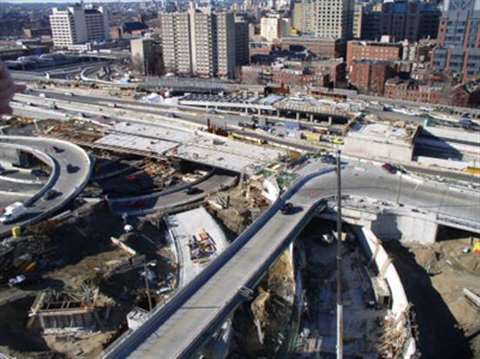 The US Attorney's Office in Massachusetts has filed 49 federal charges against Modern Continental Corporation (MCC) in connection with its work on the Central Artery/Tunnel (CA/T) project - the Big Dig' - in Boston. It is alleged that the company knowingly used substandard materials and forged documentation, and that this contributed to an accident in 2006 in which a motorist was killed.
The list of allegations against MCC is a long one. First, the US attorney's office says that when the company built a series of diaphragm walls, it did so knowing below-specification concrete was being used, and that it faked certificates to cover this up.
On 15 September 2004, one of these walls blew-out, causing huge traffic delays, but ironically, the Attorney's office said it was this incident that alerted it to the problem and "numerous other un-repaired defects in the slurry (diaphragm) walls built by MCC."
MCC is also charged with using substandard materials and issuing false certificates in relation to ceiling supports on a section of the I-90 tunnel. This section uses concrete panels anchored by epoxy resin. The US Attorney's office alleges the epoxy used was not suitable for long-term applications, and that MCC knew this and again issued false certificates to cover its tracks.
On 10 July, 2006 a ceiling panel anchored with epoxy collapsed, killing a motorist that was driving through the tunnel.
It is also alleged that MCC over-billed the client. It was paid on a time and materials basis, and extracted extra money by classifying apprentices as skilled workers that were billed at a higher hourly rated. The US Attorney says this added up to hundreds of thousands of Dollars.
MCC is also charged with wire fraud because it was paid electronically for these alleged frauds. If convicted on all counts, MCC faces criminal fines of up to US$ 0.5 million and payment of compensation.
Chapter 11
MCC was not available for comment on the charges, although it has been reported locally that a company spokesman has described the charges as "completely unfounded and without merit."
It has also been reported that the company has filed for protection from its creditors under US Chapter 11 bankruptcy laws.