Contractor finds 'dream' machine after 20 years
A United Kingdom-based contractor has described his new JCB 220X as the "the perfect demolition excavator" after 20 years of searching for a model combining size, stability, and breakout force.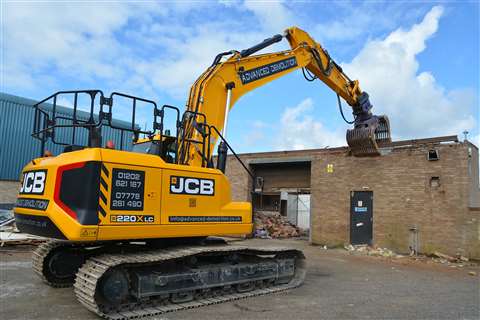 Advanced Demolition, which operates from Dorset in the south of England, bought the new JCB 220X for projects across the county, including private residential work in the prestigious Sandbanks area of Poole.
Supplied by dealer Holt JCB, the excavator has also been put to use on commercial applications including the demolition of a factory – completing the entire project from the initial asbestos removal, through to clearing the site.
The reach on the JCB 220X enabled Advanced Demolition to cut out steel uprights, trusses and purlins without disturbing the three external walls at risk of collapse.
"I have worked in demolition for the past 27 years," said owner and director Brian Hanford.
"And I've never truly found an excavator in this size range that has the stability and grunt of the traditional, purpose-built demolition machines that used to be available – until now. It has the perfect combination of size, weight, power, stability and ripping force."
"We have already put 200 hours on the clock and it has been perfect since day one. Fuel consumption is even lower than expected."