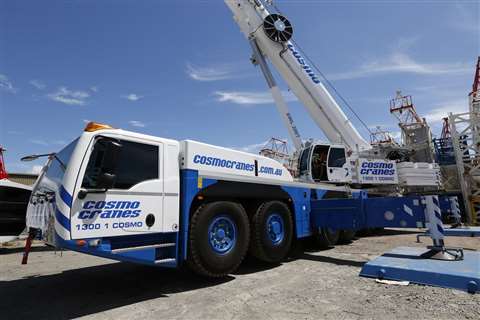 Two new Demag all terrain cranes just added to the Cosmo Cranes mobile crane fleet in Sydney, Australia, were put straight to work.
Cosmo commissioned a 300 tonne capacity AC 300-6 and a 130 tonne AC 130-5. Both have the latest IC-1 Plus control system.
Josh & Jonathan Handley, Cosmo Cranes owners, said, "Over the last 16 years we've built a reputation on being experts in our field by performing quality work safely. The machinery we use, as well as the distributors and manufacturers we choose to partner with help us get to where we are today."
The five axle 130 tonner has 60 metre boom and a maximum system length of 86.5 metres. On the larger AC 300-6 the carrier is six axles, the main boom is 80 metres and maximum system length is 119.9 metres.
Cosmo Cranes was established in 2003 and offers, among other things, tower crane and plant equipment, crane sales and generator hire.