Costain brings autonomous vehicles to UK
By Thomas Allen04 October 2017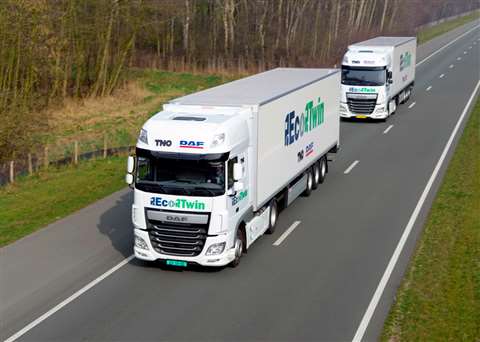 Costain, which specialises in technology-based engineering solutions, will be bringing its experience to bear on the UK's first heavy goods vehicle (HGV) platooning trial.
The company will be working in partnership with a group of other businesses, headed by TRL (Transport Research Laboratory), the global centre of innovation and transport mobility.
Platooning enables a group of vehicles to synchronise their accelerating, braking and steering by communicating with one another wirelessly, effectively operating as a single unit.
The Department for Transport and Highways England will be funding the first UK trial, in which three HGVs will travel in a convoy controlled by the lead vehicle.
Each of the three lorries will have a driver ready to take control at any time.
This pilot is intended to determine the viability of autonomous driver technology, looking at whether fuel efficiency can be reduced while improving traffic flow and road capacity. The commercial case for adopting such technology will also be considered.
It is hoped that the trial will promote a better understanding and greater acceptance of the concept among road users, before mapping out potential future infrastructure considerations.
Costain will not only advise on technology solutions for the trial, but it will also be in charge of risk management and will develop the safety case for platooning.
Simon Ellison, Costain sector director, highways, said, "We have a strong track record of deploying technology-based engineering solutions to the UK's road network and we will support this innovative pilot with our unique skillset and expertise."
The £8.1 million (€9.13 million) trial, which will form part of logistics provider DHL's operations, is expected to take place in 2018, following the completion of a programme of driving simulations, driver training and test track trials.