Country report: Access in Australia
By Euan Youdale13 October 2020
Australia has a thriving aerial platform market, beset with a unique range of challenges. AI talks to some of the key companies in the country.
The Australian aerial platform market is well-developed and comes with a strong safety culture, matched by strict standards, comparable in requirements to Europe's EN and the US's new ANSI standards.
While the market in Australia for aerial platforms, or elevating work platforms (EWPs) as they are commonly known in the country, can be considered a mature one, it has seen strong growth over the last decade to bring it up to that level. According to Doug Rawlings, president of the Elevating Work Platform Association of Australia (EWPA) and state manager in Western Australia for United Forklift and Access Solutions, the estimated number of platforms in Australia in 2011 was 28,000, growing to 45,000 in 2016 and an impressive 60,000 units in 2020.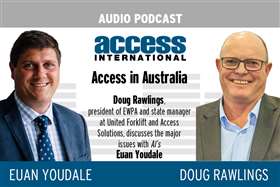 Listen to the podcast interview with Doug Rawlings, about Covid-19 and rental in Australia
EWPA has 400 members, and as a not for profit association is active in supporting the industry through a range of services. They include the EWPA Operator Licence Training Program, which leads to the EWPA Yellow Card for those operators who pass their product-related course. The Good Practice Guide for Mobile Elevating Work Platforms was launched in January 2020, while the new MEWP Supervisor course has just been rolled out to a number of Tier 1 construction companies. EWPA has also recently launched a new website, following the rebranding of the association in 2019.
The association is backed by stringent standards, namely the AS1418.10-2011, supported by the safe use standard for operators and maintenance, AS 2550-10: 2006. During the Covid-19 pandemic, EWPA has also been instrumental in ensuring the government recognises the access rental industry, which, in turn, has played an important role in providing equipment to essential services.
Construction survival
As Rawlings explains, with the appearance of Covid-19, the economy took an inevitable hit, with some industries impacted more than others.
The construction sector continued with a relatively small reduction in output, however, of about 5%. In turn, explains Rawlings, the access rental industry, servicing that sector, was not catastrophically affected either, losing around 5% to 10 % of business. "The construction industry put in place stringent safety measures early on and the government sees construction as a vital lifeline to the economy."
At United Forklift and Access Solutions utilisation also declined by 5%-10% in most Australian states in March and was lower than expected through to May. However, sales of new machines into the market suffered a sharp decline.
Before Covid-19 added its challenges to the mix, Australia had its own set of hurdles. As Dan Goodfellow, group manager, products, at Australia's largest generalist rental company Coates Hire, explains, lead times for EWPs have always been a problem, particularly if you require custom branding and specifications on your machines. With 8,400 aerial platforms in the Coates fleet, Goodfellow is well versed on the subject. "Having product coming from the US or Europe would average four to five months, currently longer."
The problem has been eased in recent years by those major US and Europe-based manufacturers that now have global production facilities in China, meaning delivery times have been reduced.
Selling used fleet can also prove problematic, Goodfellow adds. "Australia is a small market, so selling machines into your own market sees the machines then compete against you, and normally at cheaper rates. We move all our second-hand equipment offshore, which is always a difficult process with sometimes unknown sales results."
Adding to the list of challenges is the servicing of equipment. With Australia being close to the size of Europe, manufacturers can find themselves stretched when it comes to providing service and support across the whole country. "This is why we partner with suppliers that have a strong service presence in Australia," explains Goodfellow.
Another generalist rental company, which also has a major access fleet, of around 2,000 units, is Kennards Hire. It saw a downtown in business of about 10% across the group during the height of the Covid-19 pandemic.
Tony Symons, general manager of product and procurement at Kennards, says the combination of Australian bushfires, which were rife in the summer months and Covid-19 saw the delay or cancellation of many festivals, major events and infrastructure projects. Pre-Covid-19, Kennard's access business was increasing around 15% year-on-year and industry activity was extremely positive, says Symons, meaning the company was investing significantly in access products.
Fast reaction
Nevertheless, the market has remained active during the crisis months, "Access gear continues to be hired out as civil and government infrastructure projects are still going ahead, as are residential housing projects."
And Kennards was quick to react to Covid-19, introducing a number of initiatives, which it says will continue in the long-term. "We were the first hire company in Australia and New Zealand to implement a full contactless service, we've increased our drive-through service in all branches, equipment and cleaning was always a priority but we've upped the ante on those activities too." At the height of the pandemic in New Zealand, Kennards Hire operated as provider to the essential services sector, as it did in the Australian state of Victoria, which suffered a severe lockdown.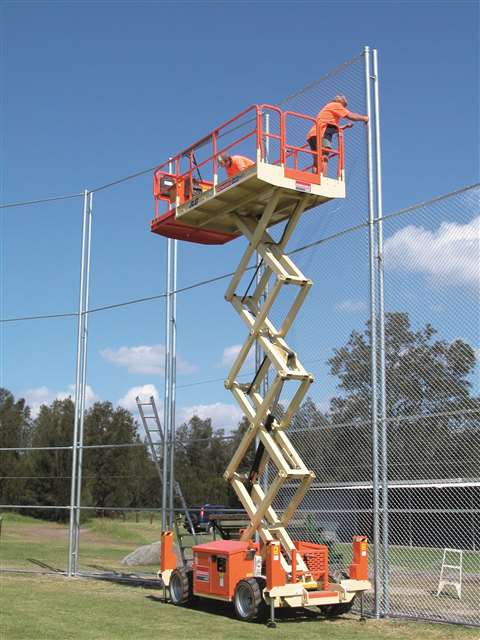 Symons adds, "Online rental has substantially increased and there's been an enormous shift in online trade generally at the company. Contactless and paperless transactions are now the norm rather than the exception."
The unique business environment in Australia is not just caused by the large distances between populations, the physical landscape and weather conditions play a major role too. As Goodfellow says, the harsh environment that covers much of Australia, from the extreme heat in the bush and sand in the desert, to changeable ground conditions and the saltwater environment along the coastline, has a significant effect on machines. "So, we need a wide variety of equipment to meet the challenges of our customers and ensure that we continue to support their needs. We also have some of the toughest safety expectations in the world, so we are always looking to innovate and ensure the safety of the operator is a priority."
However, the remoteness of many parts of Australia also has its benefits and proved to be a barrier against the spread of Covid-19. Rawlings explains, "Less populated states have fared better. Where I am based, in [the city of] Perth, Western Australia, government restrictions eased as we have been able to isolate the state by closing the borders and not allowing people in. On the east coast of Australia, in Victoria, where it is much more populated, there was a big rise in positive Covid cases, leading to strict curfews."
Victoria is home to Melbourne, a major city and economy in the country, therefore its financial health impacts business across the states. "The effects on our branches in [the more populated states of] Victoria, New South Wales and Queensland will hurt us. We have a strong business in Western Australia and have branches in South Australia, Northern Territory and Tasmania, which are less directly affected, but those branches will be affected by the impact on businesses in Victoria."
Low rental rates are a global challenge and are not restricted to the effects of Covid-19. Goodfellow points out the rates in Australia have been and will continue to be very competitive. "There is a large amount of general and specialised access providers across all of Australia which continues to push rental rates down. Access overall has become a very undervalued piece of equipment and sometimes becomes the loss leader on customer sites."
Continued acquisitions
Another trend in the mature global market has been consolidation, with mergers and acquisitions in the Europe and North American rental sectors being a common story in recent years. This trend has not been lost on Australia.
United Forklift and Access Solutions provides an example of the pattern of growth in the Australian market. It has expanded from a Western Australian based company to a national one, with branches in every state and close to 2,000 aerial platforms, and 3,000 forklifts in its rental fleet. The company also sells EWPs and forklifts, as well as providing extensive maintenance. Coates Hire has also grown considerably through acquisition in recent times, as has Kennards Hire. (See www.khl.com for stories about these deals).
Rawlings says, "We expect more consolidation in the future, with opportunities for investors to purchase well-established rental companies as the market rebounds. And there will also be opportunities for new start-ups and niche players to enter the market."
As far as manufacturer brands are concerned, the usual major players are present. As Goodfellow says, Genie, JLG and Haulotte make up a large portion of access equipment in Australia, with Manitou starting to grow and Snorkel, Niftylift and Skyjack having market share. In regard to Chinese manufacturers, he says Dingli's products have had a presence in the market for the last couple of years and Sinoboom has just started to make a name for itself, "Chinese manufacturers will definitely see some growth in Australia over the next couple of years."
As Rawlings adds, there are many large Chinese manufacturers contacting rental companies in the country. "We have seen an increase in interest in membership to the EWPA as well as interest in exhibiting at the the Hire and Rental Industry Association's (HRIA) annual convention, from overseas manufacturers including those in China.
"As one of the early adopters of MEWPs back in the late 1980s, we are open to new products that fully meet our standards. Australians place a premium on the level of service and support, so before a manufacturer can make inroads into the market, they need to have a well-established network to support their product, providing confidence to the customer."
Whichever manufacturers supply equipment, safety will be at the forefront. An example of developing safety expectations in the country, says Goodfellow, is operator protection on scissor lifts. "It will become an important part of the design of scissors going forward. We have already had mandatory operator crush protection on booms now for many years in Australia."
Symons agrees with this assessment. "As construction industries and project managers are becoming more heavily invested in the safety of site activities, we're seeing increased demand in products that have secondary guarding."
Looking to the future, Covid-19 has made it as unpredictable as ever. Symons explains, "Future investment is uncertain. Growth is linked to the state of the market and of late we've seen a slowing of activity, especially of high-rise construction projects. Our additional investment is reliant on local business conditions and long-term opportunities."
Specialist ranges
Monitor Lifts sells a range of specialised access equipment, with particular experience in tracked platforms. The company represents a number of brands based in Europe, including Platform Basket, Leguan Lift and Ommelift products. The company also sells France-based ATN's platforms and Italy-based GSR's truck mounts.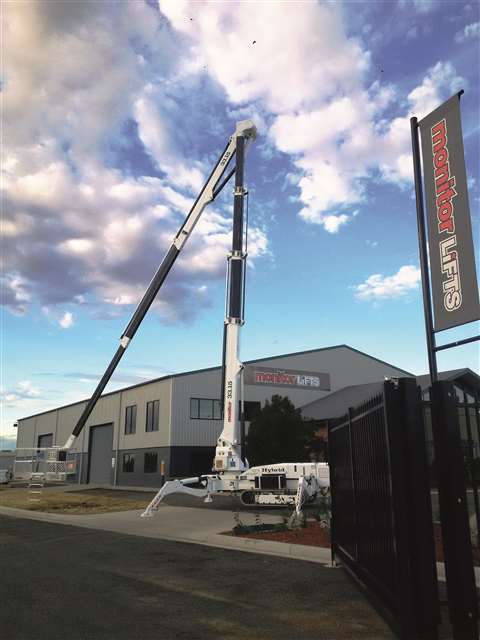 Monitor has seen a reduction in sales to rental companies, but a large upswing in sales to private contractors and trade, largely due to the government stimulus incentives for purchase of capital equipment.
Before Covid-19 struck, the company was seeing average growth of more than 20% year-on-year, over the last four years. The markets were strong, and increasingly so in the specialised equipment that Monitor offers.
Expectations were also high, with exceptional growth possibly reaching 30% to 40% in the next two to three years. This was partly thanks to the government's intentions to release some infrastructure projects to further simulate the economy post-Covid. Signs in New Zealand are also very encouraging, in particular in the rail sector.
As we have heard, the majority of access products in Australia are imported. "Obviously, foreign exchange rate fluctuations, and technical support, are two of the biggest challenges doing business Down Under," says the company.
Over the next three years, Monitor Lifts expects to see massive demand and growth for lithium battery-powered products, high rail mounted EWP's, and spider lifts. This comes from the growing realisation in the likes of the railway industry and companies that need work at height in difficult to access areas, that this specialist access equipment is available. "Rail projects have been on the increase in recent years and with tight transport schedules, projects run at high capacity and strict timelines. Difficult access, i.e., spider lifts, are gaining in popularity due to increasing worker health and safety expectations and requirements.
"Australia still has its own standard for Elevating Work Platforms, AS1418.10-2011, so there are certainly some unique requirements. One of the most unique features of the Australian market is the requirement surrounding high voltage rated truck mounted EWP's. This has provided the opportunity for local companies to manufacture great products here in Australia."
View from a manufacturer
Before Covid-19 arose, Skyjack says the aerial platform market in Australia was showing a 'couple of points decline', although, the company adds, that picture was polarised between a DC and mid-size rough terrain scissor class decline and a larger rough terrain and booms increase.
In face of the pandemic, Skyjack, with its parent company Linamar, formed a Health First leadership team to ensure the health of employees, the business and customers. Jason Cranmer, sales and operations director for Skyjack in Australia, says,"We relied on our IT group along with communication and technology advances that allowed continued support while being able to comply with personal distancing and other safe work protocols."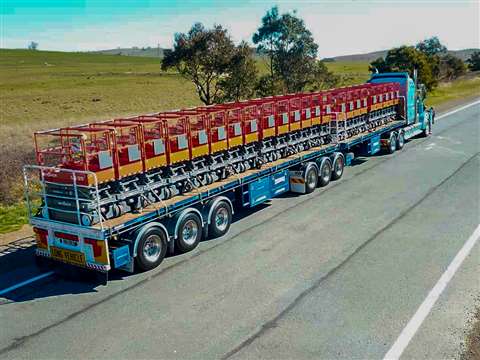 Due to the pandemic, the future is difficult to access, however. "So much unknown remains. Covid has shown it is capable of throwing a few curve balls, so what shape will the recovery be? Will there be a second wave?
Cranmer continues, "Looking to the next two years and assuming no substantive second wave, I see the start of the recovery in 2021. Beyond that, we would expect levels to return to normal, although I would suggest that there would be a lasting aspect of Covid measures that become part of a 'new normal'."
One of the major talking points in the access sector is secondary guarding on scissors, which follows a number of incidents involving the equipment type. "Tier 1 contractors have been instrumental in calling for secondary guarding on scissors and that has translated into rental companies supplying Tier 1 contractors demanding such measures."
Skyjack recently launched its Secondary Guarding and Lift Enable (SGLE) system for use on scissors lifts. With SGLE, both joystick and tamper-proof secondary enables must be activated to allow the platform to lift – the release of either will stop the functions immediately. The ergonomics are such that the operator's body is kept in an upright position and away from the railings, mitigating the risk of entrapment. In addition, Skyjack also approved the use of the EQSS OverWatch system on its scissors, which when combined with SGLE provides a powerful safety system, says the company.
Australia, like many other countries, has also been receptive to telematics, explains Cranmer. Skyjack offers the Elevate telematics system, which has a mobile first philosophy - a good fit for a very mobile industry.
On the subject of boom lifts, a peculiarity of the Australian market is that any boom that is capable of working over 11m is categorised as high risk and requires a different and more extensive training regime. This has its origins in truck mounted booms working near power lines, which are commonly seen to have a 13m height. "This tends to create a barrier to rental use and so the majority of rental equipment is stocked below this height." Cranmer adds, "We have also seen an increase in demand for accessories such as pipe racks that increase productivity, while often addressing safety concerns when lifting at handling materials at height."