County record for Kübler
By Alex Dahm31 October 2018
German heavy transport specialist Kübler Spedition broke another record with a transformer job in the south of the country.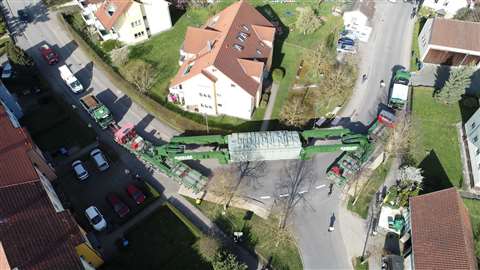 At 272 tonnes, Kübler made what it claims is the heaviest transformer transport in the south German county of Schwäbisch Hall. The transformer was moved from Nijmegen in the Netherlands to a jobsite in Kupferzell, Germany.
Following careful planning over a period of 18 months the job started in spring 2018 in Nijmegen where the transformer was loaded onto a Rhein-river vessel to Heilbronn in Germany. It was then lifted onto a Scheuerle heavy-duty hydraulic trailer with a 350 tonne capacity. Hydraulic suspension allowed the load to be elevated by up to 1.5 metres to clear obstacles along the route. The transformer arrived at Kübler's heavy cargo storage facility in Michelfeld. It is equipped for the storage of oil-filled transformers.
Continuing on its journey, a major road was closed in both directions and the transport convoy passed through several small villages along the route. Spectators were wide-eyed at the size and length of the convoy with its tractors.
A team of more than 30 people were involved in the operation. The transformer arrived on time at the site in Kupferzell.