CP Automation stocks Magnetek
By Christian Shelton03 October 2017
Scunthorpe, UK-based industrial electronic board supply, repair and field service specialist, CP Automation, has become an official stockist for Magnetek products, including its crane control systems. CP Automation says this alliance comes at a pivotal time for the crane industry, which is seeing a shift from cab controlled cranes to radio controlled systems.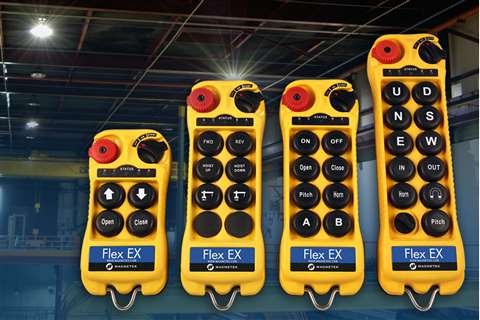 CP Automation said cranes can now be fitted with both CP Automation and Magnetek products as an integrated package, including power delivery systems, radio remote control transmitters, motor gearboxes, failsafe brakes and variable frequency drives (VFDs). Together, it said, these products allow cranes to move heavy structures with sufficient power, control and intelligence, as well as increasing safety with remote control.
"The partnership brings together the right set of products to support the rapid growth of the crane industry at present," commented Andy Swann, business development manager EMEA at Magnetek. "Together we can provide a customisable, engineered system to match the most demanding of specifications, ensuring reduced load sway and load drops.
"We are seeing more and more crane original equipment manufacturers (OEMs) moving away from in-cab operators and opting for radio remote control, whereby the operator is at a safe distance away from heavy loads. This means much more aggressive materials can be handled during a project, and the operator is kept at a safe distance, controlling the crane from afar."
"Our stock of collision avoidance systems, AC and DC drives, and radio remote control systems has already gone down well with our customers in the crane industry," said Tony Young, director at CP Automation. "This coalition brings additional functionality that the crane industry has been waiting for, bringing together a collection of drives, resistors and crane-specific products that we can also fit, using our trained engineers, if required.
"Ultimately this arrangement is driven by a focus on safety for crane operators. With more companies choosing radio remote control systems over cab controlled systems, it makes sense to join Magnetek's market leading technology along with our own range of products to drive this mentality in the industry."