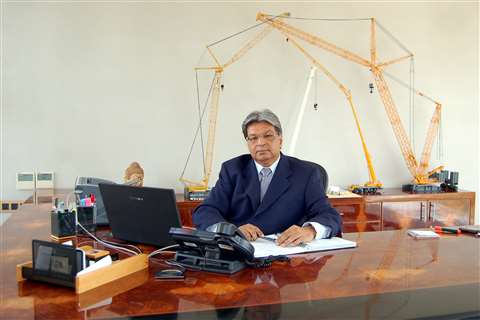 With regret ICST reports the death of Chandrakant Sanghvi, founder of Sanghvi Movers Limited (SML) in India. He died on 8 April 2019 at 65 years.
CP Sanghvi was born in 1954 in Pune, India, where he gained an engineering degree in metallurgy from the College of Engineering, Pune (COEP) and a masters degree in chemical engineering from Columbia University in the USA.
Sanghvi founded SML in 1989 with the purchase of his first crane, a new Tadano TG 700E truck crane. He took SML public in 1995, using the proceeds to buy a Demag CC 2400 crawler and other cranes. In 1998 he chartered a barge from Singapore to India and bought 36 cranes which gave him a breakthrough at the massive Reliance Industries Limited petrochemical refining complex under construction in Jamnagar, Gujarat. SML now has 1,500 employees and 17 depots around India.
He is survived by his wife Mina, two daughters Ruchi and Niyoshi, son Rishi and grandson Avyan. Rishi Sanghvi has taken over as SML managing director, working closely with Sham Kajale, SML joint managing director and CFO.