CPB Contractors to work on Metro Tunnel Project
By Andy Brown19 December 2017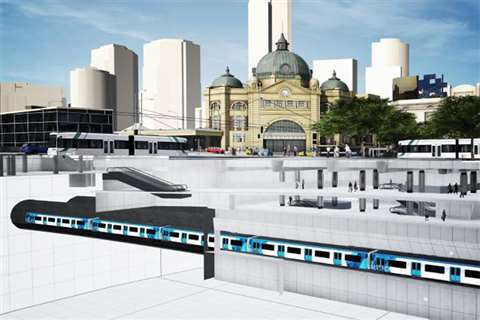 An artist's impression of the finished project
CIMIC Group company, CPB Contractors, as part of the Rail Systems Alliance (RSA), has been awarded works by the Victorian State Government of Australia in support of the AUD $11 billion ($US 8.4 billion) Metro Tunnel Project, the state's biggest ever investment in public transport.
CPB Contractors (as principal contractor) and Bombardier Transportation are partners in the RSA, with the Melbourne Metro Rail Authority (MMRA) and Metro Trains Melbourne (MTM). The design and construction contract is worth $1.1 billion ($US845,000) to CPB Contractors. Construction as part of the RSA is expected to commence in 2018 and be completed by 2026.
CIMIC Group Chief Executive Officer Michael Wright said, "With a strong history of delivering major rail infrastructure in Australia, CIMIC Group has brought together a team with extensive local knowledge and international experience to ensure the project's objectives are realised."
CPB Contractors managing director Juan Santamaria commented, "We are focused on delivering next-generation rail network solutions that safely and seamlessly interconnect with existing infrastructure to create a high capacity, integrated rail system."
CPB Contractors will deliver all site construction services, including civil works, and lead the design, supply, installation, testing, integration and commissioning activities for train and power control systems, operational control systems, and conventional and high capacity signalling on the new Sunbury to Cranbourne/ Pakenham line.
The RSA will also deliver safety and efficiency improvements at the five new underground Metro Tunnel stations through the installation of platform screen doors, the application of which will be a first for Melbourne.