Crane safety: Making the inspection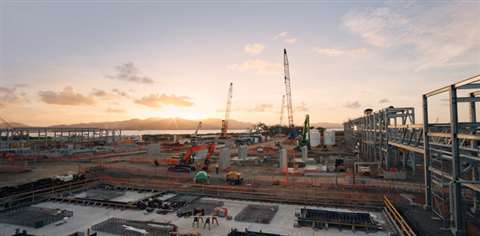 Many sectors of the global construction market have been somewhat quiet in recent years but Australia is a notable exception. There is little doubt as to the intensity of the major project work that has been taking place across the far reaching areas of mineral rich regional Australia during that same period.
Major mining projects have continued to provide a great deal of work for local, national and international crane and construction contractors. Cranes are there from almost every manufacturer and even from several global crane houses. From Al Jaber to Sarens and from Mammoet to McNally's, there has been a wide selection of international cranes competing for work with local companies located on various job sites, some of which are 10,000 miles (16,000 km) or more away from their home bases.
These major projects are taking place across many different challenging environments. Extremely high temperatures are prevalent in summer months. In many cases there is complete isolation, with entire villages of portable accommodation and workshop facilities springing up overnight, some of which are located hundreds, or even thousands of kilometres away from major population centres. One of the global contractors that have successfully embraced these challenges over a long period of time is Bechtel.
Bechtel in Australia
For more than a century Bechtel has been lead contractor on many high profile construction projects around the world with Australia being no exception. To support these construction projects, Bechtel's in house equipment division, Bechtel Equipment Services (BES), organises the mobilisation and utilisation of a wide array of equipment required to finish projects within time and budget constraints. Its own large fleet of equipment ranges across the full construction spectrum; from earthmoving equipment to elevated work platforms, extending into a wide range of cranes. The largest capacity crane in the BES fleet is a year 2000 model Terex Demag CC 2800-1 lattice boom crawler crane.
When Bechtel was awarded engineering, procurement, and construction contracts to build three liquefied natural gas (LNG) facilities for three customers on Curtis Island in Queensland, BES went to work sourcing a full range of equipment from its own fleet, as well as contacting outside contractors to provide both the top up cranes that may be required, as well as the major heavy lift cranes for the project.
With locally available cranes being under high utilisation and at times not of the required capacity for some of the heavier general lifts, Bechtel Equipment undertook a full cost analysis of mobilising its own CC 2800 crawler crane that was idle at the time in the main depot in Sugarland, near Houston, Texas, USA. BES Australian country manager Dennis Kiu notes that it is not the current direction of Bechtel Equipment to focus on the ultra-heavy lift cranes, stating that Bechtel considers that scope of work something they will continue to contract out to heavy lift specialists.
Bechtel's high level of exposure to the stringent Australia-specific requirements for cranes over many years gave them full awareness of what it takes to undertake a thorough inspection programme that would satisfy specific Australian safety requirements, as well as the importance of the correct procedures for importation of items of plant and equipment into Australia with its comprehensive quarantine protocols and legislation.
In the fleet
Bechtel Equipment Services works on a global arena to distribute its fleet of equipment when and where its many concurrent projects require. To manage the changing equipment demand in each phase of a project, BES uses its own fleet wherever possible and supplements the peak project demands with the services of sub-contractors. On the Curtis Island LNG Projects, there are more than 160 cranes in use, of which, 64 % are directly owned by Bechtel, 34 % are contracted cranes managed by BES and only 2 % are project organised cranes. Across the massive site, these cranes range from a small 8 tonne hydraulic boom crawler crane right through to a CC 6800 crawler crane, including a wide variety of pick and carry cranes, a number of all terrains, several tower cranes and everything in between.
Australian OHS Regulations require that registered mobile and tower cranes complete a major inspection at the end of their design life, as recommended by the manufacturer of the crane. In the absence of accurate lift records and prior to the introduction of data loggers, the Australian crane industry has grown to accept a period of 10 years from the crane's commissioning as the end of design life as found in Australian Standard AS 2550.1 and Codes of Practice. The completion of a major inspection is often the single most expensive maintenance and service event in the crane's life. The combination costs of downtime plus overhaul expenses have created large variability in the content and thoroughness of major inspections completed nationally.
This major inspection requires an assessment of both the mechanical and structural components by competent persons under the supervision of a professional engineer according to manufacturer's recommendations. In an effort to standardise the major inspection scope and processes, The Crane Industry Council of Australia (CICA), has developed a voluntary verification programme called The Gold Plate to audit completed major inspections. The criteria for the major inspection verification are based on well-established codes of practice and Australian standards.
Going for gold
The Gold Plate was introduced by CICA in 2012 as a way of identifying cranes that had demonstrated a thorough and documented major inspection. This new industry-based programme of recognition builds upon the success of the CraneSafe Green Sticker 12-monthly inspection initiative that has been in place since 2002. For specific details about the CICA Major Inspection Verification Program, further details can be found on the CICA website www.cica.com.au
With a fleet of over 150 BES owned cranes currently in use across Australia, Bechtel Equipment has undertaken several of these major inspections to demonstrate that the crane is safe for continued operation. BES Australian country manager Dennis Kiu noted that with some of the major inspections previously conducted, there were varying levels of difficulty in completing the inspection in a timely manner and with complete satisfaction in the quality of the work undertaken. Having someone to manage the entire major inspection process that could be decisive, thorough, and act with integrity in Bechtel's best interests was of major importance when selecting the appropriate pathway forward.
Bechtel chose to engage the services of Melbourne-based Australian Crane & Machinery (ACM) to manage the CC 2800-1 major inspection project. ACM has representation across Australia and with a long history of crane sales as an agent for both locally produced and imported cranes, as well as being a stand-alone manufacturer of specialized access equipment. ACM brings a mature understanding of all of the specific requirements needed to satisfy the engineering aspects and the regulatory requirements of what has become known as 10 year major inspection. ACM has full workshop facilities as part of their EWP production and crane maintenance activities.
ACM's Australian crane inspectors worked on-site at Bechtel's equipment headquarters with Bechtel engineers and technicians in Sugarland, Texas, to identify the scope of work to undertake the CC 2800 major inspection to the high standards required for the Australian market. It was during this process that ACM raised the new voluntary benchmark that CICA had recently introduced by way of the Gold Plate to reflect the high standard of compliance with the requirements of the major inspection criteria.
Zero tolerance
Bechtel's internationally recognised zero accidents approach to safety is well-known and by undertaking the Gold Plate programme, not only was it meeting the intent of the requirements of the Australia-specific regulations, but it was giving in-house people the confidence that the global mobilisation of the 600 tonne crane would be a success, with the crane able to start work as soon as it arrived. As with many major equipment providers, the value of the plant and equipment is seen as a major asset and Kiu notes that the Gold Plate brings an extra level to the value of such a mainstay of the fleet.
Kiu also noted that while the equipment division runs a young fleet of cranes, high value assets such as larger crawler cranes still have a lot of safe usable lifting to do beyond their 10 year service age if they are maintained to high levels. The remote location of some of the projects that BES cranes and its other wide range of equipment is often mobilised to can cause major increases in downtime if the equipment has a malfunction. Replacement parts can be difficult to get and the availability or otherwise of service technicians and site access issues can all add to the project costs and cause delays.
As the CC 2800 has been in the Bechtel fleet since it was purchased new in the year 2000 and with a full history of servicing and maintenance, there was the peace of mind that the CC 2800 crane would continue to be a reliable and safe crane after such a thorough inspection. With the CC 2800 sitting at Bechtel's primary maintenance facility in Texas, the major inspection programme managed by ACM was considered to be a real confidence building moment in the future of the crane, as for an example, all pumps are stripped down for inspection to verify internal integrity. There is a real and measurable level of eradication of uncertainty; Kiu noted that BES wants certainty over those things they can reasonably expect to control.
Kiu noted that many of the high asset value, larger capacity cranes don't have the operational hours and intensity of work that some of their smaller cranes have and therefore continue to be able to operate safely and reliably within the project environment, or in some of Bechtel's global fabrication yards. Extending the serviceable life of the CC 2800 by way of completing a Gold Plate verified major inspection allows the crawler crane to continue to be utilised with confidence throughout the fleet in those parts of the world with the highest of global safety standards.
Managing operations
Gladstone-based BES operations manager Brett Nisson brings a wide range of crane and project experience to his role, from the oilfields of the Middle East to time in the corporate divisions of Bechtel headquarters. Now he has his work cut out to keep 163 cranes and a wide range of other site-based equipment in top condition. With three separate projects worth billions taking place concurrently across three neighbouring island based sites with no shared access, the logistics of moving a crane from one part of the project to another involves loading the crane and all components onto barges and undertaking full weed and seed control measures to prevent cross contamination before it can be re-engaged on another adjacent site.
Access to the island site for the workforce is only by ferry and is controlled by each of the individual clients. It's no easy task getting maintenance or inspection technicians onto the island site without extensive protocols being met. Bechtel carries consumable parts for many OEM brands of equipment in its Gladstone-based warehouse, along with any number of replacement parts that are ordered in as part of both routine and major maintenance.
Nisson states that one of the biggest challenges of the multi-faceted project is balancing the correct number and correct tonnage of cranes across the three separate projects. Full compliance with Bechtel's internal lifting procedures, known as SWPPs, is paramount and Nisson needs to keep the right cranes working in the right areas to keep lifts within a percentage capacity as part of the SWPP safety ratings. Another challenge that Bechtel has answered is compliance with the quarantine requiremewnts as set out by Australian governmental quarantine agency AQIS. BES has full steam cleaning and pressure washing equipment to meet the strict environmental regimes.
Crane people
Machinery requirements are not the only challenges for Nisson. Finding personnel who have the full range of skills required for a project with such a wide range of cranes is another demand. Nisson fondly remembers days gone by when each of the larger cranes was assigned an oiler to assist with crane operations and received hands-on training by the crane operator, often during breaks in work activity. Today the load moment indicators (LMI) in cranes have lifted the levels of safety tremendously, but the crane operators have perhaps lost some of the load assessing skills and machine-specific familiarity they once had. Bechtel invests a great deal of energy to find people who still maintain a wide range of those skill-sets, yet have adapted into today's safety conscious operators and riggers to keep safety at the top of its activity agenda.
It is not just large crawler cranes keeping the materials moving on the massive Curtis Island projects. Each one of the eight large desalination tanks have Liebherr tower cranes supplied to Bechtel by Morrow Equipment. These cranes range from the 420 EC H-16 up to 550 HC 40s. The saving in ground space required by erected tower cranes and the modularisation of components were key considerations in choice of crane style.
With at least another three years before full project completion, and possible extensions to the planned size still to come, BES will continue to maintain its own high levels of maintenance across the entire fleet of equipment. Planned replacements of smaller cranes, for example, the popular locally produced Terex Franna pick and carry cranes, will be managed based on asset value and capitalisation costs at the time. Kiu noted that conducting further Gold Plate verified major inspections would certainly be an option for a wide range of their cranes, especially if the outlook for project work and crane rental opportunities in Australia continues to provide continuity. With more than AUD$ 350 million (US$ 325 million) of equipment to manage onsite at any time, Kiu, Nisson, and their teams certainly look to continue to be busy for a good while yet.