Crane technology update
By Alex Dahm10 August 2020
Digital and remote monitoring tools available to crane users, as well as some new gantry crane technology. ICST reports
One likely by-product of the Covid-19 pandemic is an acceleration in the pace of adoption of digital construction technology. While remote working and social distancing may be the urgent drivers, the impact will be much wider, as all generations of the workforce get direct exposure to the benefits and possibilities of digital technology.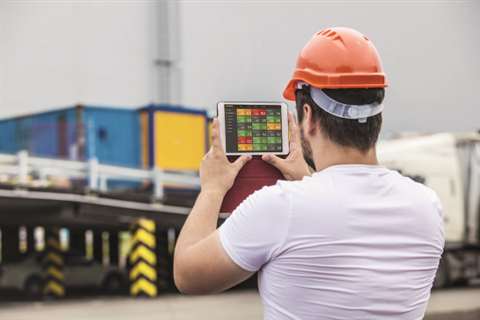 That applies as much to the crane industry as any sector of the construction business, perhaps more, given the pivotal role that cranes play on construction sites. It would therefore be no surprise if a company like Windcrane, which supplies remote wind speed monitoring systems, were to see an increased interest in its technology, particularly as sites try to make up for lost time due to the crisis.
The company's wind monitors, including the Windcrane Max and more basic Windcrane Mini, provide users with real-time monitoring of wind speeds from cranes, including automatic alerts to an App and recording of historic wind data. The systems are appropriate for tower cranes as well as wheeled mobile and crawler cranes.
The UK-based business says instant and accurate site-specific data reduces planning time and the level of disputes associated with downtime. The IoT platform can also be integrated with different applications, analytics and other software.
Lisa Cairns, commercial director, explains, "One of the key benefits of cloud-based data systems is the ability to roll out software upgrades seamlessly and 'behind the scenes' as soon as they are developed with no disruption to the customer."
Also offering ancillary 'control and monitoring' technology is UK-based wireless crane camera company and safety specialist BlokCorp (its new name following the change from BlokCam).
Under this new name it has launched a new line called BlokAlert, a visual and audible alert safety system designed to raise awareness during lifting. The self-contained unit emits an audio alarm and extra bright LED flashing beacon and is designed for easy attachment via neodymium magnets to the hook block, in a similar way to the BlokCam product. The BlokAlert has up to 528 audible alarms and comes with a choice of four beacon colours – blue, green, amber or red.
For a number of reasons, BlokCorp recommends the system as a safer alternative to the operator using the crane horn or the riggers using a whistle. When operated, a signal is transmitted to the receiver on the hook block of the crane. By locating the warning system on the hook block the alarms draw attention to the potential hazard rather than away from it, as can happen if the operator uses the crane's horn or a rigger uses an airhorn or a whistle. By forewarning workers to the proximity of the hook block, the risk of them being struck by the crane's hook block, lifting accessories or load is minimised.
The BlokAlert comes with two handheld fobs which enable workers on the ground to sound the hook block's alarm if they become aware of potential hazards. Each fob comes with four buttons as standard, enabling control of up to four separate block alarms, although eight and 16 button fobs may be specified for control of larger numbers of alarms. To further increase safety, the optional cab transmitter is activated by a footswitch in the crane cab, for handsfree operation by the crane driver.
The BlokAlert system has an inbuilt lithium battery with 124 hour battery life. It can operate in temperatures between -10 and 50 degrees centigrade.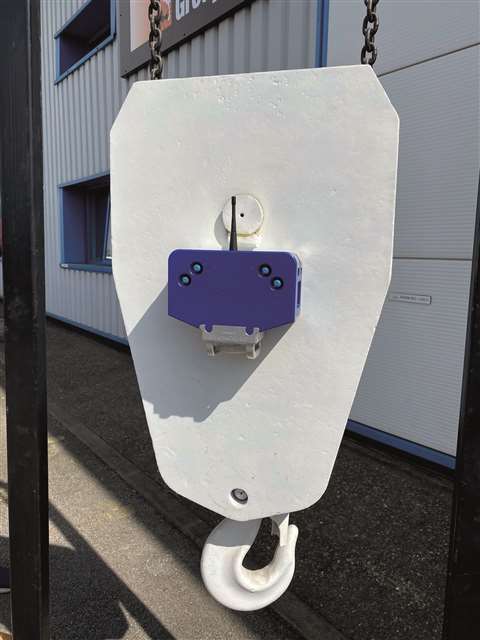 According to the manufacturer, one major UK contractor is planning to implement the BlokAlert on all its crane operating sites.
Liebherr-Werk Nenzing is launching a new heavy lift crane planning product, with its Crane Planner 2.0, which includes a new CP mobile App that delivers data on a lift plan directly to a mobile device.
The Austria-based OEM points out that the organisation of a jobsite is a complex task, often involving a lack of space, difficult ground conditions, or where the crane has a limited lifting capacity. It says under these circumstances the Crane Planner 2.0 is a good tool for choosing the correct equipment for each load scenario, saving time and money and also ensuring that safety standards for heavy lift applications are adhered to.
Crane Planner 2.0 combines detailed, interactive 3D models with all the relevant planning data, based on the load moment limiter (LML) of the respective machine. Liebherr says this combination is a major added value when compared to conventional lift planning using CAD applications.
"Every change in the crane geometry activates a new calculation of all planning data", says Liebherr, "The software gives a warning as soon as the risk of a potential collision between machine, load or surroundings exists, or if safety distances are not observed.
"Parameters such as ground pressure, utilisation, centre of gravity and 'erectability' are constantly monitored. Furthermore, important information such as lifting height or radius can be activated and user-specified measurements (metric or imperial) can be appropriately defined. After planning, the results can be simply and clearly printed or shared with others in a cloud."
The manufacturer says the tool is ideal for planners and engineers who require not only actual but also precise 3D models of the machine configuration being used. Through the use of the most current machine data all configurations of all available crawler cranes and duty cycle crawler cranes in all positions can be selected.
The new CP mobile App includes data on all Liebherr LR and HS machines built in or after 2002, including all lift charts. After selecting the appropriate crane and relevant load, ground pressure calculations can be quickly carried out without costly planning, and the result can be professionally prepared and exported as a report.
In the software sector, meanwhile A1A Software has just introduced what it says is the first ever VR (Virtual Reality) Simulator for lift planning. 3D Lift Vision enables users to execute a 3D Lift Plan in VR Mode using a virtual reality headset and controls.
"Each simulation is as unique as the lift plan that it is based on," says Tawnia Weiss, president at A1A Software. "There is no better way to visualise the outcome of a lift than to allow the crane operator and other team members to simulate it in a virtual environment."
There is no limit to the number of people who can engage in 3D Lift Vision, which allows the entire crane and rigging crew to see and practice a lift in the virtual environment, including the crane operator, riggers, signal person, and tagline holders. "3D Lift Vision extends the ability of 3D Lift Plan to be used as a communication and risk mitigation tool," says Weiss.
Crane rental sales teams can use 3D Lift Vision to demonstrate to the customer where cranes and personnel will be placed, as well as their ability to make the lift according to the proposed lift plan. For risk mitigation, the operator and entire crane and rigging crew can practice the lift before arriving on site, allowing them to assess equipment and personnel placement, whether anything has changed in the job site environment that will impact the lift.
Florida-based A1A Software says 3D Lift Vision requires an add-on licence to its 3D Lift Plan subscription, and each licence comes with one headset. The hardware is portable, and wireless, making it easy to deploy anywhere. Communication through the headset allows individuals in different locations to simultaneously engage in the same 3D Lift Vision simulation.
Finally, and appropriately given the current global pandemic, the Atlanta, USA-based company OxBlue has announced the development of artificial intelligence (AI)-based technology for enhancing social distancing awareness on construction sites.
The company, which specialises in remote monitoring of construction sites using cameras, says its new system uses artificial intelligence (AI) to determine when two or more people are in close proximity. According to OxBlue, the technology has the potential to increase awareness and improve safety, and is suitable for those looking for alternative ways to create social distancing awareness.
"With a global pandemic, harnessing the power of technology to solve the construction industry's immediate challenges is our top priority at the moment," says Chandler McCormack, OxBlue CEO. "We want to make possible solutions that allow actionable insights and peace of mind."
Overhead innovation
Germany's Conductix-Wampfler has introduced an overhead crane maintenance zone switching system – PowerGuard – that correctly switches off power to the buffer and maintenance zones, then grounds the maintenance section to create a safe zone.
A crane maintenance zone is a designated area on the conductor bar runway that is powered down while the rest of the runway remains energised.
"PowerGuard was created to provide a truly safe solution to removing power from areas of crane runways," says Stephanie LaFarr, product manager at Conductix-Wampfler. "Previous solutions were not specifically created for the crane market. Therefore, they didn't offer true isolation of power, leaving a window for error that could result in severe injury or death."
The system increases user safety by providing visual LED indications and test points at the PowerGuard panel. These LEDs are tied to the maintenance zone wiring and show the maintenance team that the maintenance zone is de-energised before beginning any work.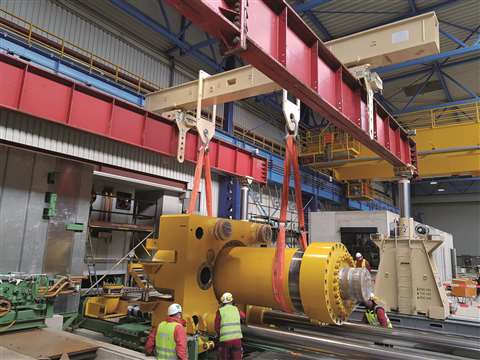 Meanwhile, Enerpac Heavy Lifting Technology has boosted the capabilities of its gantry range enabling heavy lift contractors to tackle more demanding projects within the space constraints common to industrial moves.
A new top swivel kit allows additional header beams to be mounted on the top of side shift unit. This allows crossbeams to be installed for more complex lifting arrangements. Also new is the skid track end stops, which prevent over travel of the gantry legs, engineered cribbing and shims to ensure more accurate skid track levelling and track stands. This allows the gantry legs and track to be elevated in specific applications.
"The new accessories are a significant enhancement to our hydraulic gantry range, says Pete Crisci, product line director, Enerpac Heavy Lifting Technology. "In particular, the side shift top swivel opens up the possibility of using Enerpac header beams and side shifts interchangeably with other header beams to achieve lifting configurations simply not possible with traditional gantry lifting systems."