Cranes: Raising standards
By Thomas Allen25 October 2017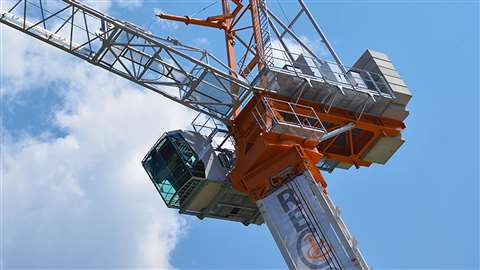 Recom said its new RTL 315 luffing jib tower crane could reach greater free-standing heights due to the use of high-tensile steel and secure bolt connections
Tower cranes are coming into their own as urbanisation becomes one of the most salient trends of our time.
According to the United Nations department for economic and social affairs, the global population is projected to reach 9.8 billion by 2050.
At the same time, the proportion of people living in cities is also on the rise, with 66% of the world population expected to be living in urban areas by the same year. For Europe, the figure is 80%.
This means that buildings themselves are on the up, as space restrictions force cities to climb skyward, which is good news for tower cranes.
From self-erectors and flat-tops to low-tops and luffers, the versatility – not to mention cost-effectiveness – of tower cranes makes them a popular choice for contractors.
Thibaut Le Besnerais, director of global top slewing cranes at crane manufacturer Manitowoc, said, "For longer jobs where you need to build high and have a crane that provides reasonably big coverage, then a tower crane provides the most cost-effective solution. Being electric, operating costs are low and there's less to go wrong, so maintenance costs are low, too."
Le Besnerais noted that there has been an increase in the popularity of luffing jib tower cranes around the world. In Europe, restrictions on where traditional hammerhead and flat-top tower cranes can be used – to avoid overflying residential areas or schools, for example – have made the luffer an attractive alternative to other types of tower crane. As a result, a number of luffing jib cranes have been, or are about to be, launched onto the market.
German manufacturer Jost Cranes has introduced two new hydraulic flat-top luffing cranes – the JTL268.16 and the JTL68.4s.
According to Jost, the JTL268.16 is the strongest hydraulic luffer on the market today, with a capacity of 16 tonnes, while the JTL68.4s lifts 4 tonnes and has a 4m out-of-service radius.
Advantages
Advantages of the hydraulic luffer concept were said to include ease of assembly due to the lack of luffing and suspension ropes, and lower weight, which makes for logistical savings. Also, the steep jib positions are well-suited for working in dense city areas, as the crane can operate without breaking overflying limitations.
The UK was said to be a major market for Jost's hydraulic and conventional luffing cranes, due to the fact that they can avoid overflying. In fact, the company has predicted that the emergence of new standards and government regulations around the world will make issues such as overflying limitations, out-of-service radius, wind conditions and crane operator safety increasingly relevant in the future.
The most recent model from Italian tower crane manufacturer Recom is the RTL 315 luffing jib tower crane.
With a total capacity of 20 tonnes, the crane has a 65m jib with a capacity of 3.3 tonnes at 6m and 2 tonnes at 65m.
Recom said it could reach greater free-standing heights thanks to the use of high-tensile steel and secure bolt connections. The RTL 315 has an 80kW winch with a Svendborg brake and a Lebus drum, while its new cabin was said to offer the operator more space and improved visibility. Inside the cabin is a seat from Grammer, a joystick from W Gessman, and a control system from ABB.
Recom has plans to add to its luffer range with two new models in 2018, with capacity ratings of 450 and 650 tonne-metres, and featuring fixed ballast.
Mariano Moritsch, managing director of Recom, said, "This will be a return to our family tradition of using fixed ballast, which started with the CTL 202 back in 1986."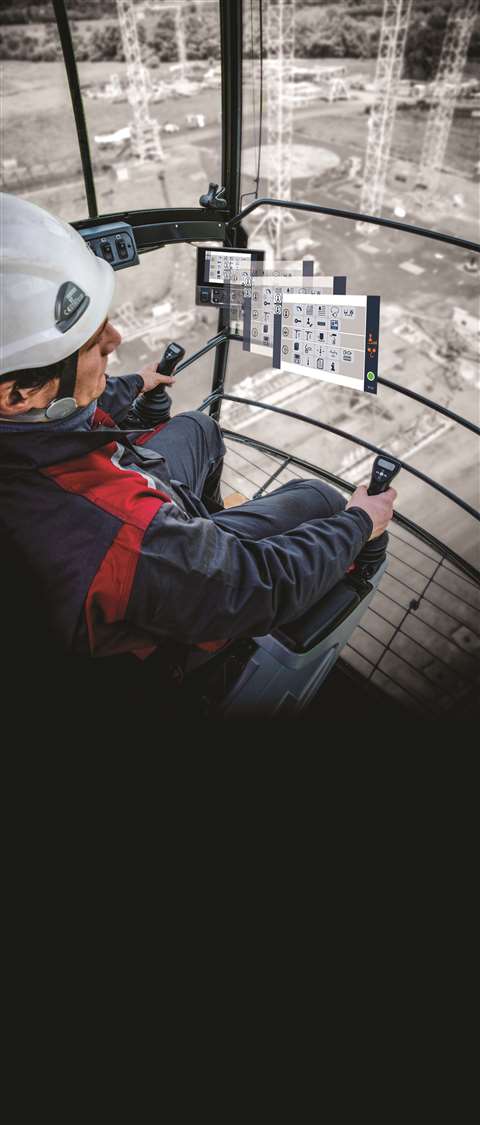 Manitowoc's Crane Control System (CCS) was designed to reduce calibration time in order to make setup quicker
Meanwhile, Spanish company Jaso Tower Cranes also extended its range recently, with the addition of three new luffing jib tower crane models.
The company's J118HPA was described by Jaso as revolutionary in its design, as a result of the use of a hydraulic ram at the rear end of the tower. It has a reach of 45m and a capacity of 6 tonnes.
Jaso's J265PA has a reach of 60m and a capacity of 18 tonnes, and was said to be both fast and versatile.
Meanwhile, its J438PA was specifically designed to provide power in tight spaces. In the double-fall configuration, the crane has a reach of 65m and a capacity of 32 tonnes, while the single-fall configuration offers a capacity of 16 tonnes.
The company said, "The continuous development of new models is the key to our success. Thanks to a professional research and development team, we can adapt to customers' needs and any new requirements in the market, developing technology-intensive cranes."
High capacity
Another trend noted by Le Besnerais was the demand for higher capacity tower cranes. According to him, this is being driven by the increased use of pre-fabricated structures for housing and offices, which are largely assembled off site and simply need to be lifted into position. Le Besnerais said, "As these prefabricated structures become bigger, our customers are asking for higher capacity tower cranes."
The use of pre-fabricated structures speeds up the construction process, meaning that tower cranes are spending shorter lengths of time on each job site.
To have a tower crane on a job site for over a year was quite common 20 years ago, according to Le Besnerais, but nowadays it is rare.
As a result, their erection and dismantling costs become more relevant. It is therefore increasingly advantageous for tower cranes to have a simple design that is easy to put together and take apart. The simpler it is, the safer it is too, with less time spent on site and fewer elements to check.
According to Le Besnerais, Manitowoc's Crane Control System (CCS) was designed to reduce calibration time in order to make setup quicker.
He said, "We started to implement CCS at the end of 2015 on some of our smaller-capacity MDT models in the 100 to 200 tonne-capacity range. Then, during 2016, it was rolled out to our larger MDT Topless tower cranes.
"In 2017, we extended the system to include our traditionally-shaped classic hammerhead with cat-head tower cranes – namely the MD 509, 559, 569, and 689."
It is not just luffers that are proving popular. Across the other tower crane types, a variety of new products have either just been launched or are coming to fruition.
US-based crane manufacturer Terex Cranes launched the SK452-20 hammerhead crane at the end of 2016.
With a maximum capacity of 20 tonnes and a jib of 80m, the crane was said to feature the latest technology in terms of crane control, enabling fast crane setup, easy servicing, and smooth crane operation.
Marco Gentilini, vice president and general manager of tower cranes at Terex, said, "There is an improvement in speed, load chart and control due to frequency variable motors.
"The commonality of parts with the existing SK415-20 is also of benefit to the customer in terms of parts management."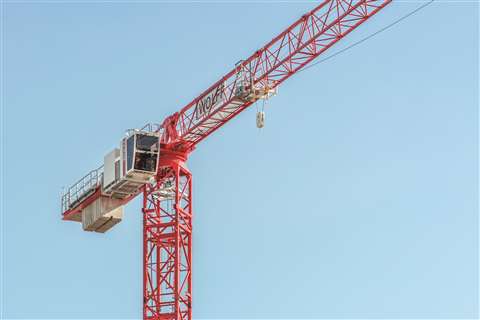 Wolffkran's Wolff 6020 Clear offers a larger tip load than the 6015 Clear that it replaces
In Switzerland, manufacturer Wolffkran has announced a new replacement flat-top tower crane model in the 140 tonne-metre class. The Wolff 6020 Clear replaces the 6015 Clear, which was launched in 2008.
The Wolff 6020 has a larger tip load and incorporates design detail improvements from other recent new models, said Wolffkran.
Two versions are available – the 6-tonne capacity 6020.6 Clear and the 8-tonne capacity 6020.8 Clear. Each one has three tower crane connection options. These are the 1.5x1.5m UV 15, the 2m TFS20 and the UV 20.
Gerd Tiedtke, Wolffkran product manager, said, "Compared to its predecessor, the 6-tonne version can lift 2 tonnes instead of 1.5 tonnes at the tip, at a 60m jib radius, while the tip load capacity of the 8-tonne version was increased from 1.5 tonnes to 1.8 tonnes."
Both models were designed for two-fall rope operation. On the 6-tonner, a new 28kW hoist winch, type Hw 628.1 FU, was said to shorten cycle times with its 108m/min hoisting speed under partial load. A 45kW Hw 845 FU hoisting winch is fitted on the 8-tonne version.
Faster assembly
By changing some elements of the design, Wolffkran has been able to use smaller bolts, making for faster and easier assembly. As for transport, there is a special support to hold up to three jib sections on the counter jib. And due to the fact that crane owners often have their own counterweight slabs, these are no longer supplied with the basic crane.
To help protect the crane against corrosion better, there are more galvanised parts than on the preceding model, including railings, platforms and covers.
Returning to Recom, the Italian-based company has plans to launch a new range of low-top cranes, with three models that will have capacities of between 16 and 32 tonnes.
Moritsch said the new cranes would combine the advantages of flat-top and tie-bar cranes, while incorporating a new system that would speed up erection times by enabling them to be transported and erected complete with their trolleys, ropes and motors. The counter jib will also have a new system that will allow them to be folded for transport without removing items such as hand rails or platforms.
Moritsch said that by 2019 the expansion of the Recom tower crane range should be complete, with the RTL luffing jib line ranging from 150 to 650 tonne-metres and the RTT low-top line ranging from 200 to 700 tonne-metres.
Expanding the range
Recom has employed a team of 15 engineers dedicated to working on the expansion of the company's range.
Moritsch said, "With such an experienced team, decision-making and time to market are faster than we expected. Our sales this year have proved we are heading in the right direction."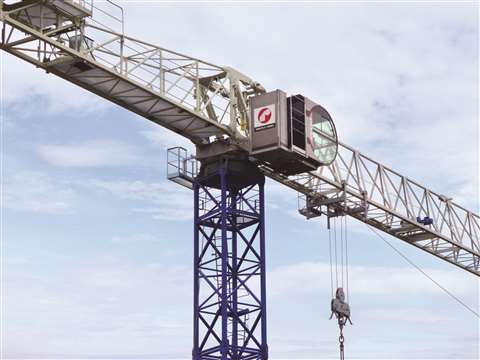 The MRT234 flat-top tower crane from Raimondi
Also in Italy, Raimondi Cranes has launched the MRT234 flat-top tower crane, described as the company's most technologically-advanced flat-top tower crane to date.
It has a maximum jib of 70m and can lift 12 tonnes, on four falls of rope. At maximum radius, the crane can lift 2.25 tonnes in ultralift mode, and it has eight different jib length configurations – from 70 down to 28m. The MRT234 is available with either a 45 or 55kW hoisting winch.
Domenico Ciano, Raimondi Cranes technical director, said, "We wanted our newest crane to satisfy the load capacity requirements that customers were requesting.
"Another priority we had was ensuring smooth installs and dismantles that took less time and reduced the potential for error, and the number of technicians needed onsite. To facilitate this, we worked to improve the jib connection system, and to have each jib element ready for assembly without requiring the installation of accessories on the jobsite.
"This means the full jib can be assembled by just two people in just a couple of hours."
He added, "If required, we can install the full jib in one go, with the trolley ready to work as soon as it is connected to the electric cabinet. This is possible because we can install the trolley and hook block on the jib, complete the rope paths on the ground, and prepare the system for an easy hoisting rope installation when we connect the jib to the counterjib."
Research and development at Raimondi was said to be focused on user experience, drawing on new technologies produced in Silicon Valley.
Ciano said, "It's clear that the modern approach is to design machines that have an enhanced level of interaction with their surrounding environment, enabling people to work faster and more safely."
To this end, the MRT234 is available with Raimondi's Deluxe R16 cabin and V3.0 control system with human-machine interface.
Ciano said, "Inside the cabin, the V3.0 human-machine interface means all information is displayed clearly and the operator can easily check parameters during work. It also allows the maintenance team to check and set the crane quickly."
During the development process of its new equipment, Ramondi now uses prototyping software, which allows virtual prototypes to be created and modified before material prototypes are built.
Ramondi's harnessing of new technology for the benefit of the operator is in line with another trend in the industry.
At the ITC Tower Cranes Conference in London earlier this year, one thread that ran through most of the speaker's presentations was the subject of technology. And it was often focused on bringing benefits to operators – as well as construction site managers.
Eric Pommier, vice president of engineering in the tower cranes division of Manitowoc Cranes, outlined how safety and efficiency were being increased through the use of technology, which is creeping into all aspects of operating tower cranes.
These include access to the cab, the display used for setting up the crane, assistance in the actual operation of the crane, maximising a crane's utility, and the potential of connectivity, telematics and data logging.
Access to cab
The issue of access to the cab using hoists was covered by Pierrick Lourdain, commercial director at French tower crane company Matebat, part of the Arcomet group. Since the start of 2017, French regulations have stipulated that every crane erected above 50m must provide a lift for operators. In 2019, the regulations will go even further, making lifts mandatory for all cranes above 30m in height.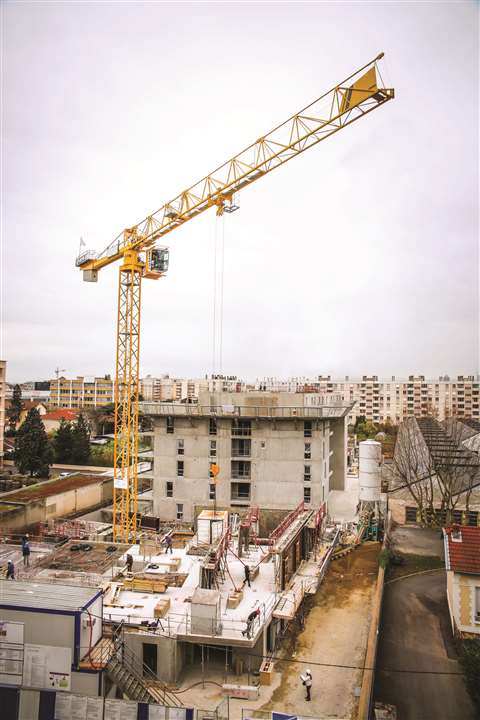 Manitowoc extended its Crane Control System (CCS) to its MD 509, 559, 569 and 689 tower cranes this year
This, according to Lourdain, will apply to between 60 and 70% of the crane market.
He argued that these types of regulations
may well be introduced across the rest of Europe as well, in which case rental
companies needed to see it as a business opportunity. Crane renters could invest in hoists and then charge customers for them. He said this could represent a rental market worth €42 million annually by 2019 in France, or €95 million for Italy, Germany, UK, Belgium and Switzerland.
Lourdain added that, in his view, the regulations do not make sense for 30m-high cranes, because in such cases the stretch of mast covered by the hoist will be just 15m and the hoist cannot start from ground level or reach the cab level.
Turning to the topic of building information modelling (BIM), Aviv Carmel, general manager of Israeli-based Skyline Cranes & Technology, said that Skyline had been using BIM on its projects for several years. According to him, the various tools offered by BIM – including software for drawing, graphic design and management – had enabled site managers to plan and make decisions with confidence, at the same time as helping to cut unexpected costs.
For instance, the technology is able to pick up on small inconsistencies in the design and alert users to collision points, where elements do not fit together correctly.
Carmel also outlined several tower crane innovations that had been developed by his company Carmel Design. They included an adjustable pin, a folding climbing system, the Skyline Feeder crane system and LED light-based advertising banners for tower cranes.
Mark Herlihy, lifting solutions leader at Select Plant Hire – the plant hire and tower cranes rental company owned by Laing O'Rourke – and Cristian Badin, sales leader EMEA (Europe, the Middle East and Africa) for Terex Cranes, continued the BIM discussion, explaining how their two companies had been co-operating to integrate cranes into BIM plans.
Herlihy said a revolution was afoot, with BIM and off-site manufacturing playing a key part in a wider digital engineering strategy that he suggested could significantly alter the industry.
"In addition to all the benefits 3D modelling brings, digital engineering now allows you to receive live updates on progress," said Herlihy. "Digital engineering is providing an intelligent tool to hand over to the client once the building has been constructed."