Crawler cranes: Forward advance!
By Christian Shelton27 November 2018
Austrian hydraulic loader crane manufacturer Palfinger has launched its first crane mounted on a crawler chassis. The Palfinger Crawler Crane PCC made its debut at the IAA Commercial Vehicles exhibition in September 2018 where it attracted a lot of attention. Three models, between 50 and 150 tonne-metres, will be available initially. The idea is for the crane to be able to work on sites with difficult terrain without the truck having to struggle or reach its limitations.
It is a modular 'system' type concept where the three modules; crawler, crane and counterweight, can be individually combined and operated. The PCC is 400 mm narrower than a standard truck and it can handle gradients up to 60 per cent, Palfinger said. It is an articulating or knuckle boom folding type, like the cranes the Austrian manufacturer is well-known for. Confined spaces in urban areas and indoors in factories are other areas of potential application for this new crane series. A strong feature of the type is that it can easily and quickly be repositioned on site.
The manufacturer said the crawler and crane can be controlled, transported and operated separately, the benefits of which are useful where there are weight restrictions. The crane module can also use its stabilisers for propulsion without the crawler undercarriage in a process Palfinger calls 'shifting'. Mounting is also possible on the transport truck.
The PCC needs a minimum clearance width of 2 metres and, minus the crawler undercarriage, a travel height of 2.2 m. In addition to moving in confined areas on job sites, the process of shifting (moving the crane using just the outriggers) allows it to load into a container. On uneven ground the stabiliser travel allows slope gradients of up to 20 degrees to be levelled out.
The three versions available are as follows: PCC 57.002 with a maximum reach of 29.5 m, maximum lifting height of 32 m, and a capacity of 17.9 tonnes. Next up, the PCC 71.002, has a reach of 31.6 m, to a height of 34 m, and lifts 19.1 tonnes. Largest of the three is the PCC 115.002, which reaches 33.3 m, lifts to a height of 35.8 m, and lifts 30 tonnes. The two larger models are available now and the PCC 57.002 will be available in the second quarter of 2019.
High capacity crawler
Switzerland-headquartered manufacturer Liebherr has launched a new 800 tonne capacity crawler crane: the LR 1800-1.0. According to Liebherr, the new crawler has been designed with a focus on combining high lifting capacities with low transport costs.
The Liebherr LR 1800-1.0
The crane has a luffing jib and derrick system that makes it suitable for industrial applications while, for the first time, the boom system features lattice sections with three system dimensions which can be telescoped into each other for ease of transport.
The new crane also sees Liebherr introduce a new suffix to the model name for crawler cranes: the '1' after the hyphen stands for the first model of the 800-tonne crawler crane. The '0' after the full stop means the first version – this number will be go up by one with every future major technical modification.
The basic machine has a width of 3 metres. An increased design height ensures the rigidity of the crane, Liebherr says. A quick connection to raise the superstructure for transport comes as standard.
The boom system comprises three lattice sections which are telescoped for transport. In standard configuration the main boom and luffing jib are both 84 metres long. Large lattice sections are at the bottom section of the main boom; medium lattice sections are at the top section of the main boom and in the bottom section of the luffing jib; small lattice sections are installed in the upper section of the luffing jib. The standard length can be extended to a maximum boom length of 102 m for the main boom, plus 102 m for the luffing jib.
With the crawler's tracks removed, the crane has a transport weight of under 45 tonnes. The base plates have a standard width of 2 m to keep the ground pressure as low as possible.
The crane comes with Liebherr's VarioTray system. Liebherr explains that this means after raising the lattice boom with the derrick ballast, part of the ballast can be unbolted quickly and easily. Only a small proportion of the ballast is generally required for hoisting work with the boom in steep position, Liebherr says, and so VarioTray helps avoid stacking and unstacking of ballast slabs.
The LR 1800-1.0 has a new type of ballasting system for the suspended ballast. A hydraulically adjustable folding frame allows the ballast radius to be adjusted to up to 23 m. This means that a fixed guiding frame is no longer required for large radii, Liebherr says. Ballast is available as Liebherr's standard 10 tonne slabs. The LR 1800-1.0 operates with a maximum of 230 tonnes of slewing platform ballast, 70 tonnes of central ballast and up to 400 tonnes of derrick ballast.
The crawler chassis comes with a four-way drive unit as standard. A Liebherr V8 diesel engine, which develops 455 kW / 610 bhp, is used to power the crane. The engine complies with the Stage V exhaust emissions standard. It also has Liebherr's Liccon2 controller with extended set-up facilities and monitored erection functionality.
Speedy setup
In June 2018 US manufacturer Manitowoc launched a 100 tonne capacity unit: the MLC100-1. It's the first small crawler the company has launched since announcing, in May 2018, that its OEM supply agreement with Japanese crane manufacturer Kobelco will not be renewed. Since the termination of the supply agreement Manitowoc transferred all of its crawler crane production from Manitowoc, Wisconsin, USA, to Shady Grove, Pennsylvania, USA, and the MLC100-1 is the first new model to emerge from the company's renewed plant.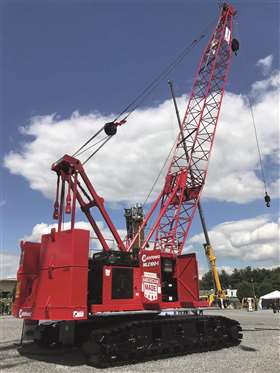 Manitowoc's MLC100-1
Manitowoc says the new crane was designed with a focus on speed of erection and decommissioning. The MLC100-1 has a maximum boom length of 61 m (200 ft) and a load moment of 371 t-m. It is powered by a 300 hp Cummins 6.7 L Tier 4 Final engine. A self-assembly hook enables the operator to install the counterweight without outside assistance. During assembly the crane uses a single segment of hoist line with a button termination which is routed through sheaves in the boom butt, eliminating the need to assemble the boom top.
Manitowoc says the MLC100-1 has an improved, wider cab design, with easier access made possible by additional grab bars and a movable left-hand console. In the cab there is a high-back seat with a headrest and electronic seat controls. Manitowoc says it has also improved the cab's heating, ventilation and air conditioning performance.
The crane operates via Manitowoc's Crane Control System (CCS), which can be used in conjunction with the company's new Diagnostic Code App to quickly analyse diagnostic screens.
End users can customise the MLC100-1 with options including a free-fall option, a third-drum option with a 22 m (72 ft) wire rope, generator-powered boom lights, and a cold weather package.
Multipurpose crawlers
At the start of 2018 Japanese crane manufacturer Kobelco announced new 300 and 350 t capacity lattice boom crawler cranes. It will offer the 300 t (at 5.5 m radius) CKE3000G for Europe, 330 US ton CK3300G-2 for North America and the 300 t CKS3000, which it describes as a 'Standard' model. In super heavy lift (SHL) specification, capacity is increased to 350 t.
Kobelco says the range are multi-purpose 'All Rounder' cranes for handling all sorts of applications, loads and job sites. To accomplish this, attachments include fixed jib, heavy fixed jib and luffing jib. For heavier lifts there is a super heavy lift configuration, also with a luffing jib.
Compared to the manufacturer's 250 t capacity CKE2500G-2, the new crane lifts 40 % more in standard specification and 60 % more as a luffer. In SHL configuration, performance competes with the 400 to 500 t class, Kobelco claimed.
For transport, the width of all components is less than 3 m (10 ft). The European model has an EU Stage IV engine. For North America it is a US Tier 4 Final unit. The Standard rest of world model has an EU Stage IIIA / US Tier 3 engine.
All the current models have cabins with extra-wide windows, a tilting cabin, a load moment limiter, and a working range limiter.
Third series model
At the start of 2018 Japanese crane manufacturer Sumitomo Heavy Industries Construction Cranes Co. (HSC), formerly Hitachi Sumitomo Heavy Industries Construction Crane Company, launched the SCX800E – an 80 t capacity hydraulic crawler. The SCX800E is the third model in HSC's SCX E-series (the other two are the SCX550E and the SCX700E).
The 80 t capacity is at a 3.2 m radius and the maximum main boom is 54.5 m. Power is from a 140 kW Isuzu 6HK1 EU Stage II / Tier 2 diesel engine. Maximum line speeds are 75 m per minute on the front and rear winches and 62 m per min on the boom hoist winch.
In addition to the standard anti-two block system there is a secondary boom hoist limiting device. An automatic drum lock is standard on the boom hoist winch which automatically locks and releases the drum and helps prevent accidents, HSC said.
Operator comfort is enhanced by an extra wide cabin. The hydraulic and electrical circuitry follows a centralised layout for filters, fuses and relays for ease of maintenance.
The crane is aimed at Asian, African and Middle Eastern market, where engine emission regulations meets EU Stage 2 and US Tier 2 standards.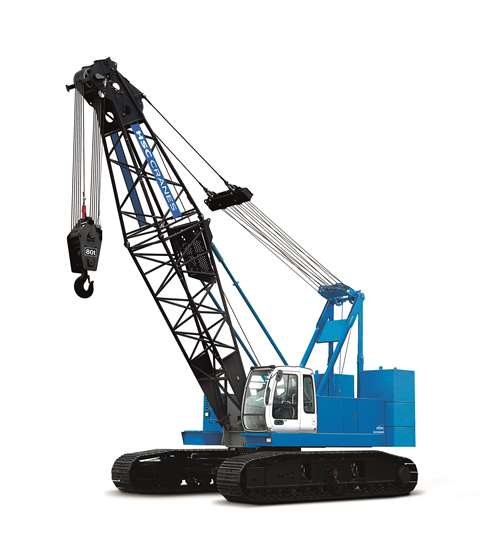 Telecrawler range
The latest crawler crane development from Chinese manufacturer XCMG is to fuse elements of its wheeled cranes and crawler cranes together to create the XGC Series telescopic boom crawler crane range with capacities ranging between 25 – 220 t. According to XCMG, the new XGC telescopic boom crawler range has been optimised for ease of setup and transportation.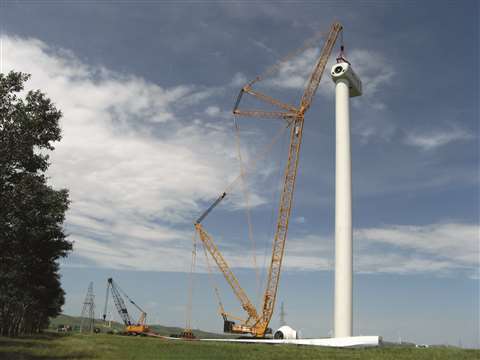 XCMG says that its busiest markets are in Asia, especially China – where it says the construction market has expanded rapidly over the last 12 months. It also says it has seen a rise in demand for its products from India, Indonesia, Thailand, the Philippines, the United Arab Emirates and Saudi Arabia, partly thanks to the Belt and Road Initiative.
The oil, gas and mineral market in Africa is also growing as a market for XCMG. The company reports it received its largest-ever crawler crane order from Nigeria this year, where it delivered a total of 183 crawler crane devices for a petrochemical project.
XCMG also says that the wind energy market has been a driver for innovation in its crawler crane related offerings. For example, it has developed and launched a hoisting platform for its new crawler range specifically for 1.5 – 3.0 MW wind power units. It also developed a 650 tonne crawler to hoisting a wind power turbine up to a height of 140 metres. The company is currently developing what it describes as "super-high, super-wide boom technology" with the aim of creating a crawler capable of hoisting wind turbines up to a height of 160 metres. Also in development is a crawler designed to erect wind turbines in rough, hilly terrain and on job sites with restricted operating space. It also revealed plans to develop a crane capable of hoisting turbines to a height of 180 metres.
The company also reports strong demand for its super-large crawler cranes. In 2013, its 4000 t class XGC88000 crawler started operations, and in December 2017 a second XGC88000 was developed and put up for sale.
Final testing
US manufacturer Link-Belt is due to start shipping its new 348 Series 2 lattice crawler following final testing. The crane lifts 300 tons (273 tonnes) and the maximum heavy duty boom length is 300 ft (91.4 m).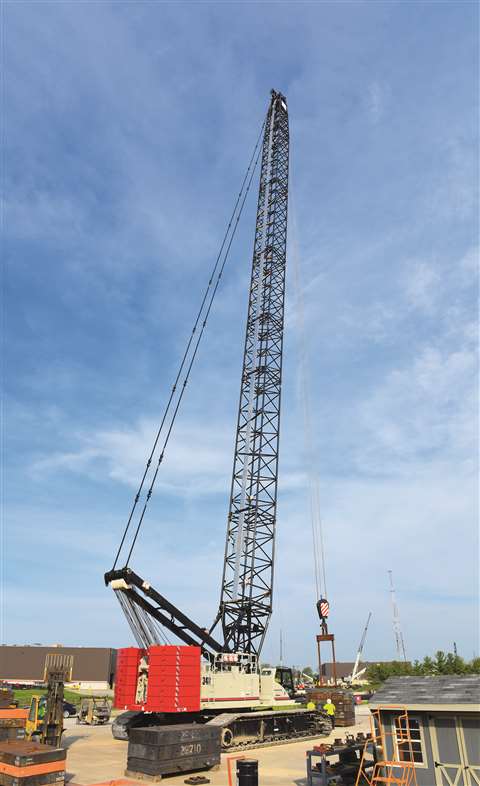 The longest heavy duty jib combination is 240 ft (73.1 m) plus 140 ft (42.7 m). The maximum long range boom length is 355 ft (108.2 m) and the maximum long range jib combination is 295 ft (89.9 m) plus 140 ft (42.7 m). A maximum combination of 180 ft (54.8 m) of luffing boom and 240 ft (73.1 m) of luffing jib provides 420 ft (128 m) of attachment and a tip height of 419 ft (127.7 m).
A new luffing jib transport package with lifting lugs is designed to simplify luffer assembly. The rear post scissors into place by means of alignment links, explained Link-Belt. The transport package also comes assembled with nylon rope reeving to assist with initial luffing jib wire rope hoist reeving. Once the rear post is in a working position, all luffing jib pendant connections are made and the luffer is ready to be raised for work. All assembly is done from the ground with no work at height exposure, said the manufacturer.
The 348 Series 2 has a live mast cylinder for self-assembly and lattice extensions can be mixed and matched with the existing conventional boom on Link-Belt's 348 H5 models. This means heavy duty, transition, and long-range booms can be used.
Engine-wise, Cummins QSL 9 350 hp Tier 4 Final and Tier III engines are available, while dual swing Kawasaki motors provide what Link-Belt described as 'dynamic' operator control. Controls in the cab enable the operator to speed up or slow down the swing speed.
Matching hydraulically-driven main and auxiliary hoist drums use Link-Belt-designed gear drives for straight power-up/power-down auto brake mode. They can also incorporate an optional 'wet clutch' free fall feature, if required. Wide hoist drum laggings provide a standard 28 mm hoist rope with an extra-large circumference, said Link-Belt, extending rope life and offering a maximum line pull of 53,306 lb (24,179 kg).
The crane uses a Series II Eco winch system which Link-Belt said provides greater fuel economy, reduced operating costs, lower engine speed under load, fewer emissions and plenty of line pull power. The Eco hoist can provide maximum line speed with lighter loads with the engine remaining under 1,000 min-¹, explained Link-Belt. The operator can also select an auto-engine shutdown function which automatically shuts the crane down after extended periods of inactivity, so long as critical operating criteria are met, Link-Belt stated.
On-board high-resolution winch-view, rear-view, and non-cab side swing-view cameras are designed to enhance the operator's job site visibility. The control monitor is a full LED system and the crane controls are adjustable and mounted on the seat, which is also adjustable.
An audio-visual travel and swing alarm system is designed to alert crew members on the ground when the crane swings or travels. A rated capacity limiter monitoring system provides the operator with lift information and enables them to set swing and other control parameters. Virtual walls with audio and visual alarms and function kick-out can be created, Link-Belt said.
Telematics are also integrated into the system to provide forecast data for the crane's maintenance and service requirements.
A new attachment on the 348 Series 2 allows the boom top section to remain in place to transition from conventional mode to luffing configuration, eliminating the need to change out tops, Link-Belt said. Track gauge positions can be set at 6.71 m or 5.84 m wide.
Front and rear lower counterweights have a 'hook and pin' style car body design and comprise two stacked weights at each end. The top counterweight slab weighs 17,000 lb (7,711 kg) and the lower one weighs 20,000 lb (9,340 kg). These fit between the side frames, even in the narrower track gauge. The upper superstructure and lower car body comprise the main transport load, and do not require undecking or an assist crane.
To accommodate varying transport regulations in North America, there are car body jacks and quick disconnects on lower hydraulics for quick installation and removal of side frames. Counterweight and lattice sections of the 348 Series 2 are also configured for minimal overflow loads, Link-Belt says. A new counterweight removal system can lift up to 227,000 lb (102,965 kg) of upper counterweight.
Ease of transport
USA-based crawler crane manufacture Tadano Mantis has launched the 50 t capacity GTC-500. The new crane completes the company's series of five telescopic boom crawler cranes with capacities ranging from 35 to 120 tonnes.
The GTC-500 lifts 50 tonnes at 2.5 m radius (50 US tons at 10 ft radius) and its four-section full-power main boom is 34.7 m fully extended. Maximum lifting height with full main boom and fly jib is 51.9 m.
Easy transport was a key requirement for the new model. It is designed to be a one-truck crane and comes in at less than 103,000 lb (47 t) which in the USA is the maximum weight for a standard truck load. At that, the crawler side frames and tracks stay on, as does the counterweight, jib and two winches.
Versions with standard and extra counterweight packages are available at 17,400 lb (7,893 kg) and 28,200 lb (12,791 kg). A bi-fold jib is standard, as is a tilting cab to 20 degrees. Like the other models in the series it is designed to operate out of level. The lifting chart at the maximum of four degrees out of level is more than 70 % of the chart for level ground and keeps the 50 t rating.
It has the Opti-Width function to maximise capacity at any track width setting through 360 degrees. Power is from a 6.7-litre 260 hp (194 kW) straight six-cylinder Cummins QSB6.7 turbo diesel engine. Full radio remote control is now available across the GTC range. Other options include an auger, work platform and a cold weather package to -40 degrees centigrade. The order book for the new model opens at the end of 2018 or early in 2019 and deliveries will start later on in 2019.