Croatian challenge for Zagrebtrans
A project to assemble an offshore platform crane at the Uljanik shipyard in Croatia included a raft of challenges. Lifting and transport contractor Zagrebtrans met them head on. Ivica Šerlija, Zagrebtrans project manager on the job, knew from the outset that he would have his work cut out.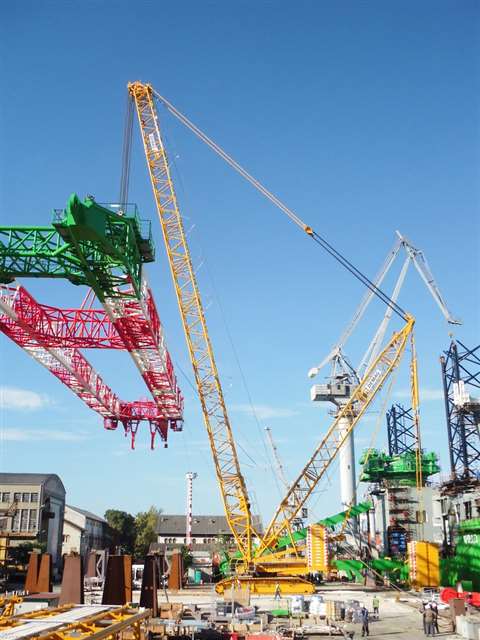 Lifts included components weighing up to 400 tonnes. The estimated time for the job was six months, during a period that included almost all extremes of weather, from hot summer to thunderstorms and powerful winds.
Crane-wise the company chose its latest acquisition, a 650 tonne capacity Demag CC 3800-1 lattice boom crawler. Šerlija said, "A number of factors made it the ideal choice, with the two most important ones being its enormous power and its long boom length."
It was the new crane's first job, being transported on around 50 trucks directly from the Terex Cranes factory in Zweibrücken, Germany, to the shipyard around 1,000 km away. About another week was taken by the five-person team to assemble and prepare the crane for lifting.
The crane was rigged in SSL 1 configuration with a 72 metre boom, also as LSL 11 with a boom length of 102 m and LSL 13 with a boom length of 126 m. Reeving was in 22 parts of line. Counterweight was 225 tonnes plus 325 tonnes of superlift counterweight and a 50 tonne central ballast.
The heaviest lift was 400 tonnes. Other components had to be lifted to a height of 102 m or placed at a 52 m radius. Lifts were made before slewing through 180 degrees and travelling the crane under load. The two Zagrebtrans operators said the Vario Superlift system was invaluable for the limited space at the shipyard.