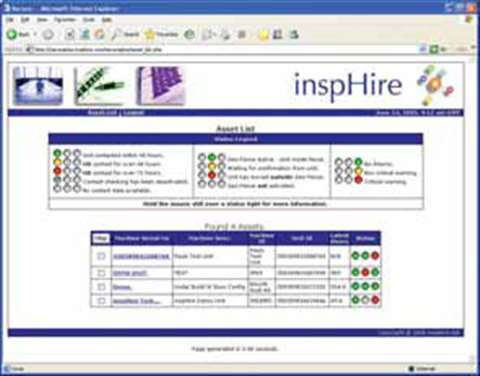 Advances in electronics, software and signalling technology are all making asset tracking technology more accessible to rental companies, although it is the integration of the latest technology that is making them really valuable.
As Tjitte Wierda, sales manager for Mobile Telematics in The Netherlands, which markets a web-based theft prevention system, told IRN, "New products are evolutionary in nature and incorporate the latest technology. Modems, antennae, and GPRS (general packet radio service) receivers are smaller and more powerful."
Consider size first. In two years, the company's on-board unit has shrunk from four times the size of a pack of cigarettes to one-half. This makes them easier to install in optimum equipment locations, and therefore more effective.
Another effect of this size is use on smaller equipment. It opens a whole new market – increasingly popular, easy to transport, easy to steal mini equipment – and Mr Wierda says smaller companies are starting to equip their minis.
His "more powerful" comment means more effective. Good positional 'fixes' are now available from more locations, including inside shelters, making hiding by thieves more difficult.
Examples of integration of technologies abound. ETS of Norway has added GSM (global system mobile) position tracking to its radio frequency Mtrack system to create the Mtrack Pro. The battery-powered (wireless), small (120x70x40 mm) device now continuously signals its position and is effective from within building, containers, and other vehicles. The product is available in Sweden, Spain, South Africa, Australia, UK, and it is entering trials in the US, as well.
PMVision, in West Yorkshire, UK, offers GPS technology to remotely report battery voltage status, making maintenance site visits more productive. Its device sends a message to a mobile phone if the battery charge drops below a threshold.
Navigator Systems Ltd, UK specialists in rental software and radio frequency identification (RFID), have added ultra-high frequency tags to its line of signal generating markers. These tags work on metal and have adequate signal range, says the company.
Navigator says, "trials...have shown that no single approach can cope with every asset type within a single company and therefore, they have…designed systems that can work with mixed UHF RFID, low-cost RFID, and wireless bar code scanners." Perhaps the company's point that no one identification technology suits all equipment types is relevant to the application of asset management technologies in general.
However, devices on rental equipment are not just input/output units, receiving and sending data. Microprocessors give them programmable functions, which can be set remotely, and flexibility when used for asset management.
One example is Lincolnshire's ATA Security Timelog device, launched in early 2007, that provides remote, programmable monitoring and control capabilities via text (SMS) over GSM networks. It accepts two inputs from hour meters and three alarm inputs, as well as generating two relay outputs.
Another example is from Kosran of Ireland, which offers a remote maintenance package that interfaces with the theft prevention product that established it in the market. The system provides remote PIN code change and machine shutdown capabilities, as well as sends automatic service and maintenance alerts, machine hours, operator ID, and other data – all via mobile phone or PC. (See also our box story on the latest developments at Qualcomm in the US.)
Linked with input devices, such as RFID scanners or keypads, such logic-capable devices can ensure operation by only trained or authorised users, a benefit that might become important as safety becomes more important for users – or if rental companies are expected to bear some responsibility for such matters.
GenSet, the Welsh-based seller of generators, lighting towers and pumps, is fitting its popular VT- 1 lighting towers with USB ports and memory. These allow on-site and remote access to equipment configuration information and maintenance history.
Integration, too, is characteristic of the enterprisewide software that stores and processes information throughout rental companies. Graham Dobbs, sales director of rental software company InspHire in the UK, sees "a combination of technologies to combine rich telemetric data with historic [data]. That brings you something that is useful.
"You might think of the devices on your rental equipment as information input/output devices." says Mr Dobbs. Systems, such as those from the US company Trimble, send generated data to any e-mail device, including Blackberry- and Microsoft Windows-enabled, mobile phones.
Changing economics
Useful, yes, but are rental companies able to convert that into clear economic gain? Costs are important here, and it is clear that the prices of some of these technologies are falling. The onboard units from Mobile Telematics, for instance, have fallen in price from €900 two years ago to about €400 today. "[Hardware acquisition cost] is no longer an issue, unless it is a big fleet", Mr Wierda tells IRN.
Mr Dobbs of InspHire agrees: "GPS units are great and their costs will go down. When they do, they will fly off the shelf. Realistically, we ought to see the come down to €300 to €450."
Operating costs are also a consideration. As Mr Wierda says, "reducing service costs, monitoring costs, are the next hurdle."
However, the cost of the software that integrates much of the data to and from remote sites seems to be a hurdle. InspHire has been pushing its Secure Plus module, which provides integration features, "... for about a year now," says Mr Dobbs, "but a cost of Ä90000 to €100000 for 100 units is a detriment."
The flip side of costs is benefits, of course. You might think that better theft prevention – one aspect of asset management – means lower insurance premiums (see box story). "The need is to convince insurance companies, which are not very keen on reducing premiums", suggests Mobile Telematics' Mr Wierda, "They are still standing quite still."
He feels that rental companies have other incentives to grasp better control of the use of rented equipment, and he offers one suggestion: more accurate billing. He gives as an example customers who tell the rental company on Friday; "I'm not using the machine anymore, a pick-up on Monday is fine," but continue to use the machine over the weekend.
If engine run data is available to the rental company, he continues, such "Users can no longer return equipment on Monday morning and claim it wasn't used on Saturday or Sunday. Customers mostly get away with it because they know most companies are not checking", says Mr Wierda.
That is just one possible benefit from better asset management. Whatever others there might be, it is clear that suppliers of asset management products and services are integrating and expanding their products. And it matters, because increasingly it is the application of just this kind of technology that will differentiate one rental company from another.