Crushing & Screening: Simple but efficient
By Sandy Guthrie24 May 2017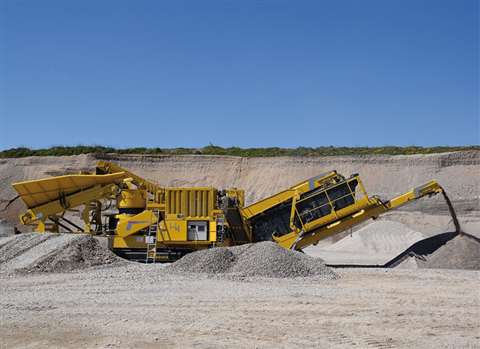 Hybrid machines are among the latest developments in the crushing and screening industry, as peak efficiency is sought by manufacturers and their customers.
A multi-stage crushing and screening combination of four mobile Keestrack plants was first publically tested last autumn, and the Belgian manufacturer said the results proved to be five end products with a production capacity of 180 tonnes/h and total diesel consumption of 60 litres/h.
Tests were conducted during the customer days held by the Norwegian Keestrack dealer Fredheim Maskin and this formed part of the technical launch for the company's full-hybrid drive technology.
Under scrutiny were the Keestrack B4e jaw crusher with stacker S5e (for 0/20 pre-screen), and the H4e cone with three-deck-afterscreen module and the final two-deck-classifier K3e for five end product fractions.
With a feed size of 600mm and different sets of end products, the combination reached a maximum production of 180 tonnes/h.
Without activating their onboard-diesels, all machines were powered through a single 500kVA external genset. Consumption analyses over several days gave average values of less than 60 litres per hour.
President Kees Hoogendoorn said, "We were surprised by these results. Even if these values are quite specific, they clearly reflect the high economic potential of our full-hybrid technology.
"Applied in a mobile multi-stage processing line, as presented here for the first time, it offers great advantages for the contractor. Not only in daily practice, but specifically in long-term evaluation if we consider lower maintenance costs and longer service life."
With the Keestrack B4/B4e jaw crusher, conventional diesel-hydraulic drive or a full-hybrid e-version are both options.
Keestrack's new tracked hybrid cone crusher H4e is part of the new H Series. It said that optimised structural characteristics of the newly-designed frame allowed the implementation of efficient pre-screen and secondary three-deck screen modules, opening completely new application fields for the advanced diesel-electric plant with optional full-hybrid operation mode.
Intuitive control
As crushing plants become more complex, their operation must be kept as simple as possible, according to Wirtgen group member Kleemann, which is planning to launch Spective, an intuitive crushing plant control concept, into Europe.
Spective supports the user at work by guiding them step by step through the startup process, showing a diagram of the entire plant with its adjustable functions, providing further guidance once the desired function is selected, and diagnosing any faults that occur.
The touch panel, which Kleemann said was not susceptible to dust and was easy to read even in strong sunlight, responds to the touch of fingers, tools, pens or gloves.
The company said that with other control systems, the operator could become so overwhelmed that they could not operate the machine anymore.
To counteract this, the design was taken outside to a productivity expert. The result was step-by-step guidance to ensure the system was simple to operate, even for someone who had never operated it before.
Spective is available initially for the
Mobicone MCO 11 PRO and the latest impact crushers in the Mobirex MR EVO2 series.
Patented technology
Metso has launched the Metso MX crusher for minerals processing. It is a cone crusher based on the patented Multi-Action crushing technology, which combines the piston and rotating bowl into a single crusher.
The company said the new crusher provided "a giant leap" in profitability by cutting operational costs by 10% and enabling 10% higher uptime compared to traditional cone crushers.
Jouni Mahonen, vice president of global sales and product support, said, "Aggregate producers are facing increasing pressure on efficiency and cost management. In order to meet these demands, we rethought the crushing basics and combined our long experience in different cone crusher technologies with our extensive engineering knowledge.
"Two individual crushing methods based on the piston and rotating bowl were conjoined, and as a result, we created the MX Cone with Multi-Action technology."
It has been designed for the most demanding rock conditions and with a special focus on automated adjustment features, said Metso.
It added that the key benefit of the Multi-Action technology was an easy under-load setting adjustment and wear compensation without having to stop the process. It said this could now be combined with extended wear life and better mechanical protection.
The machine claims optimal cavity design, stroke direction and effectively distributed crushing action.
The Metso MX is also said to provide maximised tramp release distance with high protection against uncrushable objects and overloading. The crusher can use up to 70% of the mass of new wear parts.
"After 10,000 hours of rigorous testing, we are proud to say the Metso MX meets our targets for increased profitability by allowing 24/7 crushing with minimum downtime," said Mahonen.
Metso is also now introducing a new digital solution combining the possibilities offered by advanced analytics and cloud-based technologies.
Mobile crushers frequently move between sites, and through a remote communication device, Metso Metrics Services provides a dashboard view of critical operational and maintenance data – from utilisation rates to production levels and fuel consumption.
Giuseppe Campanelli, vice president, service solutions, said, "Making the most out of the assets depends on data you can trust. Having the right information at the right time helps customers make important operational or maintenance decisions to improve uptime as well as utilisation and production rates.
"Metso Metrics Services is designed to collect and provide this crucial data in one easy-to-use interface."
Metso Metrics Services is designed to help identify underperforming assets and training opportunities, as well as to control maintenance and inventory costs.
Flexibility
Screening bucket firm Allu has introduced its new Allu TS drum assembly construction, which is said to allow customers to achieve flexibility in performing multiple jobs with one unit, just by repositioning the standard screening blades.
Manufactured for the existing Allu D-Series material processor bucket frames, the core of the Allu TS technology is the configuration of the screening blades that spin between the screening combs. The end product size is defined by the space between the combs, and different fragment sizes can be achieved simply by repositioning the combs.
Allu said that because the screening combs carry most of the material weight, the drums and bearings experienced less impact and load. It added that the design of the assembly ensured the machine worked well in wet and dry materials without clogging.
Robust attachments
Last year, Atlas Copco launched the BC 2500 and BC 3700 bucket crushers. It said they were robust attachments offering up to 30% higher output with significantly less maintenance.
Two more models have been added, BC 2100 and BC 5300, so now the BC range includes bucket crushers with service weights of 2,000 to 5,300kg.
Atlas Copco said that a circular crushing cycle gave the next generation BC bucket crushers unmatched performance with up to 30% higher output than previous models.
It said the advanced twin-drive system comprised two powerful hydraulic motors. The sturdy timing belt is designed for long service life and the system provides huge torque right from the start, it said, adding that full loading capacity could be used without a risk of blockages, and no slippage during start-up ensured constant power transmission and no extra load on the bearings.
Austria's Rubble Master asked its tracked MSC series of mobile screens to produce up to five fractions in a single pass, to give customers an advantage in the market. Users can choose between two- or three-deck machines.
The tracked double deck screen with the RM Two Go! drive concept produces up to three high quality fractions in a single pass. It can be used as a standalone screen or as a post screen with an RM mobile crusher and can be used for a range of materials.
One customer was contracted to process 20,000 tonnes of slate rock for the mountain reservoir of a snow-making facility. The company decided in favour of a combination of an RM 80Go! and RM TS3600 to carry out the work.
The cubic aggregate was conveyed from the discharge belt of the crusher directly into the screen box of the TS3600. This is where it was classified in three final sizes – the fine 0 to 8mm material was used as an impermeable layer, whereas the 8 to 32mm medium and the 32 to 70mm coarse material was used as fill material. This solution produced 1,200 tonnes of finished aggregate on a daily basis
Tracked coarse material screening plants in the RM HS series can process various feed items including bulky demolition material. All screens in the HS series are said to be extremely robust and high-output.
McCloskey has been delivering screeners since 1985, including energy S-Series screeners and high performance and rugged R-Series scalping screeners. The project range starts with the S80 screener is designed for users who require less capacity than the S130 and S190 models offer, but are not willing to sacrifice the quality features found on the McCloskey S-Range of vibratory screeners.
These features include a High Energy Screenbox, large hopper and large
engine bay.
Double deck
When Sandvik introduced an addition to its 341 jaw crusher range with the launch of the QJ341+, the new model incorporated a double deck pre-screen as standard.
The new pre-screen feature is said to provide high amplitude for excellent separation. This enables the removal of a large amount of fines, resulting in greater efficiency, higher productivity and less wear on the crusher,
said Sandvik.
To complement the pre-screen, it designed a new telescopic natural fines conveyor to deal with the increased flow of pre-screened material. The dirt chute has been designed with a steeper angle to enable a faster transfer of material, while also increasing the ability to deal with sticky material.
The three position dirt chute allows all material passing the pre-screen grizzly to be diverted onto either the main conveyor or the natural fines conveyor. In the middle position it allows a screened product to be produced out from the fines conveyor. All of this is done by positioning the three-way chute without removing any media from the pre-screen.
Anaconda Equipment International specialises in the design and manufacture of mobile screening equipment as well as a range of wheeled, tracked and static conveying solutions for waste recycling industries.
In 2016, it launched the DF514 tracked screener. It has a 4.27 x 1.52m double deck screenbox, a Cat 4.4 water cooled engine, belt or apron feeder option, three integral stockpiling conveyors, and a crawler track chassis for ease of movement around or
off site.
The unit has hydraulic folding hopper sides as standard, hydraulic screen angle adjustable from 15 to 19°, hydraulic screenbox raise/lower for ease of mesh change, and wired remote as standard. Radio remote is optional.
Powerscreen offers solutions for the recycling of many types of materials – from construction and demolition waste to soils and composts. These materials are processed using a series of crushers and screens to provide materials such as road base.
The Warrior 600 is the most compact heavy duty mobile screen and makes the Warrior range the widest in the market with seven machines of varying sizes. The 600 is described as highly versatile with a simple conversion from three-way split mode to two-way split mode, which can be completed in minutes.
Said to have been designed for operators for whom versatility, manoeuvrability and transportation are of key importance, the Warrior 600 also features a highly aggressive 2.4 x 1.2m screenbox capable of 6g of acceleration.
IROCK Crushers' new TS-518 mobile tracked screening plant is designed to give medium to large producers a compact, heavy-duty and easy-to-move finishing screen with a high output.
The company developed the screener with hydraulically-powered components, including conveyors, which allow operators to move the machine quickly and easily into place for production in as little as 10 minutes.
IROCK offers the TS-518 in two- or three-deck models. Both feature heavy-duty,
high-energy, two-bearing screen boxes for sorting a wide range of materials, including aggregates, concrete and sand. The company said as many as three sizes could be sorted with the two-deck unit and four sizes using the three-deck model.
The screener's feed conveyor offers an adjustable speed for efficient and effective material loading into the screen box.
Radio control
Users of heavy equipment for crushing or moving rocks and other materials are increasingly embracing remote controls, and the IROCK TC-20 track impact crusher is fitted as standard with a custom radio remote control system from HBC-radiomatic.
IROCK also offers HBC radio controls as an option on the jaw crusher product range.
IROCK is supplied with HBC technology by Kraft Fluid Systems, a distributor of hydraulic components and electronic controls, which oversaw integration of the first remote system on a prototype crusher three years ago.
Adam Crowder, territory manager at Kraft Fluid Systems, said, "The crushing sector is well suited to the use of remote controls and IROCK's machines are demonstrating the advantages in applications related to rock, in addition to recycled concrete and asphalt.
"Positioning the operator away from
the machine has inherent safety and productivity advantages that are becoming more and more apparent to influencers in the industry." Kraft has been working with German-based HBC-radiomatic's North American subsidiary since 2010.