Crushing and screening: building blocks
By Thomas Allen22 January 2019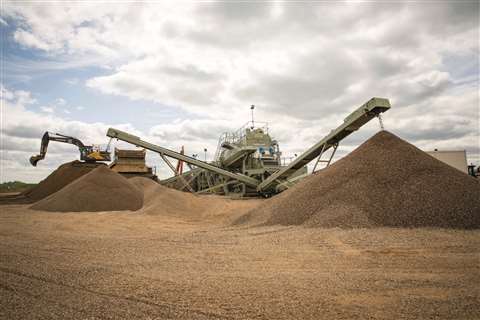 The crushing and screening of aggregates is of fundamental importance to the construction industry because it provides the building blocks with which to create structures such as roads and houses. So, with old structures requiring repair and growing populations driving the demand for new constructions, aggregates suppliers are running to keep up with demand.
In Cambridgeshire, UK, the company Mick George has upped its production of sand and gravel to 300 tonnes per hour by introducing a new bespoke washing system supplied by Aggregates Processing Solutions (APS), part of the Finlay group. Mick George is currently supplying materials for the major A14 Cambridge-to-Huntingdon road upgrade project.
Over the past 30 years, APS has worked closely with Mick George, which specialises in bulk excavation, earthmoving, demolition and asbestos removal, as well as waste management services, and aggregate and concrete supply.
Meeting demands
Darren Griffiths, area quarry manager at Mick George, said the new machine from APS is a fundamental part of the site, producing the required material in a single self-contained unit.
"The material we're processing is taken off site, straight from the plant, so it's been really important for us to have equipment that can keep up with such demand," he said.
To meet the specific requirements of the quarry, APS incorporated a number of standard modular units that can be relocated. It comprises a CDE S20 Feed Hopper, a CDE M45100, an AggMax 153 and a 20m radial conveyor, which was said to help increase stockpile capacity and save time.
The washing machine can be operated by just one person and it can produce six different products – a +40mm reject, 40mm, 20mm, 10mm and 6mm aggregate, as well as concrete sand
Griffiths highlighted the benefit of scheduled maintenance, saying, "The backup we have received has also been fantastic."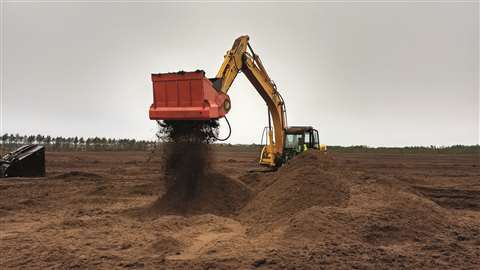 On the other side of the world, in Australia, earthmoving equipment solutions provider RDW recently became the authorised distributor of Finnish manufacturer Allu's products in the region – in particular, the company's Transformer and Processor attachment ranges.
With the Transformer range specifically, RDW has been targeting more than 120 applications and it has done so by undertaking a proof of concept trial intended to demonstrate to customers the products' potential.
RDW's subsidiary QRB initially started its Allu demonstration programme with the pipeline laying and padding industries, before moving on to the waste recycling and feed-lot industries over a six-month period.
One example of a company that has adopted the new attachments is Queensland-based firm pipeline plant hire and equipment supplier Pipeline Plant Hire (PPH).
The company acquired a range of Allu Transformers, initially for use in backfilling operations in gas and water infrastructure projects. PPH put an Allu DH3-17 fitted with 08/16 TS blades on its Hitachi ZX330 and ZX350 excavators for screening and backfilling pipe beds.
Radical solution
What is said to make this such a radical solution is the fact that the materials excavated for pipelaying, including impurities such as rock, are the same materials being used for backfilling. As the impurities are filtered out, the material is turned into a fine soil appropriate for filling in a trench. This removes the need to buy in materials such as sand or top soil.
The Transformers are operated hydraulically from the excavator's hydraulic system, and each excavator can process several hundred cubic metres of soil per day, according to Allu.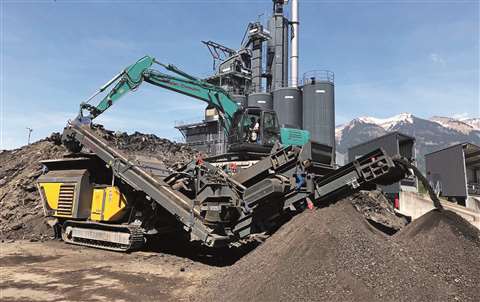 Back in Europe, Austrian demolition and recycling company Halbeisen & Prast KG has been using Rubble Master's crushers since the firm's inception in 1999.
Halbeisen & Prast started out with a hook-lift RM 60 crusher before moving on to an RM 80, then an RM 80GO!, and most recently an RM 90GO!.
The new machine was chosen by the managing director of the company's earthworks team Günter Prast, who suggested the switch from the RM 80GO! to the RM 90GO! brought with it a number of advantages.
He said, "Using the new pivoting refeeding belt, we can produce two different fractions simultaneously. But there are loads of other details that have been optimised and save a lot of time during a working day. For example, the crusher housing now has just two bolts instead of ten."
At Halbeisen & Prast, the RM 90GO! is operated for about 800 hours a year and is mainly used for the company's own projects. However, for about 20% of the year it is rented out to customers. For example, in April of this year, the construction company Hilti & Jehle, based in Feldkirch, Austria, rented the machine to crush asphalt.
During the three weeks it was rented, the RM 90GO! crushed 15,000 tonnes of asphalt to be recycled as an additive. Hilti & Jehle said a particular benefit of using the machine was the servicing provided by Rubble Master. Having a local dealership means that services and spare parts could be delivered quickly, according to the firm.
Rubble Master is seizing the opportunity to expand in the growing market of China by increasing its investment in the region.
The latest addition to the Rubble Master family is the Chinese sales subsidiary Tianjin Rubble Master Technology, which will serve Chinese customers on site, together with the ten established local sales partners.
Also, a dedicated Tianjin Rubble Master Technology wear parts warehouse is planned for the future, to enhance the company's servicing provision.
As part of the push to strengthen its presence in the country, Rubble Master recently exhibited its RM 100GO! compact crusher with the new generation of mesh deck screens and the swivelling refeeding belts at bauma China.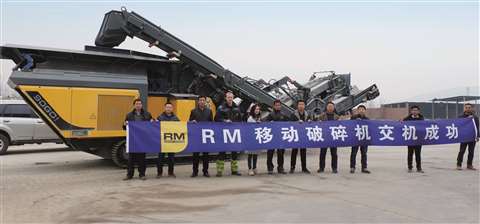 With a capacity of up to 250 tonnes per hour, depending on the input material, the RM 100GO! was said to be a quiet, low-emissions machine with simple set-up. All mineral materials such as construction and demolition waste, concrete, asphalt, glass, coal, natural stone or steel-reinforced concrete with a maximum edge length of 750mm can be processed by it.
New markets
Another company expanding in emerging markets – not only China but also India – is Belgium-based Keestrack.
In India, the firm is represented by its Indian subsidiary Etrack Crushers, which was established in 2017 to promote Keestrack's programme of track-mobile crushers, screeners and related equipment.
Headquartered in Gurgaon, next to the capital New Delhi, Etrack Crushers has laid the groundwork for Keestrack's next steps in India: to establish local assembly and manufacturing. In August 2018, work started on the construction of Etrack Crushers' new manufacturing facility in Neemrana, around 100km south of New Delhi.
Comprising assembly halls, modern offices and extensive parts storage facilities, the 10,000m2 facility is expected to be operational by early 2019. What is more, the site has space for further expansion in future, meaning that the halls can be extended in line with growing demand.
Assembly at the plant will be based on core OEM (original equipment manufacturer) modules delivered from the group's European factories, which will then be fitted together with components from international partners and local suppliers.
Also in India, Finnish manufacturer Metso is increasing its foundry capacity in Vadodara to meet the growing demand for cast wears for the mining and aggregates industries.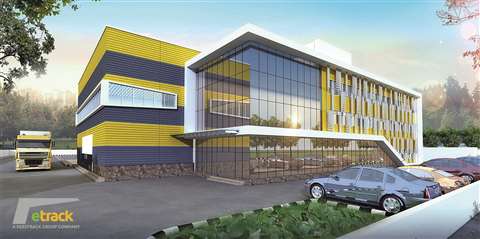 Artistic rendering of Etrack Crushers' new manufacturing facility in Neemrana, India
Initial investment includes the acquisition of the property and foundry assets of the privately-owned foundry project Mega Cast. The company expects to invest a total of approximately €25 million (US$28.39 million) to purchase the assets and develop the foundry by 2020.
Growth strategy
Sami Takaluoma, president of the minerals consumables business area at Metso, said, "This investment fully aligns with our profitable growth strategy. It further expands our global manufacturing footprint in foundry products, improving our operational capabilities and allowing us to meet our customers' growing needs, both in terms of availability as well as reduced lead times."
First product deliveries from the foundry are expected in 2019, and production will ramp up quickly in 2020.
Denmark has been experiencing a recycling boom in recent years, and the company MIS Recycling A/S, based in the country, has been reaping the benefits of this trend.
Each year, MIS processes about three million tonnes of residual construction materials and 100,000 tonnes of natural stone, and to achieve this the firm uses ten impact crushing plants from Kleemann's Mobirex series.
Two of Kleemann's MR 130 Zi EVO2 plants, which come with the company's Spective control system, are being used by MIS Recycling A/S
MIS first started using Kleemann's equipment in 2002, with the Mobirex 130 mobile crushing plant, and it now has ten Mobirex MR EVO2 plants and three Mobiscreen screening plants – the MS 12 Z, MS 15 Z and MS 16 D.
The crushing and screening plants are transported to the jobsite and remain there for one to two weeks, depending on the size of the project. When crushing asphalt, the impact crushing plants crush RAP (recycled asphalt pavement) into grain sizes of 0-6mm and 0-20mm, and the final product is returned to the asphalt production cycle.
The two latest MR 130 Zi EVO2 plants are equipped with Kleemann's new Spective control system, which was said to be intuitive to use and automates some machine functions.
Martin Henriksen, director of MIS, said, "It's much easier to use the plants and no explanations are required. Our operators can control all machine functions and components very simply from the ground using the touch panel."