Crystal Group increases focus on autonomous vehicle development
By Chad Elmore19 March 2021
Computing power: Giving industrial and off-road equipment a brain
Teaching a compact excavator or a long-haul truck – or any type of machine – to perform tasks safely and effectively without human supervision involves a complex network of computers, software, sensors, cameras and more. While engineers at established original equipment manufacturers (OEMs) and newer technology companies work to make science fiction a reality, most are making progress the same way the commercial vehicle industry has always advanced -- by partnering with key suppliers.
One of those companies, Crystal Group, essentially gives hard-working industrial and off-road equipment a brain. The company entered the autonomous vehicle space in 2016 with its RS363S15F server, which it built on a 3U chassis and equipped with Intel Xeon scalable processors. However, it recently announced its increased focus on the development of autonomous vehicle computer systems for industrial and military applications.
"We are constantly seeing new opportunities with autonomous vehicles," said Micah Snodgrass, technical director, Crystal Group, Hiawatha, Iowa. "Years back, it was the vehicle OEMs that came to us from a vehicle perspective, and that market has since grown into companies that are supplying technology for autonomous trucking, construction and mining. The potential for growth is incredible. There's always something new."
The shift in Crystal Group's focus from autonomous autos to heavy equipment aligns more directly with their long history of designing and manufacturing rugged computer hardware solutions for military ground vehicles, submarines and aircraft that have to operate without fail in remote, demanding environments.
The same goes for its autonomous vehicle servers, which are also designed to deliver compute power with hardened physical assets for seamless performance in the harsh and unpredictable operating challenges that are inherent to edge environments.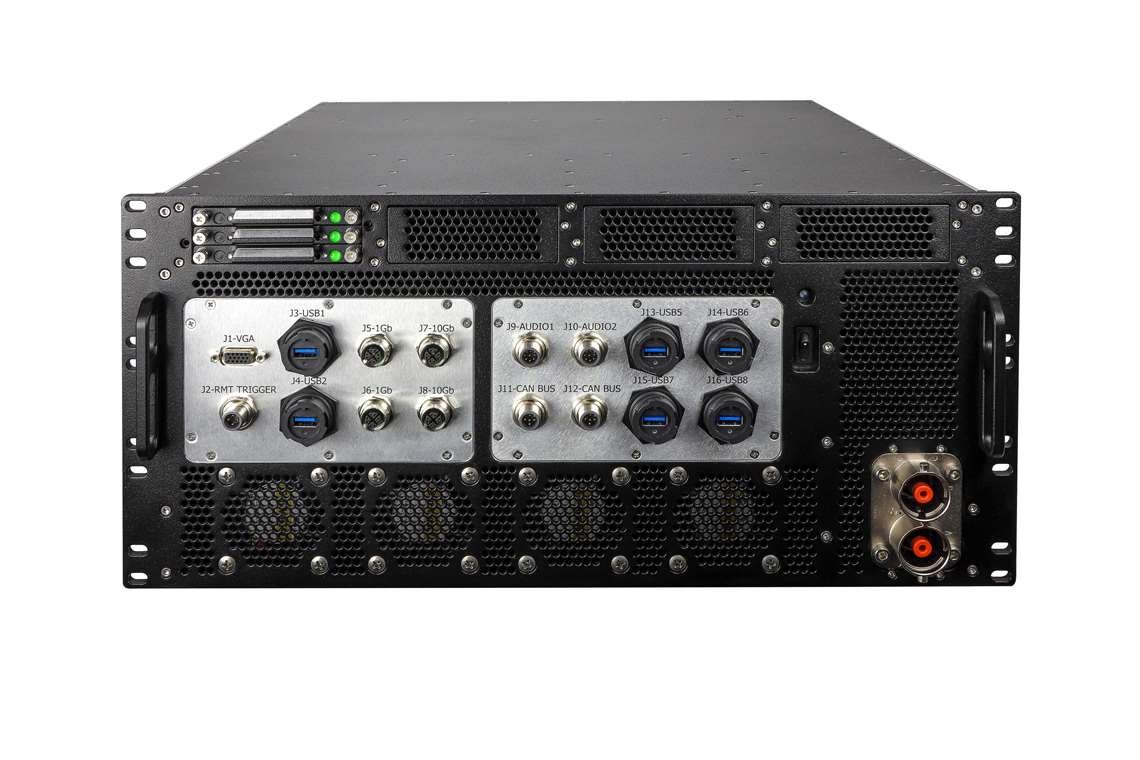 Thinking on the edge
Crystal Group's specialty is engineering and manufacturing rugged, high-performance compute solutions for "edge environments," where a computer interprets incoming data instantly to make real-time operating decisions without connecting to a distant data center.
"When you talk with somebody about edge computing, they typically think of something the size of a cell phone," said Snodgrass, "and a lot of that computing is based on small, embedded form factors, such as little Raspberry Pi-type solutions. Edge terminology isn't as prevalent in the autonomous vehicle market as it is in others, but that's basically what we have been doing. Instead of using tiny, embedded computers, we're doing it with large super computers that we embed inside vehicles."
There was a time, said Snodgrass, when technologists and engineers in the automobile and autonomous vehicle space believed there was a simple way to upload sensor information to a data center. Critical decisions would be made in the cloud and beamed back to the vehicle.
"Following some life lessons, it became clear to the industry that getting enough data back to a central data center is not always viable," he said. "In just the last couple of years, there has been a drive to get more compute power out in the field so decisions can be made where the decisions are needed. Whether the vehicle is on a construction site, in a field, on the highway, or in a remote mine, it can't always talk to a bigger computer somewhere. There must be enough computing brainpower within the vehicle to decide if the obstacle ahead is a puddle or a baby carriage – and then make a safe operating decision. While this technology has not been talked about as an 'edge' approach, that's really what it is."
Crystal Group said its ability to bring reliable autonomous vehicle functionality to the edge stems from its experience in incorporating NVIDIA GPUs to process and prioritize vast amounts of data for comprehensive situational awareness, all while managing the heat generated by power-hungry autonomous vehicle computer requirements. The company has been named a preferred OEM in the NVIDIA Partner Network (NPN).
"Edge computing needs and opportunities for seamless AI, autonomy and visualization capabilities are increasing exponentially – both in complexity and performance expectations," said Jim Shaw, executive vice president of Engineering, Crystal Group, in a statement released late last year about the NPN. "Integrating NVIDIA GPUs into our rugged hardware solutions ensures critical applications, like power distribution, oil and gas exploration, and autonomous vehicles on our roadways and in theater, have the data processing power and speed needed for flawless performance in highly unpredictable, challenging environments."
Driverless solutions
The company's solutions for autonomous vehicles include the RS5904FM 5U server, which they designed specifically to help autonomous semi-truck OEMs reduce development time and streamline system integration.
"We have different form factors as part of our AVC (autonomous vehicle computer) line, including units that are air- or liquid-cooled, because the customer's available footprint and needed compute power determine what products they're able to use." said Brian Hamed, program manager, Crystal Group. "It's rare that an off-the-shelf product fits a specific application, so we work with customers to customize a solution that meets their exact needs."
In one recent example, they have been working with a California-based technology company to develop a commercial-ready Level 4 fully autonomous system for long-haul trucks. Of the five levels of autonomy, Level 4 is when a vehicle can handle most of the situations it should encounter independently, but the human operator can take control at any time.
"When we started working together, we began with a configuration that had been used in commercial passenger cars," said Hamed, "and they quickly found ways to modify it. After working through several design iterations with them, we've fine-tuned the technology to meet their specific operating needs and performance."
Crystal Group's scalable AVC systems — which combine compute power, data-handling capabilities and storage capacity in a compact, rugged solution that can withstand harsh conditions and environments — are available to help customers "jump-start" an autonomous project.
The AVC0161 embedded autonomous vehicle computer is a small, lightweight unit that supports up to four GPUs. It uses dual Intel Xeon Scalable processors and has 2 terabytes of memory in a liquid-cooled aluminum enclosure.
"We don't have two customers that are identical," said Snodgrass. "But the underlying physics is the same across the board. Whether it's the space shuttle, the International Space Station or submarines in the ocean, shock and vibration is shock and vibration. The levels may be different in a truck or in an excavator, but knowing how to address those laws of physics issues is something that we can easily translate into a commercial application."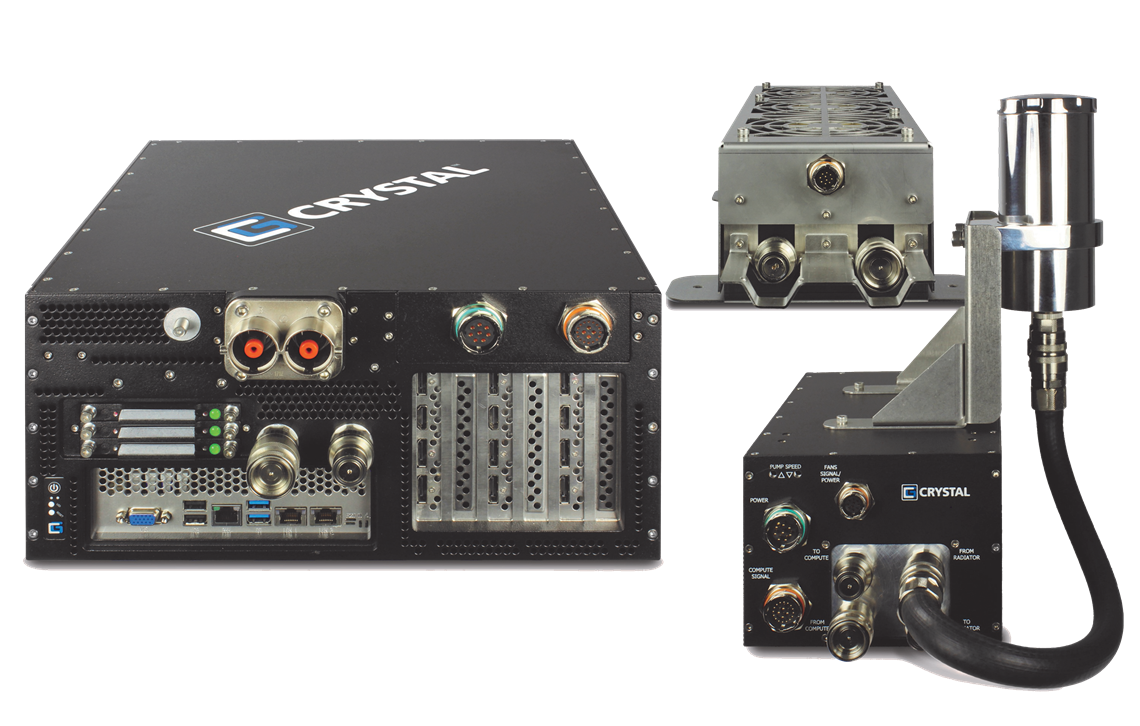 One size does not fit all
Today, even the casual observer will notice that there are a lot of companies focused on turning autonomous industrial equipment into a marketable reality, and that most have focused on solving the challenges related to a specific application.
"Five years ago, there was a holistic view of the whole market," said Snodgrass. "And there was an initial thought — not just with Crystal Group, but with our suppliers and our downstream customers — that vehicle autonomy was a one-size-fits-all computing problem. We all believed it could be solved if we threw enough horsepower at it. Since then, the market has shifted away from that line of thinking. This a very complex, difficult problem for technology to solve. As a result, the marketplace has shifted to very specific implementations."
"We have customers who are focused on over-the-road trucking. The computers that can drive very safely at 70 mph on an interstate do not drive it right up to a gas pump. There are different computers that run excavators in a controlled environment where there is no human interference. I believe the market has not fragmented; it's just focused on several very specific areas. And that's where we're starting to see a lot of progress being made."
Written by Chad Elmore, this article originally appeared in the March 2021 issue of Diesel Progress.