CTE lift goes to work in London
By Lindsey Anderson04 December 2014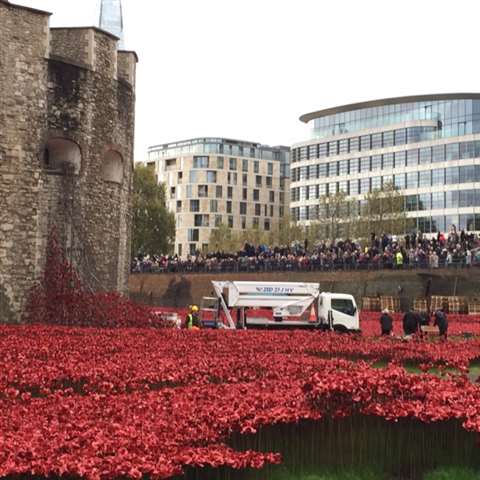 Power Platform Services, a UK rental company, was called upon to help dismantle the ceramic poppy installation at Poppy Field Memorial at the Tower of London. The company provided a CTE ZED 21 JHV truck-moutned AWP to complete the work.
ZED 21 JHV reaches 20.6 m of working height, a max outreach of 9.7 m and a basket capacity of 300 kg (two people and working material).
The unit features the company's H outrigger configuration with variable jacking system allows the machine to be setup on narrow, one sided (left or right) or outriggers fully jacked.
"Specifically, the narrow jacking option offers users the ability to work in restricted areas, such as for activities to be carried out on roads, hard shoulders of motorways or even possibly working inside buildings with limited workspace," the company said in a statement. "With stabilisation reduced to the right or left, the platform is able again to work safely in the hard shoulder of motorways, or public areas with limited or congested spaces."