CTE runner up in steel prize
By Euan Youdale30 May 2018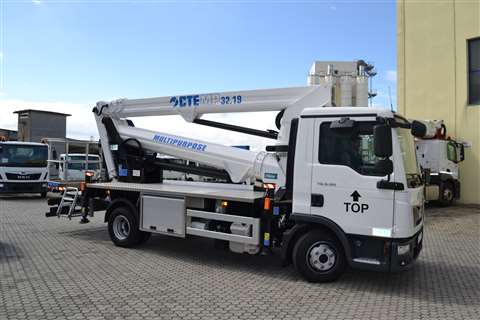 Italy-based CTE has achieved second place in the SSAB Swedish Steel Prize with its MP 32.19 truck mounted platform.
Among this year's finalists in the 20-year-old prize were Australian company Trufal Global with a flexible grain auger wagon; the Finnish Jak Metalli with an innovative lightweight vegetation cutter head; and the winner Italian Mantella for its next generation trailer. Mantella won a cash prize of SEK100,000 (€9,700) to be donated to its charity of choice.
The innovative CTE MP 32.19 is mounted on 7.5 tonne truck. It has 32m of working height, 19m of outreach and 300kg basket capacity. Its main feature is the boom configuration, both telescopic and articulated, that allows excellent up and over capabilities and the flexibility to work as telescopic only. It is equipped with the innovative S3 Smart Stability System.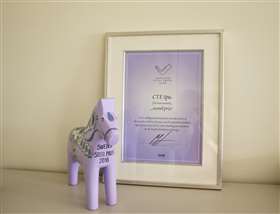 The award judges said, "CTE Spa, Italy, has developed a small truck mounted sky lift of extraordinary versatility, height and reach. The compact boom system has a unique, elevated slewing mechanism that provides the added capability of maneuvering around corners, giving access to confined spaces where traditional solutions fail. A carefully considered design as well as the optimisation of all boom cross sections and use of high-strength steel made this possible".
Roberto Fenner, CTE operation manager, added, "In recent years, all manufacturers have increasingly approached the technological limits of aerial working platforms. Nevertheless, thanks to the new high performance materials that allowed new design and production process technologies, CTE has succeeded in designing state-of-the-art machines such as the new CTE MP 32.19. This model, in addition to the innovative content it is equipped with, can also be fitted on vehicles that do not have excessive tonnage, while maintaining the characteristics of compactness and versatility that are unique to the sector."