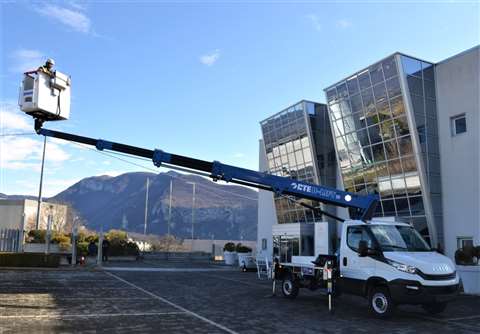 CTE has added a new model to its telescopic truck mount range.
The B-Lift 23 HV is the new version of the B-Lift 230 Pro, which is well established in Northern Europe, and features the manufacturer's S3 Smart Stability System, an electronic management system that priovides continuous control of all parameters of the machine.
The model has a working height of 23m, maximum reach of 13m and a capacity of 300kg in standard configuration, with an aluminum basket. Stabilisation includes the variable extension of the front stabilisers and the fixed narrow jacking configuration at the rear.
Optimisation of the hydraulic system allows quick aerial maneuvers that are also delicate and precise, while the use of SSAB Strenx high strength steel also offers stability. The proportional electro-hydraulic controls allow multiple simultaneous maneuvers.
To complete the design, a series of options have been made available through the S3 system, including home function and CTE Connect remote control, which can also be used to intervene in the event of a fault.
CTE Connect also allows access to diagnostics remotely thanks to its diagnostic tool via a display on the chassis, showing the output of each sensor on the machine for electrical issues, as well as predictive intervention by geolocating the vehicle even if in motion, fleet management, remote intervention in the event of breakdown or alarm and remote parameter settings.
·