CTE upgrades capacity
By Euan Youdale23 November 2015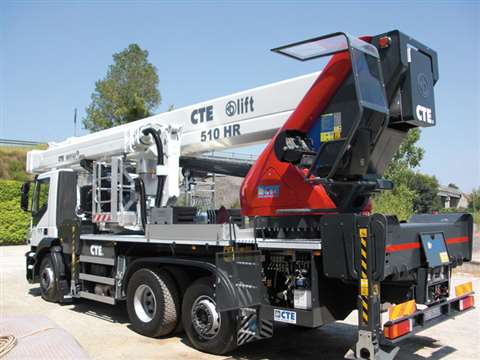 Italy-based CTE has announced an upgrade to its B-Lift High Range of truck mounts, with the whole range now offering 600 kg platform capacity at maximum working height.
The first customer to benefit from the improvement is CTE Germany dealer Hematec Arbeitsbühnen, with the purchase of a B-Lift 390 High Range.
The increased capacity of 600 kg in the platform at maximum working height is designed to meet the requirements of the market for this type of platform.
The High Range has a number of options and customisations. The booms are composed of a main telescopic boom with three to five sections, (main boom plus two to three extensions), main jib and secondary jib. There are proportional electro hydraulic controls with simultaneous maneuvers, vehicle cab anti-collision device and 90° right + 90° left hydraulic rotating basket.
B-Lift High Range is composed of the 39 m B-Lift 390 High Range; the 42.5 m 430 High Range; 50.5 m 510 High Range; and 61 m working height 620 High Range.