Cunzolo helps with World Cup preparations
By Sarah Ann McCay20 June 2014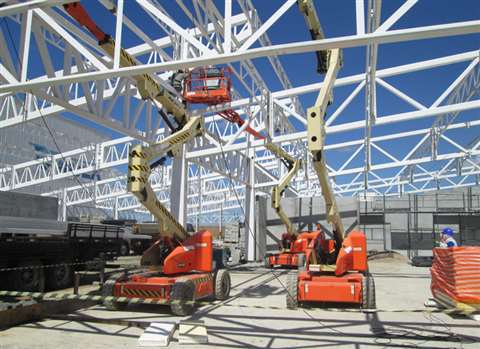 Brazilian rental firm Cunzolo has been kept busy in the run up to the World Cup, providing platforms and cranes for the various construction sites around the country.
At São José dos Campos Airport, Cunzolo provided two JLG 2646 ES pantograph platforms, with a working height of 9.7 m, and a JLG E450 AJ articulated platform with a working height of 15.6 m. The platforms were used to lift engineering personal and to lift the isotelhas (special tiles with thermo acoustic isolation) that make the new cover of the extended area of the airport.
An articulated crane Hiab 622 E-6 HiPro JIB 150X-4 was also used to lift the isotelhas to the most distant spots of the ceiling.
In São Paulo, Cunzolo provided a Barin bridge inspection unit for work on an overpass. The rental firm also provided an articulated crane Hiab 377 E-5 HiPro JIB 75X-4, with air basket, to access the lower area of the overpass.
At Viracopos Airport, Campinas (SP) truck mounted Cheyenne 25/14 and Multitel MX 270 platforms were provides to reach areas at 20 m of height.
And at Guarulhos International Airport Cunzolo assisted in the installation of glass in the airport's new wing using suction cups on a mechanical spear and jib fitted to Fassi1150, Fassi 800 and Fassi 660 articulated cranes.