Curnutte retires from Link-Belt
By Christian Shelton14 March 2019
Rick Curnutte, product manager of telescopic truck and all-terrain cranes at USA-based crane manufacturer Link-Belt Cranes, has announced his retirement, effective April 1, 2019.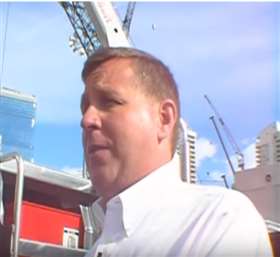 Curnutte has been at Link-Belt for 31 years. Following his graduation from the University of Kentucky with a degree in mechanical engineering he started as an associate design engineer in 1987. Link-Belt said he was heavily involved with what became the HTC-8670 project and also contributed significantly to rough terrain crane projects of that era.
In 1996, Curnutte became product marketing specialist for hydraulic truck cranes. In 2004 he was appointed marketing manager of all on-highway products. As the product manager for on-highway crane groups Curnutte helped develop Link-Belt's own all terrain crane product line.
"Rick can leave Link-Belt knowing that he has made contributions that will be integral to the continued success of Link-Belt Cranes for a long time to come," commented Pat Collins, director of product marketing at Link-Belt.