D&Ri100 2020: Little change in global listing but Covid-19 storm clouds gather
This year's d&ri100 overview starts with two huge ironies. The first becomes apparent when reading the introduction written a year ago – which congratulated the industry on its performance a decade on from "arguably the worst financial crisis in a lifetime". At that stage, the idea of a global pandemic that would close demolition sites for months at a time and in the process dwarf the 2008 economic recession into insignificance was inconceivable.
The second is that – against this Coronavirus-dominated background of social distancing, remote working and a near-global lockdown at a time when at least half the planet should have been enjoying the long days and summery conditions under which demolition projects can thrive – the results declared show the least movement for several years. An increase of US$7 million year on year on a global revenue stream of $6.4 billion registers at barely 0.1%. With Covid-19 set to bite further during the third and fourth quarters of this year – and probably deep into 2021 as well – we will be looking at a very different set of figures in 12 months' time.
What would the industry give for a similarly static d&ri100 graph then?
Positions 1 to 10
As in 2019, the top 10 was almost the same as a year earlier, with 90% of the previous list making a return visit. The exception was Germany's Hagedorn Unternehmensgruppe, up from 13th position after increasing its turnover by a third due to projects as diverse as demolishing the Knepper Power Station near Dortmund and dismantling Frankfurt's US military barracks.
As well as Hagedorn, American firm Brandenburg Industrial Service Company and British contractor Erith also recorded handsome increases. Erith's base close to London means it is often considered for major projects in the United Kingdom's capital, but a major collaborative project to demolish the turbine hall at Hinkley Point A nuclear power station in the west of England was also notable. Brandenburg, which says its fleet of heavy equipment is valued at over $150 million, showed its versatility by deconstructing a drill rig and its support system around 400 km (250 miles) north of the Arctic Circle.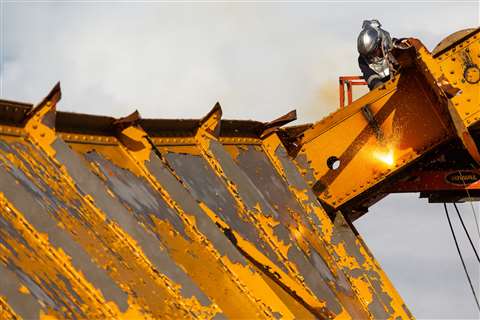 None of this would have been enough to halt North Star even if the perennial list leader had followed the prevailing trend of this year's d&ri100 and stood still. As it was, the US company increased its revenue by more than $80 million.
In the process, it was responsible for around half the combined increase in value across the top 10 companies relative to their 2018 turnover figure.
Geographically, Europe provided six of the top 10, but only just over half of its total revenue, illustrating the power of America's big four.
Positions 11 to 20
For the second tier, the split becomes more even, with five European companies and four from North America. Completing the group was the list's first Australian entry, McMahon Services, which – appropriately enough for a d&ri100 based on turnover achieved during 2019 – occupied 19th position.
McMahon increased revenue by 20% during the year after a range of fleet investment with Kobelco, Powerscreen, Genesis and Volvo Construction Equipment. Projects ranged from deconstructing and scrapping quay and gantry cranes at the Port of Singapore Authority's City Terminals to the demolition and rehabilitation of the Kwinana Power Station in Western Australia.
The other entrant into the top 20 was Envirocon of the USA, while the biggest mover within the top 20 from 2018 was Max Wild of Germany. At just under $1.2 billion in combined revenue, the second group of companies was around half the size of the top 10.
Positions 21 to 50
From just outside the top 20 to halfway, the revenue literally halves; from around $80 million in 21st to $40 million in 50th. In 2018 the equivalent positions earned $91 million and $41 million, respectively.
The section was headed by a group of solid North American and Australian businesses.
Some of the larger increases came further down, with Deconstruct UK posting a 30%-plus rise in revenue from what it described as a series of technically challenging urban demolition projects across central London, including Regent Street, Piccadilly and Smithfield Market.
By contrast, Thompsons of Prudhoe – based in Durham in the north east of England – could hardly have been further from central London, but it too had a good year with a percentage revenue increase closer to 40%.
Sitting between the two, both in the list and in terms of geography, Manchester's PP O'Connor improved year on year by almost 30% and the south of England was represented by impressive performances from John F Hunt and R Collard.
Honourable mentions in this part of the table to Germany's Ferraro Group, which increased turnover by 25% and F&R Industriedemontage at 15%. Moss Abbruch made it a trio of German businesses with double digit percentage revenue increases. Several companies outside Europe had satisfactory years, including US companies ARC Abatement (up 10%) and Veit (7%). Japan's Takayama Kogyo fell just short of 20% year on year growth.
Altogther positions 21 to 50 contributed $1.67 billion of revenue, just over a quarter of the d&ri100 total.
Positions 51 to 75
In a normal year, as opposed to one ravaged by a global pandemic, this part of the list is worth studying to see which companies might make it into the top 50 a year later.
Certainly, the trends at the top end of the bottom half, viewed in isolation, are encouraging. Eight of the 10 companies from position 51 downwards grew their revenue in the lifetime of the list, by amounts ranging from less than 1% to the 68% by Scottish contractor Dem-Master, which was the largest percentage increase of any company in the latest table.
Further down the list there were significant positive changes for America's O'Rourke
Wrecking Company and Pacific Blasting & Demolition, as well as Germany's Plannerer – which based much of its progress of bridge demolition – while the three-quarter mark of the full list brought forward the first new entry, City Circle of Australia.
Positions 76 to 100
In the lower reaches, the situation becomes more competitive, with just $8 million separating 25 companies, five of whom shared 76th place with three more unable to be separated in 83rd.
Encouragingly, half of the final 18 companies in the list were new entries, including five of the six between 95th and 100th.
France, Japan and New Zealand were among the countries providing new entrants.
The regional Top Twenties
Once again, Europe's top companies achieved a higher combined revenue than their US and Canadian counterparts, though North America closed the gap by around $100 million to $174 million. In the overall d&ri100, Europe conceded just over 1% of market share to North America, while the Rest of the World remained almost identical at just over 6%.
Article, with full listing, additional images and video in digital version, originally published in the June-July 2020 issue of Demolition & Recycling International