Dana unveils new telehandler axles
By Lindsey Anderson19 March 2020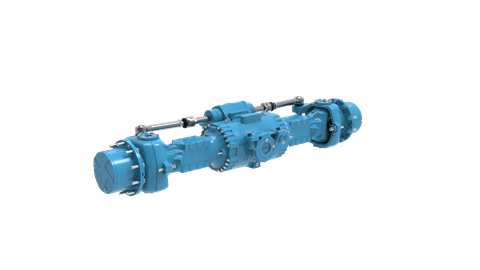 Dana has added two new Spicer axle models for medium-to-large telehandlers to its product lineup.
The new Spicer axle models are designed for diesel-powered telehandlers with lifting capacities from 35,000 to 55,000 pounds (16,000 to 25,000 kg.) Currently available for field testing, the axles enable manufacturers to specify a drivetrain system that supplies the optimal balance of performance, durability and weight, Dana said.
The Spicer 213 heavy-duty axle is scheduled for production in late 2020, while the Spicer 214 axle will be ready for the market in early 2021.
In addition to the new axles, Dana offers several technologies to support the hybridization and electrification of telehandlers, including e-Axles, e-Gearboxes, traction pump/generator solutions, controls and motion technologies.
"The focus on hybridization and electrification in construction vehicles has become increasingly important for our customers," said Dana exec Aziz Aghili. "Dana continues to invest in our engineering resources and manufacturing capacity to help construction-equipment manufacturers optimize the performance of vehicle architectures while leveraging new technologies."