Danish port expands lifting capabilities
By Leila Steed25 November 2019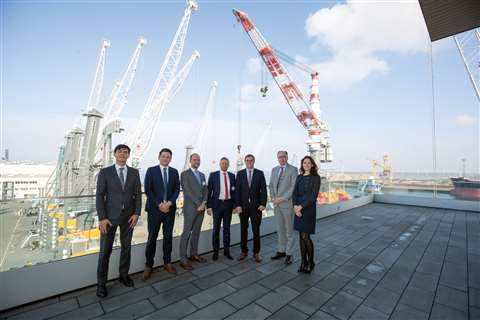 Lindø port of Odense, the largest port in Denmark, is expanding its lifting capabilities with the addition of a Liebherr LHM 800 mobile harbour crane.
Located between the North Sea and the Baltic Sea, the Lindø Port of Odense agreed the purchase with German manufacturer Liebherr to be ready for the future development of the offshore wind industry.
Specifically designed to lift the offshore wind turbines of the future, the new crane will have a lifting capacity of 308 tonnes and will be powered by an electric motor. According to Liebherr the electric motor will save up to 300 tonnes of carbon dioxide emissions every year, while also being emission-free at the point of use.
The new mobile harbour crane will comprise a high-rise tower extension said to be the world's largest and strongest of its kind ever built by Liebherr. It also has a multi-layer winch that enables a maximum lifting height of 96.7 metres above the quay.
With a 300 metre cable drum installed, the LHM 800 will be able to move up to 600 metres along the quayside. It will join the port's existing Liebherr LHM 550 mobile harbour crane, with which it will be able to perform tandem lifts of offshore wind turbine components, including 400 tonne nacelles.
Carsten Aa, CEO at Lindø port of Odense said, "With the purchase of the new mega crane, Lindø port of Odense is cementing its key role as one of the world's largest port players in the green transition with unique production facilities for future offshore wind turbines.
We can see that the good sizes are getting bigger and bigger. We are meeting that development now with this investment so that we can continue to contribute to facilitating green workplaces within sustainable energy production."
According to Liebherr, the new crane will speed up the handling of goods while reducing quay lay times for ships.