Decca Industries uses Crossover 6000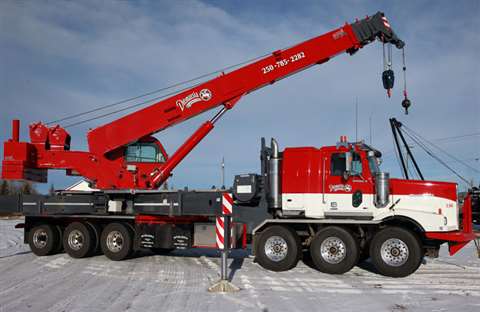 Decca Industries Ltd of Clairmont, Alberta, Canada used a Terex Crossover 6000 truck mounted crane for work at an oil field in Canada.
The main contractor was Dynamite Oilfield & Picker Service of Lloydminster.
The Crossover 6000 has a 33.5 metre boom and 60 US ton (54 tonne) capacity. Dynamite's crane was mounted on a Western Star chassis with twin steering axles and a tri-drive axle configuration. To carry the additional 5.4 tonnes of removable counterweight, an additional axle was installed by Simard Suspensions in Baie-Saint-Paul, Quebec.
A high-rise fifth wheel pedestal was also added, including a custom trailer, to pull a trailer. The tri-axle trailer has two drop axles and an 8.5 m long deck.
Mike Edgar, Decca Industries CEO, said, "Meeting these build parameters wouldn't have been possible with just any crane. The well-designed sub-frame of the Crossover aided the ease of the rig-up considerably, and the people at the Terex offices have been wonderful to work with towards achieving our mutual customer's ultimate goals."