Deconstruction schedule for Montreal bridge announced
By Leila Steed20 October 2020
Jacques Cartier and Champlain Bridges Incorporated (JCCBI) – the state organisation responsible for the management and maintenance of several major structures in Montreal, Canada – has announced the timetable for the deconstruction of the city's old Samuel-De-Champlain Bridge.
The Champlain Bridge spans the Saint Lawrence River and connects the Island of Montreal to the city's South Shore area.
The cable-stayed structure, which carries more than 50 million vehicle's across it every year, is being decommissioned after more than 50 years in public use.
The Honourable Catherine McKenna, Canada's Minister of Infrastructure and Communities, said: "The Champlain Bridge deconstruction project will create jobs, allow for more access to the shoreline and maximize the reuse of materials from a bridge that was an iconic part of the Montreal landscape for almost sixty years."
The deconstruction works will be carried out by Nouvel Horizon St-Laurent Consortium (NHSL), a joint venture between construction engineering company Pomerleau and demolition contractor Delsan-AIM.
NHSL, which signed the design-build contract for the project in June 2020, will undertake the works in three phases.
The first phase, which has already begun, will see the structures along the river's shoreline deconstructed in sections using a system of platforms and high-capacity lifting towers secured on a catarmaran barge. A suspended span of the bridge weighing around 2,200 US tons will also be removed using strand jacks.
Phase two of the project includes the dismantling of the cantilever sections and anchor spans, while the last phase will see NHSL use high-capacity excavators to deconstruct the bridge's piers.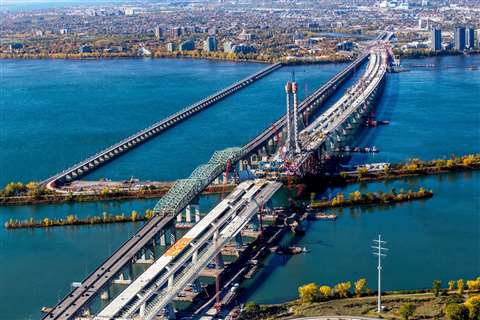 Sandra Martel, CEO of JCCBI, said: "This ambitious deconstruction project poses enormous technical and environmental challenges. NHSL has begun working on Nuns' Island, which is a successful first step. The methods chosen for work on the river are innovative and will minimise the impact on local residents."
According to JCCBI, one of the main goals of the project is to minimise its impact on the environment. This includes making the deconstruction carbon-neutral and achieving Envision certification.
An estimated 287,000 tonnes of materials will be reused and some of the bridge's components kept for redevelopment and heritage purposes. The project, which includes the redevelopment of shorelines and the provision of a newly-created fish habitat on the Saint-Pierre Lake archipelago, will also help to protect the region's biodiversity.
The deconstruction of the old Champlain Bridge, which is due to be completed in 2023, is part of a major upgrade to Montreal's infrastructure. A 3.4 km-long replacement bridge – known as the New Champlain Bridge - has already been built.