Deep waters
By Laura Hatton01 December 2014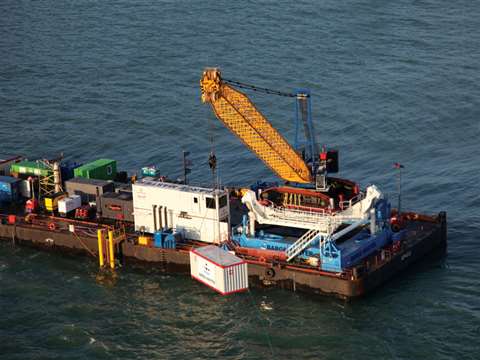 Work in the offshore lifting sector is being carried out in deeper and increasingly remote waters. This asks for a different type and size of offshore equipment. Laura Hatton investigates
The current working limit for the offshore industry is around 3,660 metres below sea level. This depth is expected to increase and offshore equipment is already being designed to work to depths of 4,580 m. To meet the demands of working in deep waters, offshore lifting equipment is being designed with higher lifting capacities and more advanced technologies than previous models.
Wolfgang Pfister, Liebherr-Werk Nenzing head of marketing at the Austria-based manufacturer, explains one of the reasons behind the trend, "When oil was obtained from just a few metres below sea level, one could use comparatively simple upstream methods. The market nowadays requires advanced technology, including control systems, training simulators and active heave compensation systems."
A spokesperson from Dutch crane and offshore equipment manufacturer Huisman says, "The world's steady demand for oil will increase and may even accelerate the need for equipment that allow exploitation of deep water oil fields. In order to meet these demands, larger, more sophisticated and more reliable subsea cranes are required. We predict to see a shift towards larger modular templates, changing the requirement of subsea installation cranes and subsea maintenance cranes."
The shift towards larger modules is being spurred on by offshore companies as they continue to favour preparing components onshore rather than assembling them at remote offshore locations. This trend for larger components is causing a challenge in the offshore wind turbine market. "Turbines are getting bigger and more difficult to be installed offshore," Wolfgang Pfister explains, "And as a result wind turbine companies are looking for alternative ways to install wind turbines."
A spokesperson from offshore service provider Barge Master adds, "The whole offshore wind market is striving to reduce costs of energy. This requires the whole supply chain to come up with methods to get turbine erection to be done easier, faster and cheaper.
"Using a supply vessel or barge can reduce the costs of installation significantly, especially when wind farms are being erected further offshore. By using the Barge Master platform on a supply barge, components can be lifted off a barge while the component is steady to an earth fixed point. This ensures safe lifting, while the weather window for lifting offshore is increased."
Latest designs
Barge Master designed the Barge Master T40 motion compensated knuckle boom crane. The crane is designed to lift a load of 5 tonnes at 20 m radius. "The pedestal of this crane contains Barge Master's motion compensation technology which compensates the wave-induced vessel motions, up to a wave height of 3 metres," a spokesperson says.
The Barge Master T40 is based on the Barge Master T700, which has a payload capacity of 700 tonnes and is designed to accommodate a crane to lift a load of 160 tonnes at 12 m radius. It can be used to supply components and equipment, including transition pieces, wind turbine components and bridge sections. It can also be used to lift cargo from a vessel onto a fixed structure at sea without having a relative motion between the load and structure. The Barge Master T40 is under construction and will be installed on Wagenborg's Walk to Work vessel by the end of 2014, a spokesperson added.
The latest design of offshore crane from Huisman is a rope luffing knuckle boom crane. A spokesperson from Huisman says, "We have started production of this crane. It combines the advantages of a fixed boom crane, being its superior reach and capacity, with the advantage of superior load control of a knuckle boom crane."
The AHC crane is a combination of luffing crane and a traditional knuckle boom crane, a spokesperson said. It has a main hoist system, a patented anti-twist device, and an electric drive system.
"By incorporating a knuckle in the design of the crane it is possible to reduce the pendulum of the hook and, if extended, it can allow for high lifting heights," the manufacturer said. "The main hoisting system comprises a traction and storage winch system and a separate heave compensation system. This means both lifting and lowering and heave compensation can occur simultaneously with no performance interdependency, resulting in a better overall system performance and increased safety. A failure in main hoisting system will not affect the heave compensator or the other way around."
Also from Huisman is the 300 tonne capacity pedestal mounted crane and the 3,000 tonne offshore installation mast cranes, an example of which is onboard EZRA's Lewek Constellation. The largest offshore installation crane from Huisman is the 10,000 tonne capacity tub mounted design, which was reported in IC page 6 April 2014.
Heavy lift cranes
Another heavy lift crane on the market is the Conquest MB 1 heavy lift crane barge with Spacelift MC 35000 DLS mobile marine crane from Conquest Offshore. The vessel has a barge deck area of 36 x 136 m, with a free deck space of 3,700 square metres. The 1,400 tonne Spacelift MC 350000 DLS crane has a 63 m heavy duty main double boom (with additional 12 m hoist beam) or up to 130 m as a single boom. In addition it has a dynamic load system (DLS) and is mounted on a pedestal foundation with a self-supporting foot frame. It is fully rotatable, has an automated heel and trim compensation system and 450 tonnes of counterweight. The crane has a power recovery system, which recovers 30 % of the energy when lowering the load. The main hoist has two 630 kW winches, which generate a lifting speed of 1.5m per second.
A spokesperson from Conquest Offshore says, "The DLS, designed to improve the load capacity of the crane, has a 1,000 tonne capacity and the counterweight of the crane is 450 tonne. The DLS consists of four hydraulic jack cylinders on the back of the crane which are placed with bogies on an 18 m diameter ring. The cylinders pull when a load is lifted and push when the crane is stationary to balance the counterweight. Together with the base structure of the crane, this generates enough power to perform the heavy lifts. This crane design reduces the ring bearing moment and minimises wear and tear on the bearing."
New from Liebherr-Werk Nenzing is the heavy lift offshore crane CAL 45000-1200 Litronic. It is designed as a crane around the leg (CAL) design and can rotate around one of the four jack-up legs of the vessel, reducing the obstruction area to 12 m. A version is installed on the vessel Vidar. "The special twin-boom design means that two booms run parallel to each other at a distance of 14 m," a spokesperson from Liebherr-Werk Nenzing says," This allows the boom to be parked over one of the vessel's front legs and prevents the crane from obstructing free space on deck which can then be used for loading the vessel." The first task for the crane was to help install wind rotor stars at the Global Tech I Wind Park in the North Sea between the UK and continental Europe.
From Palfinger Marine is the PF 8000. The crane has an electric winch, fixed boom and manual slewing, all of which were requests from client Dong Energy. It has corrosion protection and an outreach of 2.9 m. An order was placed with the manufacturer to help at the Gode Wind Farm projects 1 and 2, off the German coast. The PF 8000 is in use at the Anholt wind farm. The PF 8000 is a service crane and will be mainly used for lifting spare parts and tools from support vessels to the transition platform. The wind farms are expected to be fully commissioned in the second half of 2016. With a total of 97 turbines, Gode wind farm will supply green energy for approximately 600,000 German households (582 MW).
Technologies and training
The latest generation of larger models and platforms, combined with the trend for working in deeper waters is having a direct impact on how operators in the offshore sector work, especially when lowering loads in the splash zone. A spokesperson from Huisman explains, "Operators are becoming more aware of the challenges involved with safely lowering through the splash zone, but as subsea templates become heavier and more voluminous, these challenges become more serious."
To help overcome these challenges, Huisman offer a splash zone heave compensation system, which has been incorporated into its existing heave compensation system. "This system acts as a shock absorber while lowering the load through the splash zone, reducing forces acting on the load and crane to up to 80 to 90 %," a spokesperson explains.
Other technologies aimed to assist operators and to increase safety while working offshore include motion compensated platforms. Barge Master, for example, has developed its Barge Master platform, which makes it easier to install the latest generation of modules.
A Barge Master spokesperson explains, "All structures, large or small, require some small work to be done on for preparation of the large structures to be installed. When using a heavy lift vessel for the installation of the large structure, a smaller vessel with the Barge Master can safely prepare all platforms. One vessel can remain in situ for the installation, where smaller vessels with a Barge Master can be used to supply components. These will be motion compensated while lifted off the supply vessel, to reduce risks and damage."
Liebherr-Werk Nenzing is also developing new systems to assist crane operators. It has begun developing crane simulators (LiSIM) to prepare crane operators and maintenance personal for their work on site. "This helps to increase safety offshore and educate fresh personnel in a controlled environment," a spokesperson from Liebherr says.
For further information and videos of some of the products mentioned in the feature, see the KHL video zone.