Demag lifts beer tank
By Christian Shelton30 October 2017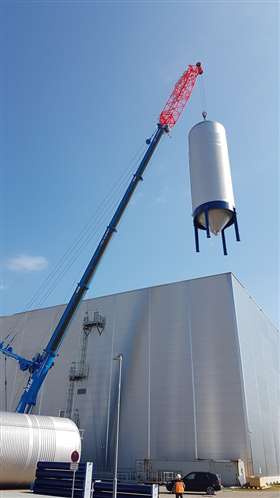 German crane rental company AKM Autokranvermietung (AKM) was commissioned by Munich brewery Paulaner Brauerei to lift seven 26-metre-long beer tanks, weighing 28 tonnes each, into its new brewery building.
The tanks had to be lowered through a hole in the roof, the circumference of which was only ten centimetres wider than the tanks' six-and-a-half metre circumference, so precision was a priority. To do the job AKM Autokranvermietung utilised its Demag AC 500-8 all terrain crane which, according to AKM general manager Sven Bauer, "had the required size and performance characteristics."
The work had to be completed on a tight schedule and so the crane's short set-up time helped with this, said the crane's manufacturer, Terex Cranes. It took three hours to set it up with a 56-metre main boom, a 14.4-metre LF extension, 120 tonnes of counterweight, and an SSL system, Terex stated.
AKM had a six-member team on-site and two assist cranes were used in a tandem lift to first move the tanks into an upright position so that the AC 500-8 could pick them up. The Demag crane then lifted each load to a height of 50 metres. The crane's radius of 32 metres meant the tanks could then be swung over the new building's roof and lowered through the hole. "The Demag AC 500-8 can be controlled with such a perfect level of precision that a margin of adjustment of only a few centimetres was more than enough to accurately move the tanks into the building without them so much as brushing up against the roof structure," Bauer reported.