Demag returns to the city class
By Alex Dahm12 September 2017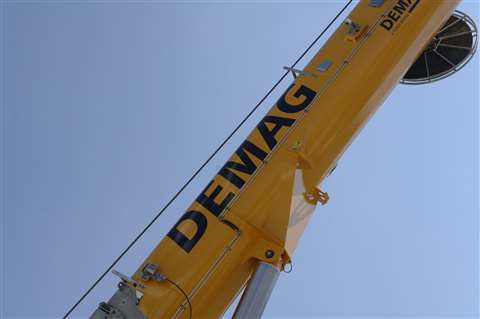 Manufacturer Demag has confirmed its return to the city class of mobile cranes with the introduction of the new AC 45 City before the end of 2017.
In 1996 Demag introduced the 25 tonne capacity AC 25, the first in what became known as city class cranes. In the same period Japanese manufacturers Kato and Tadano were also producing this same type of two axle, boom-down telescopic crane with one cabin for driving and operating. These are also known as mini rough terrain cranes or mini roughters for short and production has continued through to the present day.
In the ensuing years after the introduction of the AC 25 Demag also offered larger, AC 30, AC 40 (three axle) and AC 60 and AC 70 (both on 4 axles and with two-person tandem cab) models on the same theme, with capacity coresponding to the model number. The AC 40 City became a best-seller with more than 1,000 units delivered, Demag said.
No carrier cab means a shorter overall length, helped by multi-section booms to minimise front overhang. The boom-down design kept the obstruction to the side as low as possible for the operator who sat up high next to the boom. Manoevrability and the ability to access and work in confined spaces were defining characteristics of this crane type.