Demag returns
By Alex Dahm11 April 2016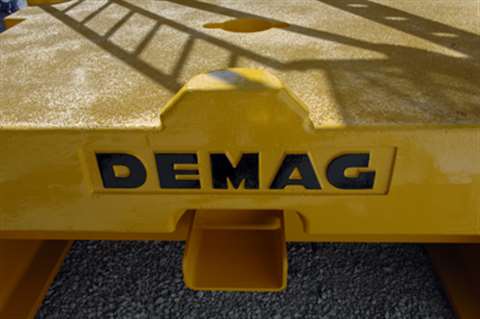 Terex Cranes has reintroduced the Demag brand for its larger mobile cranes.
Despite Terex dropping the name about 7 years ago customers have continued to use it. All terrain cranes above 100 tonnes capacity and crawler cranes above 400 tonnes will now carry the Demag name. A blue and yellow colour scheme replaces the white and grey of Terex but there is more to it than that, Terex explained at the launch ceremony on 11 April during the Bauma exhibition in Munich, Germany.
Ken Lousberg, Terex Cranes president, commented, "I am very excited that we are reintroducing the Demag brand. We're doing it because our customers asked us to bring the Demag brand back. It is as simple as that."
Lousberg continued, "The Demag brand is a legend and through extensive conversations with our customers, we understand how much the brand still means to them, and what their expectations are that go along with it. It's a brand they have depended on every day for decades, and it continues to be one of the most recognised brands in the industry."
Another part of the change is a return to the old nomenclature of AC 130, AC 250 and so on for the all terrain cranes. On the crawlers the Cuperlift 3800, for example, will become CC 3800. Improved service, updated machines and higher quality are also part of the rebranding. Three updated 5-axle all terrains are now part of the Demag crane family, new at Bauma.