Demand for access equipment in India is on the up, Partha Pratim Basistha reports
By Euan Youdale07 May 2013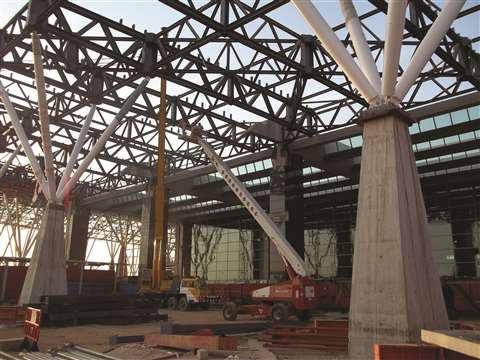 Demand for access equipment in India is on the up and confidence is growing among manufacturers and distributors; a situation that was apparent at bC India 2013. Partha Pratim Basistha reports.
At least eight major access equipment manufacturers were at the second bC India construction exhibition in Mumbai, which took place 5 - 8 February 2013. With 150000 square metres of exhibition space, the show boasted 710 exhibitors from 33 countries.
Brand building was the main objective behind participation at the event, and according to the manufacturers and distributors there, competition will intensify as access platforms become the equipment of choice in an increasing number of applications.
This growing demand for access equipment in India is in the backdrop of newer construction methods, chiefly involving modular design, particularly for new airport construction and expansion of existing airports.
At least 16 platforms are reported to be working at the ongoing expansion of Bangalore International airport, carried out by Indian construction giant Larsen & Toubro in the South Indian state of Karnataka. Similar numbers are known to be working for the ongoing modernisation of Chennai International airport. Delhi International Airport has recently acquired a new Tuppen track mounted platform for maintenance purposes. A number of Terex Genie scissor lifts have also been recently purchased by Delhi Metro Railway Corporation for the maintenance of rolling stock at its main plant in Najafgarh, near Delhi.
Newer construction projects in India, mainly involving airports, industrial sites and commercial builds, like shopping malls and high rise offices and residential projects are also underway. But with construction schedules being tightened in India, there is a need for flexible work methods and machines. On the other hand, there is a dearth of skilled manpower to execute and maintain the projects.
"Current demand areas for access equipment are from smaller ship repair yards," says Saurabh Doshi, head of business development at access rental company Gautam Infrastructure & Construction Equipment. "Future demand will come from maintenance of commercial, residential and industrial projects, especially for storage tanks."
However, he adds, "For demand to materialise the acute shortage of trained manpower would need to be addressed. Since the concept of access platforms is relatively new in India, we have had to start our own training programmes. The programmes are upgraded every six months based on the usage pattern of the equipment. To acquaint operators with the functionality of the equipment, we also conduct live workshop training programmes."
Gautam Infrastructure is also the exclusive distributor for UK-based manufacture Niftylift in India. It also sells mast climber and construction hoists from Scanclimber, based in Finland, and scissor lifts from Canada-based Skyjack.
Gautam also showed new truck mounted PNT 230 articulated booms from Isoli, of Italy, at the event. The PNT 230 has a maximum working height of 22.5 m and horizontal outreach of 11.3 m, as well as a 230 kg carrying capacity. Mr Doshi says, "The articulated boom lifts will be mounted on Indian mini trucks by us based on the requirement of the customers. The boom lifts will be finding applications in external plastering on buildings and the repair of street lights, mainly in cramped locations."
Safety requirements
Growing safety standards and better maintenance, encouraged by project developers and utility companies, is also a major driver for access equipment in India.
According to M.N. Chaturvedi, marketing manager at Brijbasi Fire Safety Systems, "Access solutions with their flexibility to move and operate during an emergency or for general routine maintenance, is the best option."
The company also announced it had become a distributor for Hunan Sinoboom Heavy Industry, based in China, during bC India, and displayed the manufacturer's GTZ06 scissor on its booth. "The products will be utilised for infrastructure and maintenance jobs," says Mr Chaturvedi.
Brijbasi is also distributor for Bronto Sky Lift's ladder platforms, ranging from 32 m to 107 m working height, again aimed at firefighting. The company claims to have supplied 150 Bronto units to a range of companies, including Indian Oil Corporation, Delhi Fire Services and Chennai and Mumbai Fire services.
Despite these encouraging signs, demand for access equipment is modest compared to many Western markets. However, the country is bracing itself. "Foreseeing the large potential of the market, we have been strengthening our presence in India in the past 2-3 years," says Frank Nerenhausen, JLG Industries president, adds. "As the market continues to grow, we will be unfolding our distribution strategy, to provide total customer support to the products in the long run through technical support and parts availability throughout the product lifecycle."
JLG displayed its RS scissor lifts and booms for the Indian market at bC India. RS Boom lifts are available in two models: the 18RS and the 24RS, delivering 18 m and 24 m platform height, respectively.
Both models feature a streamlined design with fewer parts offer a platform capacity of 227 kg, with a horizontal outreach of 13.1 m and 17.8 m for the 18RS and 24RS, respectively.
The RS Booms are also the lightest machines in their class, says the company and are engineered to fit into a 40-foot shipping container, providing significant transportation savings, says Mr Nerenhausen.
Custom made
Manufacturers feel that success will be determined by their ability to compete in a highly cost sensitive market. Giriraj Dave, general manager, sales at Prasad Multi Services (PMS) says, "There is a greater demand for truck mounted access solutions from Indian access rental companies. Being registered with the regional transport authorities, the truck mounted aerial platforms can travel across longer distances through various state boundaries."
PMS is the exclusive distributor for Oil & steel's truck-mounted aerial platforms from between 14m - 62 m. The Italian company displayed its Snake 2010 Compact and Snake 2512 Compact at the event, mounted on Indian truck chassis. The platforms have a maximum working height of 20 m and 24.8 m, respectively, with a maximum weight of 220 kg.
Selling truck mounts in India is not easy, however. Mtandt was displaying new truck mounts from its parent Comet Officine in Italy during bC India. Rakesh Modi, director at the company, said: "The dimensions of Indian chassis are quite different compared to the European manufactured ones.
Officine's truck mounted access platforms can work at a maximum height of 12 m - 44 m, with 200 kg – 350 kg carrying capacity to include 1-3 people.
"A good deal of integration support is required from the manufacturers and dealers to synchronize the sub-frame with the chassis. Furthermore, the gearbox requires modification from the local truck dealer, adding to the cost of the component. Then, 25% customs duty, 4% - 5% customs clearance charges and 6% inland transportation costs adds to the costs further," says Mr Modi
He adds, "To make the products cost competitive for the customers, we absorb theses incurred costs. Value to the customers is offered through better product support from our end."