DEME and Eiffage win €500m offshore wind contract
By Mike Hayes28 August 2019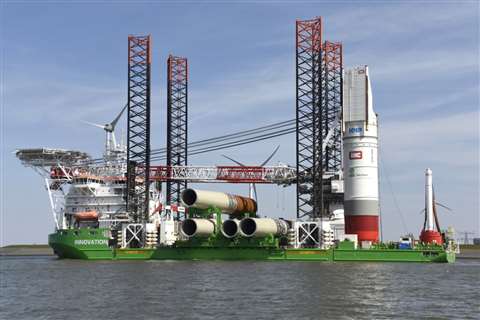 A consortium including Belgian marine specialist DEME and French multinational construction firm Eiffage has been awarded the contract to build foundations for the Saint Nazaire offshore wind project.
The scope of the contract – awarded by operators EDF Renewables and Enbridge – calls for the design, fabrication and installation of 80 steel foundations for the 480MW wind farm, and is valued at more than €500 million.
It is reported that design work on the foundations is already underway, in preparation for production to start next spring.
When fabrication of the foundations is complete, they will be transported to the Saint Nazaire site, between 12km and 20km off the coast of the Guerande peninsula in western France.
The foundations must be installed into a rocky seabed, at depths of between 12m and 25m, and completion of the installation is expected by the summer of 2022.
When fully operational, the Saint Nazaire project is expected to generate 20% of the total power requirement of the Loire-Atlantique department.
Jan Vandenbroeck, general manager of French subsidiaries at DEME, said, "The contract highlights our technical expertise in providing innovative solutions for the offshore wind industry. The Saint-Nazaire project will deliver drilled monopiles, a new step forward in the offshore wind industry."