Demo spec excavator has the X factor
By Steve Ducker20 September 2018
A United Kingdom-based contractor has bought one of the first demolition specification JCB X Series excavators.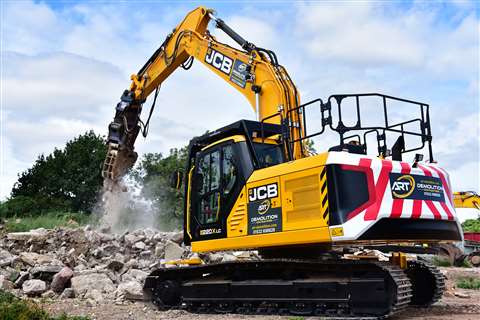 ART Demolition, based in Lincoln in the north of England, has purchased the new generation JCB excavator for dismantling on a range of projects. Supplied by dealer TC Harrison JCB, the JCB 220X model has been configured for the arduous demolition environment with the addition of cab protection and heavy undercarriage guards.
"We know just how much detail has gone into this machine so we knew it was destined to be special," said ART managing director Adam Thurlby.
"The finished version does not disappoint. I am a big fan of the existing JS models but this has been thoroughly overhauled and taken to the next level."
Operator Chris Bills added: "We are mainly using the new JCB on secondary demolition applications and it is performing well with a range of attachments including a concrete pulveriser. I've already put the machine through its paces and I'm impressed. The cab layout is fantastic, the level of technology is incredibly sophisticated and I could not believe just how quiet the 220X is."
The 220X joins an extensive line-up of JCB excavators in the ART fleet. These include the compact 86C-1, three JS220 models, a JS330 and two flagship JS370 machines weighing 42 t following the addition of heavy-duty modifications.