Demolition and recycling at Bauma 2022
By Lewis Tyler19 October 2022
Leading construction exhibition Bauma 2022 takes place in Munich, Germany, from 24 to 30 October rather than in its usual April slot.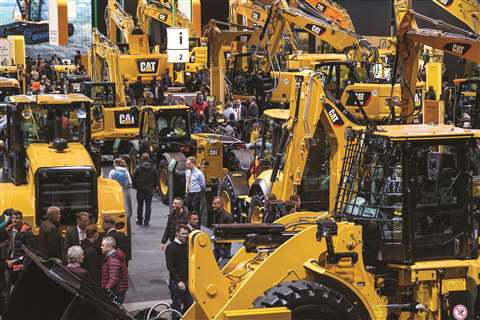 As a trade show with a history of bringing together big-name manufacturers, new products, thousands of exhibitors and more than half a million visitors, it will be aiming for business as usual in its first post-Covid edition.
D&Ri looks at some of the demolition and recycling exhibits that will be there.
Mixing and crushing equipment
BHS-Sonthofen will be presenting its range of mixing and crushing technologies. These include the twin-shaft batch mixer, as well as a single-shaft continuous mixer, rotor impact mill and a rotor centrifugal crusher.
The company says the DKXS 4.50 twin-shaft batch mixer, which is used in major projects throughout the world, will take centre stage.
It is described as particularly suitable for industrial mixing processes in the medium to high output range and delivers 4.5 cubic metres (159,000 cu ft) of hardened concrete per batch, with the three-dimensional mixing principle of the mixer leads to a more intensive material exchange and thus to shorter mixing times with less energy requirement.
In addition to the twin-shaft batch mixer, BHS will also be presenting the MFKG 0520 single-shaft continuous mixer. The special feature of the BHS single-shaft continuous mixer is the self-cleaning rubber trough, which prevents caking of hardenable mixing material on the inner wall of the trough.
Stage V compliant compact loaders
Bobcat will be presenting several new products and technological developments for the first time.
The stand will feature a wheeled and tracked loaders, mini-excavators including four additions in the 5 to 8 t category, and a number of new attachments, as well as electrification and digitalisation developments.
The new S86 R-Series skid-steer loader and T86 R-Series compact tracked loader replace the previous 700 and 800 M-Series loaders and complete the current R-Series loader line-up.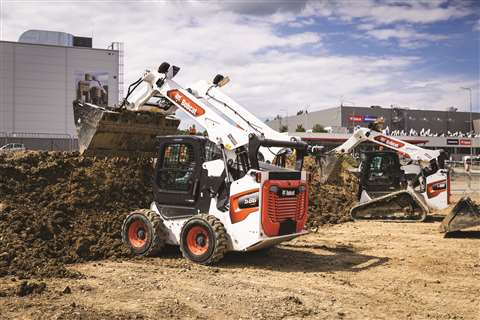 Delivering a higher engine and hydraulic output, the Bobcat S86 and T86 are said to be the most powerful compact loaders the company has ever built.
Both use a Stage V compliant 3.4 litre Bobcat engine, and for the first time, both machines have for the first time three different auxiliary flow outputs.
Currently being tested in markets in the USA, the Quad Track concept allows the wheels of selected Bobcat skid-steer loaders to be easily replaced with four individual track pods, effectively converting them into tracked loaders.
The Bobcat Quad Track concept was chosen as one of the finalists in the Mechanical Engineering category of the Bauma 2022 Innovation Awards
Together with a number of other electrification developments, the T7X all-electric compact tracked loader is designed to address emission and noise reduction, with a 62 kWh lithium-ion battery pack can give four hours of continuous use.
Remote machines
Cat construction equipment will be displayed by the company's dealer Zeppelin under the theme "Let's Do The Work".
The exhibit will feature more than 70 pieces of Cat equipment and attachments from Caterpillar Construction Industries. Separately, the Caterpillar Industrial Power Systems Division will display multiple Cat engines from its diverse product range.
From a single machine to an entire mixed fleet, the Caterpillar technology ecosystem gives customers the power to track, monitor, automate, and manage assets to lower costs, improve productivity and optimise fleet utilisation.
Among the technologies on display at Bauma, the Cat Command Station enables operators to work remotely and safely, seated in a virtual cab with familiar controls and display.
Accessed via laptops and mobile devices, Cat Productivity will be on display demonstrating a cloud-based application that provides a complete overview of machine and jobsite production.
Cat Grade with Assist for excavators uses machine position sensors and operator-defined depth and slope parameters to automate boom and stick movements for more accurate cuts with less effort to help increase operator efficiency.
Innovations in waste recycling
Wet processing solutions specialist CDE is celebrating 30 years in business and in that time has facilitated diversion of over 100 million t of construction, demolition and excavation (CD&E) waste from landfill.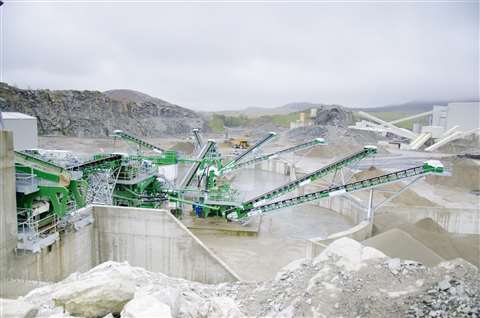 It has also successfully delivered over 2,000 solutions in more than 100 countries, and today employs in excess of 500 people solely focused on wet processing.
At Bauma, CDE will focus on its innovations in Europe's waste recycling sector, including a series of round table discussions on the future of the sector and a presentation on creating valuable in-spec products from CD&E waste.
Zero-emission excavators
Doosan is presenting a display of machine and digital technologies.
The stand is centred around a dedicated Innovation Centre and, under the theme of Powered by Innovation, will present the latest developments in the company's leading edge Concept-X, Xitecloud and DoosanConnect systems, together with other products such as the DX225LC-7X, Doosan's first "smart" crawler excavator.
Doosan's "Transparent Bucket" safety system, which provides a solution to prevent the danger of blind spots in front of the buckets of wheeled loaders, will be at Bauma, while another Bauma exclusive will be a preview of the first zero-emission mini-excavator from Doosan, the DX20Z-E, due to be launched in 2023.
Bauma will provide a first look at selected models from Doosan's next generation mini-excavators and a new midi wheeled excavator.
The new DX27Z-7 2.8 t, DX35Z-7 3.9 t, DX50Z-7 5.4 t and DX55R-7 5.7 t Stage V compliant mini-excavators are described as ideal for confined space work.
Featuring a new look design, the DX100W-7 10 t midi wheeled excavator will also be on show at Bauma.
Drum cutters
In April this year Epiroc launched its V-shaped drum cutter, as a brand new way to work with demolition, rock, concrete wall and surface profiling, and other applications.
A patent pending solution, it has been rigorously tested in all these applications.
Mounting the drums in a V-shape enables a cut with a flat base and no material is left untouched between the drums. It works like a bucket, which Epiroc says makes it easier to use, friendlier for the carrier, requires less energy and is less time consuming.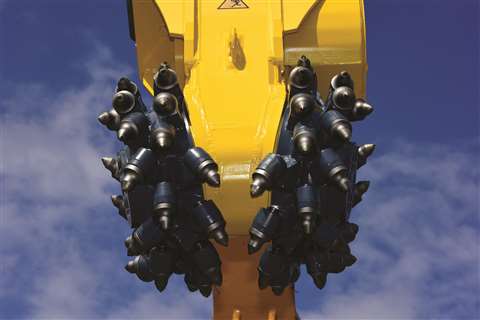 At Bauma, Epiroc will introduce the latest addition to the V Cutter range – a smaller model suitable for carriers of 15 to 28 t.
Epiroc has also added a "tool on demand" concept to its supply of working tools for hydraulic breakers.
High-temperature applications require working tools in heat resistant vanadium steel, while other applications require longer tools or special shapes.
Epiroc says it is now possible for the customer to order exactly what they need, in the size of their choice, with a variety of tool tip geometries.
Machines for recycling and waste handling
Hyundai Construction Equipment has an updated mini excavator offer, with the launch of a comprehensive range of EU Stage V machines – the A Series with operating weights from 1.7 to 5.5 t.
Eight new models will join the recently unveiled HX10A Twin Drive micro excavator and the range-topping HX85A at Bauma.
Three of the machines, the HX35Az, the HX40A and the HX48Az, have already been recognised as winners of the Red Dot Design Award, from Design Zentrum Nordrhein Westfalen in Germany.
Also new from Hyundai is the HL955AHD and HL955AHDXT wheeled loaders, to sit alongside the larger HL960AHD and heavy-duty versions of the HL970A. These highly developed models have been specifically designed to handle severe applications, such as recycling and waste handling.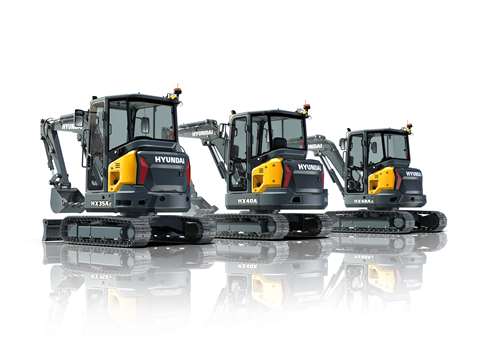 While all Hyundai wheeled loaders, including the HL955A, are built to provide optimum performance and productivity in a range of operating conditions, the waste and recycling sectors demand additional robust protection, to maintain machine reliability and prevent downtime.
This has led to the development of heavy-duty HD versions of the both the standard PZ-bar HL955AHD, with high tilt-back forces for heavier attachments, and the high-lift HL955AHDXT model with its extended lift arm reach.
Backhoe loaders
Hìdromek produces backhoe loaders, hydraulic excavators, wheeled loaders and other machines at six production facilities in Turkey and Thailand.
It develops semi-autonomous, electric and hybrid machines and at Bauma will exhibit new generation machines and a new operator workstation.
These include the K4 Series backhoe loaders for the first time overseas, as well as the HMK 85 SR short radius crawler excavator and the HMK 70 W wheeled excavator. In addition, the HMK 520 LC HD is the company's largest excavator and is possible to ship with a narrower chassis.
Carbon neutral demolition machines
Komatsu will unveil a mix of 27 new and existing machines, with the spotlight on the PC228USLC-11 excavator and PW98MR-11 midi excavator, as well as the K100 boom change system for its PC490HRD-11 demolition excavator.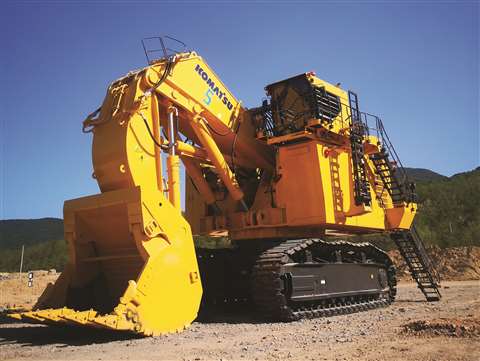 Amongst other topics of prominence will be Komatsu's march towards electrification alongside a long-term goal to achieve carbon neutrality and zero carbon emissions by 2050, and its 2030 commitment to halve CO2 emissions and increase the rate of renewable energy their machines use to 50% compared to 2010 levels.
Other Bauma features will be the SmartConstruction – Earthbrain development which Komatsu describes as a "new way of working and a unique solution to support and improve your business."
How Komatsu's Komtrax Next Generation and Komtrax Data Analytics wireless monitoring systems can simplify decision-making for those working to deploy equipment effectively, improve fuel efficiency, maximise productivity or plan periodic maintenance will also feature.
Electric wheeled loader
Under the motto "Meet the Future", Kramer is exhibiting with its sister company Wacker Neuson.
It will show further development of the well-known quick-change plate to the patented fully hydraulic quick-change system "Smart Attach".
The dimensions of both quick-hitch systems are identical, so that existing attachments can continue to be used.
The company says increased safety for the driver, no leakage of oil and, above all, time savings when changing attachments are among the advantages the system offers to users.
Having presented an all-wheel steered electric wheeled loader at Bauma 2016, this year Kramer is showing the successor to today's 5055e model.
Mobile and crushing screening plants
German crushing and screening machine specialist Kleemann will use this year's Bauma trade show to demonstrate its Mobirex MR 130(i) Pro impact crusher for the first time.
Used as a primary and secondary crusher, it is one of nine mobile and crushing screening plants that the company will feature at the trade show.
Kleemann's Spective operating concept will also be part of its exhibit at Bauma. The new impact crusher, which Kleemann is promoting as a "world premiere", has an all-electric drive concept with the option of an external power supply for CO2-free operation.
It covers a range of natural stone and recycling operations and includes a heavy rotor, electric 250 kW drive, and continuous feed system.
Alternative drive concepts
Liebherr will present many new products for the earthmoving and material handling sectors. Practical applications of current and future alternative drive concepts are presented in the form of live shows taking place several times a day.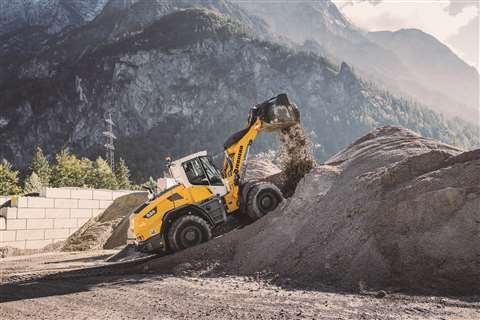 As a continuation of the Bauma showcase in 2019, this year Liebherr provides an insight into Liebherr's work in the area of alternative drive concepts which is open to all types of technology within the framework of live shows taking place several times a day.
Construction equipment and material handlers which are powered by different primary energy sources such as diesel, HVO (hydrotreated vegetable oil), electricity and hydrogen are showcased.
In this context several machines are on show, including the company's battery-electric wheeled loader.
Liebherr presents two completely revamped series of wheeled loaders with compact loaders and the medium-sized wheeled loaders.
Liebherr's compact loaders can be seen for the first time in Germany at a trade fair.
Hybrid crushing equipment
Austrian mobile processing plant manufacturer Rubble Master (RM) says it will be at Bauma trade with a focus on electrification.
Its exhibits will include the RM 50X hybrid screen, RM 110X jaw crusher, and X Smart software solution, as well as other digital developments, while sales partners C Christophel and Jürgen Kolsch will also be present in Munich.
The company, which developed the compact crusher for recycling construction and demolition waste more than 30 years ago, said: "Even before steadily rising fuel prices, the electrification of RM machines was a key economic as well as ecological argument.
"As part of the RM Next philosophy, the group is consistently supporting electrification and offers all of its crushers and screens as hybrid versions as a matter of principle.
"These machines can also be operated fully electrically, and a special focus is on combining machines to form crushing and screening trains so they can be operated together.
"In addition to electrification, RM Group focuses intensively on digitalisation to give customers a full overview of their machines."
Automatic quick couplers
In 2021, Steelwrist has introduced the biggest model in its range of SQ Auto Connection quick couplers so far, the SQ90 for demolition excavators up to 70 t.
Like other Steelwrist SQ products, it follows the Open-S industry standard on fully automatic quick couplers for excavators.
The SQ product portfolio has been further expanded in 2022 with the introduction of SQ50 fully automatic quick couplers and tiltrotators for mid-sized excavators.
The SQ oil connection technology is updated to allow for even higher flows, allowing users to run the high flow requiring work tools on mid-size excavators.
Also this year, the X02 tiltrotator was introduced. Combined with an optimised set of S30 work tools for the X02, the smallest excavators are able to work in a range of applications.
Zero-emission demolition equipment
Future themes such as electrification and digitisation will play a major role in Wacker Neuson's Bauma exhibits.
With solutions from the zero-emission series, entire construction sites, for example inner-city areas, can now be carried out without direct exhaust gas emissions.
At Bauma, Wacker Neuson will show an extended zero-emission portfolio.
According to the company, the EW100 wheeled excavator EW100 is unique in its class and sets new benchmarks.
The construction site 4.0 was in focus while developing the machine: An intelligent attachment management with tool recognition, a human-machine interface and the preparation for diverse assistance systems and interfaces are just a few examples.
With the cloud-based software solution EquipCare Pro, Wacker Neuson makes it possible for its customers to manage, plan and evaluate all machines, equipment and bulk materials regardless of the manufacturer or brand and thus increase the productivity of their machinery.
Customers can now plan the use of equipment and personnel in one system, managing everything used on a jobsite.