Demolition and recycling: Getting creative
By Thomas Allen01 November 2017
Case's CX245D SR excavator was recommended to Terrassement Berger for expanding the repertoire of jobs it could tackle
The primary requirement of machinery used for demolition and recycling projects is arguably versatility, since the tasks required of them are as varied as the structures and materials that they have to tackle.
It may come as no surprise, then, that excavators are often centre-stage on the jobsite.
Belgian-based construction company Terrassement Berger, which specialises in earthmoving work, needed a machine that would enable the company to expand its repertoire, to include larger and more unusual challenges.
For this, Berger needed a powerful and yet compact machine that could be used for work in city centres.
Local dealer Dannemark recommended the Case CX245D SR excavator for its ability to work in tight spaces, as well as its fuel efficiency, productivity and powerful performance. It was also said to have good stability, ample cab space and an adjustable operator station.
The minimum-swing radius excavator was designed to provide increased digging and lifting power in confined work areas. The compact counterweight and modified boom placement were said to minimise the machine's footprint, making it a productive and manoeuvrable excavator in restricted conditions.
With an operating weight of 26 tonnes and a 119kW Tier 4 Final/Stage IV engine, it offers greater bucket digging forces and lift capacity than its predecessor.
New-build construction
The machine is already at work in a new-build construction in Flémalle, Belgium, and was said to be a low-cost, user-friendly machine that was performing well. In particular, the machine has apparently been delivering speed and power, with its short radius. These were essential requirements for the job, which had to be completed in a very short timeframe.
Berger said its relationship with Dannemark was also critical, since they were able to recommend this suitable piece of equipment.
French demolition and earthmoving company Millot TP also expanded its fleet recently, with two medium excavators – this time, from Hitachi. The company also purchased a Hitachi wheeled loader.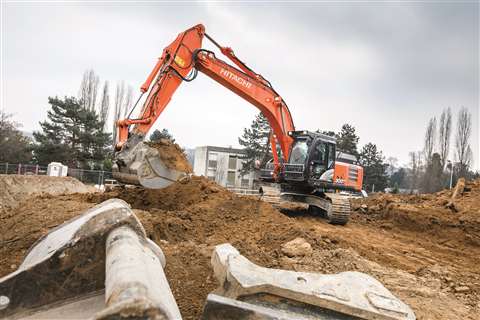 The new machines were supplied by Teramat, which is the dealer for the Rhône-Alpes and Burgundy-Franche-Comté regions.
The ZX300LCN-6, ZW180-5 and ZX250LC-6 were delivered in response to increased demand in and around the city of Lyon.
One of the first projects for the ZX300LCN-6 was at a former shopping centre, where it was used for the large-scale excavation of demolished materials, as well as the groundwork and foundations for a new housing development on the site.
Bruno Lourenço, an operator who used the excavator, said, "I really like the ZX300LCN-6 because it is more powerful than the previous machine.
"It's smooth and fast, and the loading cycle is very good. For example, there is no problem working with around 10 trucks per day on this site."
Demolition contractor Connell Brothers recently started to demolish the last remaining tower block of the Hattersley Estate near Manchester, UK.
The 11-storey Tameside Court tower is coming down in the latest phase of a regeneration programme that has already been the subject of a £200 million (€225.6 million) investment by partners Tameside Council, Peak Valley Housing Association, Symphony Housing Group, and the Homes and Communities Agency.
Connell Brothers has been using a customised Caterpillar 375 high-reach demolition excavator. With a weight of 90 tonnes, it can work at heights of up to 40m.
Over the past 15 years, the company has already demolished more than 500 houses and buildings around the estate to make way for modern housing and local amenities.
Since the work is being carried out in close proximity to residential properties and the busy Hattersley Road East, each phase of the project has been planned and co-ordinated to ensure minimal disruption to the local residents.
Elsewhere in the UK, engineering consultancy Erith Contracts has been carrying out a more unusual demolition project.
Flooded houseboat
In Brightlingsea, Essex, a houseboat flooded and sank after running aground several months ago. It was resurfaced and dragged on to the shore by a number of tug boats. However, when it got stuck about 100m from the promenade, Erith had to be called in.
Project manager Oliver Dowling said, "The boat was initially going to be removed from the beach via a tandem lift with two 100-tonne crawler cranes. But due to the poor ground conditions and the boat's structural condition, an in situ methodology for deconstruction was formulated."
The process began with the specialist removal of asbestos, and was followed by the extraction of any fuel that remained in the boat's fuel tank.
Top-down selective deconstruction was then carried out using a 13-tonne excavator, taking care to maintain the integrity of the lower portions of the hull.
Dowling said, "After taking away the arisings, we repaired the hard standing on the beach as a gesture of goodwill to the local boating community."
Formed in 2001, McCarthy Marland is based in Bristol, UK, and was created to fill a gap in the local market for waste removal.
Since then, the company has grown rapidly, taking on extra personnel and increasing its fleet of trucks and skips on a regular basis to satisfy demand.
Operations manager Kevin McDonagh said, "We have been purchasing Doosan machines for over ten years now, and they have always performed well in our busy sorting and loading operations in Bristol. The new Doosan equipment has impressed our operators."
Recycling is an essential part of the business at McCarthy Marland. The company recycles about 95% of the waste materials that are delivered to the site using state-of-the-art waste segregation technology. This enables the company to maximise the amount of recyclable material it can recover, which then goes on to be reprocessed and reused. A significant amount of material is sent on to waste-to-energy companies in Wales.
As with Doosan's other Stage IV-compliant models, the DX140LCR-5 excavator was said to offer increased performance, durability and fuel efficiency, with a focus on greater power, robustness and versatility. The Perkins 1204F engine that powers it was said to combine reduced fuel consumption and the power and torque of larger engines with a smaller displacement. The engine generates an output of 85.9kW at 2000rpm and was said to offer greater swing torque.
According to Doosan, fuel consumption has been lowered by up to 10% compared to the previous generation machine. This has been achieved by the use of the Stage IV engine in conjunction with new systems and functions that have been incorporated into the excavator. For example, the current fuel consumption can be read directly on the LCD panel and the engine can be shut off automatically after a pre-set time when the machine is not being operated.
Fuel savings
To make further fuel savings, Doosan has developed a new system – called Smart Power Control – to optimise the balance between the pumps' output and the diesel engine.
In the financial heart of Luxembourg City, a 120-tonne Hyundai excavator has recently been employed by Démolition & terrassement XL on a large demolition project.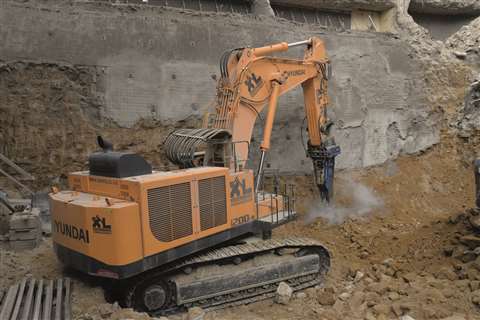 The R1200-9 has been used to break reinforced concrete foundations with a 7-tonne hydraulic breaker, and the first task to be completed will be a 35m-deep, six-storey underground parking area. Once complete, the work site will host the new offices of the Bank of China.
Powered by a 567kW turbocharged diesel engine, the excavator comes with double grouser shoes as standard, measuring 710, 800 and 900mm in width. For this particular demolition job, the company required narrow shoes.
Hyundai's R1200-9 uses a Computer Aided Power Optimisation (CAPO) system to ensure optimum performance from the engine and the two hydraulic pumps. The three different power modes – power, standard and economy – serve specific working loads to help ensure maximum engine performance, high speed and optimum fuel efficiency.
The system also features auto deceleration and a power boost, while the LCD display monitors engine speed, coolant and hydraulic oil temperatures, as well as the diagnostic error codes. At the push of a button, the operator is able to select boom or swing priority and power mode settings.
The excavator comes with a 7.55m mono boom and a 3.4m arm.
For UK-based contractor DSM Demolition, Caterpillar excavators were the machines of choice when it was collaborating with attachment specialist ECY Haulmark to undertake a 12-week project at one of England's most famous football grounds.
White Hart Lane is being redeveloped for the 2018/2019 season, after the original venue staged its final fixture in May. And while the main contractor Mace is responsible for ensuring that the new build is ready for kick-off in 12 months' time, DSM is clearing the part of the site that has been occupied by the club for more than a century.
Fittingly, while the professional game wrestles with new contracts and transfer windows, DSM has made a signing of its own to help the demolition run smoothly.
At the start of the contract, it unveiled a Cat 6015B high-reach excavator from Cat distributor Finning. Equipped with a range of five arm options developed by bespoke excavator equipment manufacturer Kocurek, the machine can operate at 230 tonnes with standard arms or 250 tonnes with the telescopic option.
It is currently operating at a height of 38m and carrying a 6.5-tonne LaBounty MSD2250R scrap shear from ECY Haulmark – a company that DSM has dealt with for more than 15 years when choosing products such as hydraulic breakers, selector grabs, shears, concrete processors, hydraulic magnets and buckets.
DSM said it chose the LaBounty model as it believed it to be the best available option to complement the Cat high-reach. Other machines on the site include a number of Hyundai R300 and R380 excavators fitted with the OilQuick automatic coupler system, which was also installed by ECY Haulmark.
Customised excavator
Kocurek was shortlisted for its customised excavator solution for the stadium project in this year's World Demolition Awards, in the Innovation Plant category. The awards are part of the World Demolition Summit, which will take place in London, UK, next month.
Derived from the CAT6015B mining excavator, the demolition machine that Kocurek designed needed to meet a unique set of requirements specified by DSM Demolition. A combination of high-reach and heavy-duty functions had to be combined on a fully converted base. The machine was to have a working range of between minus 19m and plus 70m, with a variety of attachment weights.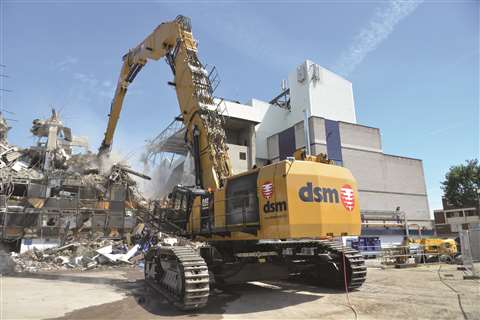 The engineering team at Kocurek devised a modular system whereby different components could be interchanged on the front of the modified base machine for a variety of working conditions. The system had a working attachment range of between 2.5 tonnes at 70m and 12 tonnes at minus 19m, and the finished product weighed in at 225 tonnes.
The machine was designed to be easily dismantled and transported to confined city locations.
Also in the Innovation Plant category, Italian-based VTN Europe was shortlisted for developing a multi-purpose demolition tool as well. The company's Omnivore OV35 has adjustable kinematics that enable it to cut through both steel and concrete in an optimised way using dedicated tools.
The development of this new excavator attachment began with an evaluation of the existing solutions. VTN Europe said that the options on the market offered one fixed cylinder setup with kinematics that were specifically targeted at either concrete or steel, or compromised with a balanced setup for dealing with both materials.
The objective of the new omnivore shear was to overcome this limit as much as possible by providing a tool with an adjustable setting. This would allow it to offer up the optimum closing curve for concrete in one position and the optimum curve for steel beams in the other position. Using a single jaw set, this attachment can be applied to both concrete and steel with equal effectiveness. So, on jobs where two tools would usually need to be interchanged, now just one attachment is required.
Weighing just over 3 tonnes, the Omnivore OV35 was designed for excavators with an operating weight range of between 30 and 45 tonnes, as well as high-reach applications of machines with tool weight specs between 3 and 4.5 tonnes.
VTN is already planning the development of other models with this patented adjustable kinematics setup in the near future.
Another company shortlisted for the Innovation Plant award is Swiss-based Husqvarna. The company said it looks at ways to improve efficiency, as well as the health of the user and the surrounding environment, when developing new products.
Dust has been a topical issue in the construction industry for some time, with the demolition and breaking-down of concrete representing an inevitable concern for many companies.
Dust reduction
With an awareness that the regulation of dust particles while working with products such as DXR demolition robots was set to become more stringent, Husqvarna recently introduced a new dust reduction accessory solution.
The accessory was designed for all Husqvarna DXR robots and was also intended for use with tools like the SB 152, 202 and 302 Atlas Copco breakers. By supplying water to the tool in order to bind the airborne dust, the work environment is improved and the risk of the operator inhaling harmful dust particles during demolition work is reduced.
It also provides a more efficient and economical way of working by eliminating auxiliary equipment and freeing up any additional workers that previously might have been engaged in holding a water hose to spray water on the jobsite.
Japanese-based Komatsu is also in the running for the Innovation Plant award, through the development of the PC390HRD-11 high-reach machine developed by a team of design and development engineers in the UK.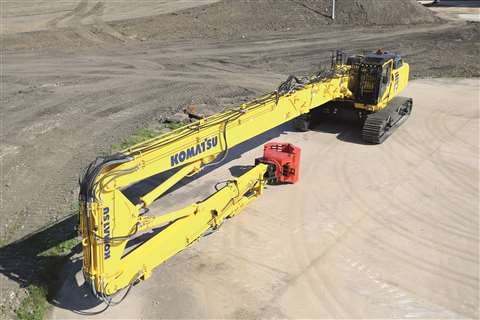 Made to work in six configurations, the machine is capable of carrying a hydraulic breaker for 36 tonne-class excavators up to a height of about 15.5m, and typical demolition tools up to a maximum of 26m. Also, a boom extension piece can be used to vary the working configuration of the machine significantly.
The PC390HRD-11 weighs less than 56 tonnes with the standard undercarriage installed.
The machine's versatility and low transport weight are intended to allow the machine to be deployed quickly to any demolition project, using the appropriate tools, while also maximising operator control and safety.