Demolition and Recycling: New technology, new product lines
By Andy Brown13 April 2020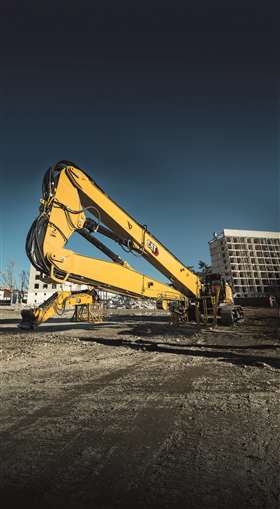 There are many different segments of the construction industry, from earthmoving, access equipment and gigantic cranes that tower over work sites around the world. While all these sectors are different, there are more things that bind them together than separate them and, for those working in demolition and recycling, new technology is also a key driver regarding new products.
One of the big news stories in this sector last year was the acquisition of Canada-based manufacturer McCloskey International by Metso. Toni Laaksonen, senior vice president for McCloskey, met with International Construction at ConExpo to discuss the purchase and comment on the broader trends in the industry.
Laaksonen has been in his role for approximately six months, joining the business last October from Metso following the acquisition – he is now leading the McCloskey brand. The youthful-looking and affable Laaksonen says that he is enjoying his new role and that a focus has been in expanding the product portfolio and making use of the skills and knowledge in the Metso group, for example in areas like power generation.
Electrification
According to Laaksonen, "Electrification is one thing which is appearing that many customers want to have now. So that's coming more and more in certain countries. In Europe there are countries demanding this as more important; Norway and Austria, but also Germany, Sweden and Finland are showing certain trends towards electrification. It is potentially emerging in India as well."
He also comments that electrification is still in relatively small demand in North America and that he believes the equipment serving the demolition and recycling sector is moving towards an 'interim' period. In this period companies need a wider product range than ever to accommodate those who want traditional products and those who want electric.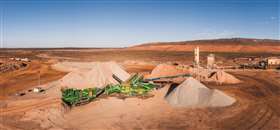 "There will be a need for a wider portfolio for a certain amount of years. It may be that eventually there is a shift towards fully electric units, but it remains to be seen."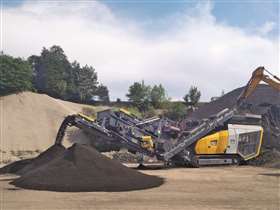 Keestrack is expanding operations in India and China
Michael Brookshaw, global distribution manager at Keestrack also revealed to International Construction at ConExpo that the company is heavily investing into its R&D, with a strong element of this being on alternative power sources.
"Our R and D is in full swing. We're looking at another two new products that we will bring out in the next two years. One of them is a new type of crushing system on track that nobody does."
He also commented that most of the industry is driven by government regulation, and that it was due to legislation that the company expanded into hybrid electric drive. Brookshaw also revealed that the company is looking at alternative energy.
"We'd love to go into hydrogen powered driven crushers, but the industry is very conservative. When you start to go into that you've also got to have the logistics of hydrogen and everything that goes with it prepared. We have what I call 'full' electric hybrids now, but it is quite a long way down the road before we start to be going to hydrogen."
New launches
Of course, new technology is present in lots of products in this sector, not just related to power generation. At ConExpo Allu unveiled its new demolition and quarrying crusher. The new heavy-duty range of crushing attachments is said designed to meet the needs of the demolition, recycling and quarrying industries.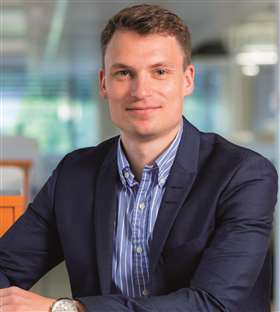 Toni Laaksonen, senior vice president, McCloskey
The global launch of the new crusher series will initially see three crusher models be introduced for excavators in the 10 to 33 ton range. All have features that are said to optimise performance such as reversible crushing, a feed plate design built into the jaw and a mechanical pin adjustment for output size regulation.
Jeroen Hinnen, vice president of sales, Allu, said, "By bringing this new product line to market we will be able to provide customers with what they have been looking for. The Allu Transformer range offers unique productivity and efficiency benefits on soft rock and other materials, whilst the Allu Crusher range enables hard rock, and often troublesome demolition materials, to be effectively reduced."
Arguably the world's biggest OEM, Caterpillar, used the National Demolition Association (NDA) convention and expo in Austin, Texas, US, to unveil its 352 UHD ultra high demolition excavator.
The machine – which spent more than two years in its design phase at Caterpillar in Japan – works in conjunction with a range of Cat attachments.
Part of Cat's next generation range of machines, its front can also be switched for a straight or bent boom position for lower level demolition or earthmoving applications; the company claims this can be done in around fifteen minutes with two people and no special tool required.
In the UHD configuration, the excavator provides 28m of vertical height to the work tool attachment pin, and 15.8m of horizontal reach, when working with 3,696kg tool. In retrofit straight boom configuration, the 352 UHD uses a 9.1m retrofit boom with a choice of 2.9m or 3.35m retrofit stick.
Sights set on North America
Another manufacturer that used the NDA as springboard for a new launch was China-based LiuGong. The company – which has one of the broadest product ranges in the industry – showed its 950E high reach demolition excavator as it targets an entry into the North American market.
Having previously shown the excavator at Bauma in Germany, the company now aims to make headway in the competitive North American market. LiuGong has collaborated with specialist machine modifier Kocurek to make products more applicable to the needs of North American customers, and partnered with Cummins to provide the engines for the products.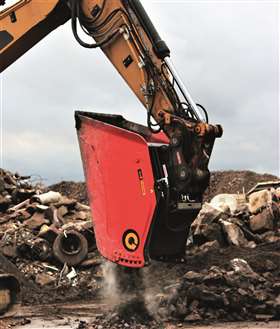 ALLU showed off new products at ConExpo
The 950E includes a high visibility cab that was demonstrated in the US for the first time.
LiuGong said it has designed the products for a low total cost of ownership, along with ease of switching implements that allows transition from static to high reach in 30 minutes.
"As an organisation, we have been making demolition products for years and years, in the United Kingdom, in China," said industrial segment manager Tim Gerbus. "A lot of people were surprised to see us at Live Demo, but the first North American case study could be very soon."
Physically a lot smaller than excavators being used for demolition is the sector of hydrodemolition robot manufacturing. Aquajet Systems specialise in this area and have released the Ergo System.
The robot offers four times the power of a hand lance in a compact footprint that contractors can easily move around the jobsite. It is said to be ideal for work on floors, walls and ceilings.
The Ergo System incorporates: the controller unit, which powers and controls the hydraulics, the Ergo Power Head, which manipulates the high pressure lance, and either the spine or the climber, unique systems used to support and maneuver the power head, based on project needs.
"The Ergo System is the perfect package for a contractor looking to break into hydrodemolition or to expand their business," said Roger Simonsson, Aquajet Systems managing director.
Emerging markets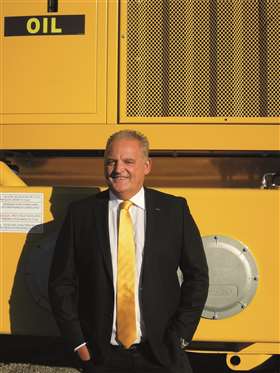 Michael Brookshaw, Keestrack
China and India are two of the world's biggest markets for construction equipment and, according to Brookshaw from Keestrack, they are both targets for the company. Keestrack already has manufacturing in place in China but will be extending its capability, while there are plans to open their first factory in India.
"The market in India is a very good market with great possibilities due to the government's infrastructure plans, such as building a hundred smart cities," he comments. "The product will be different than in Europe.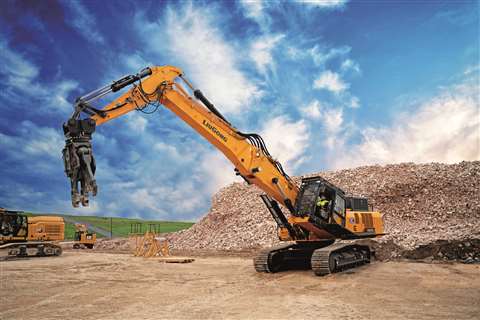 "We manufactured it to more of an Indian type of product, it's been manufactured to what the Indian market requires; it's a very price conscious market. One thing you can't do in India is make a machine that's lower price, lower quality, they won't accept it."
Laaksonen from McCloskey agrees that different markets around the world have different customer demands, and this is only partly due to the different materials that they have in their countries. "In certain parts in Canada the material that we are processing is hard rock, hard stone. In certain areas in the US, you are processing much softer materials, which means that you need to have totally different equipment. The same differences apply in Europe."
These differences mean, of course, that different products are needed. There are also contrasts regarding customer demands and expectations. Laaksonen says that in every market there are customers that want high-end and lower-end products, but that in China and India the gap between the two is vast.
"There are several customer segments in China and India; some of those want to have highly specific products. They are willing to pay for that, but they want to have high quality machines which last a long time. Then there's a different segment, which is just looking for cheaper products and they are not expecting any support from their OEM manufacturer.
"To a certain extent that appears also in Europe but the gap between the two segments is not as big there – in India and China it is huge."
Some customers are more concerned with price; others with quality; others with buying products with the latest technology. It appears that the manufacturers of demolition and recycling equipment are catering to all different market needs.
A dirty job
Doosan excavator used to dismantle concrete tank at sewage factory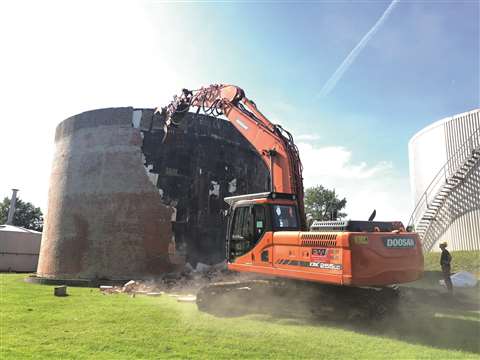 FW Bau, a German-based construction firm, has used a Doosan DX255LC excavator to dismantle a concrete tank at a sewage treatment plant at Malente in Schleswig-Holstein, Germany.
It was originally planned it would take three weeks to demolish the tank, which had a height of 4m and a diameter of 14m. This also included the processing of the roughly 200m³ of demolished concrete and around 800m³ of stone that was produced by the work.
In fact, the project was completed in just two weeks. One of the reasons was said to be the trouble-free operation of the construction machinery used. "I can fully rely on the Doosan machines, which is an important factor for me as a medium-sized contractor," said Felix Wessel, owner of FW Bau.
Hydrostatic concept the key
New recycling plant opts for Rockster due to hydrostatic concept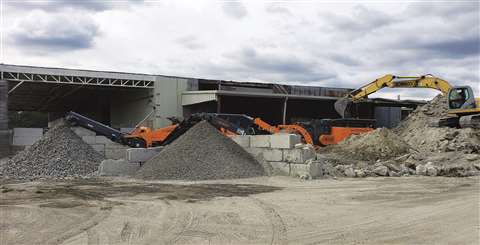 The main area of business for US construction company Titan Enterprises is com-mercial and residential concrete construction. However, the firm recently acquired a recycling site which gives the company an opportunity to make their own construction material. Concrete is mainly recycled on site and later re-used for their own projects.
The company purchased Rockster's impact crusher R900, with its hydrostatic concept for the new recycling plant.
Rockster CEO Wolfgang Kormann says, "The hydrostatic pressure adjusts to the power requirements of the crusher, resulting in a very constant crushing performance. Moreover, the diesel engine always stays within the optimum speed range, so the fuel consumption is lower than with Diesel-Electric Drive Systems."
Attachments roundup
Attachments are an essential part of demolition and recycling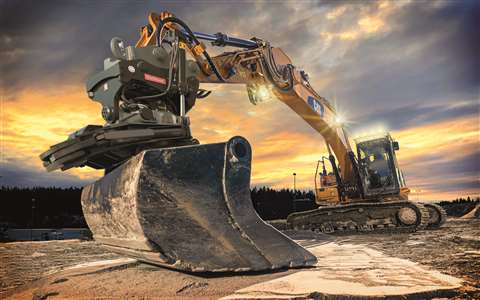 Quick coupler manufacturer OilQuick showed off its latest tiltrotator series at ConExpo. The OQTR-E range comprises five different models suitable for excavators from 6 to 33 tonnes.
A collaboration between tiltrotator and accessories manufacturer Engcon, OilQuick said the new series was, "the best of both worlds".
"The companies have had a close collaboration for some time, but we have now chosen to extend it further," said OilQuick CEO, Henrik Sonerud.
Attachments are used for demolition and recycling jobs all over the world, such as an MB Crusher drum attachment being used when renovation work was required at the Augustusbrücke bridge over the Elbe river in Dresden, Germany. The job was for the removal of the concrete which filled the arches.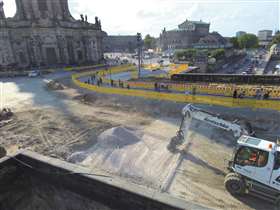 Work on the Augustusbrücke bridge
The customer was seeking a solution that would be suitable for the machine already in use at the site (a Liebherr 918 excavator) and that would not cause any damage to the 18th century structure.
The MB-R800 drum cutter was used on the diagonal cement lines on the bridge to free up the expansion joints. This was the most challenging phase. Following this, it was used to remove some of the concrete that filled the arches of the bridge, grinding as far as 3m deep.
New attachments are frequently being introduced for this sector, as happened recently with Epiroc adding two new models for heavier carriers to its CB Concrete Buster range. The CB 5500 and CB 7500 are designed for carriers in the 50 to 85 tons weight class.
Due to their comparatively light weights CB Concrete Busters are popular choices for use with high reach or long front carriers and for applications with highly abrasive material and low level of visibility of the product in operation. They are also suitable where noise is an issue.