Demolition: When you break it all down…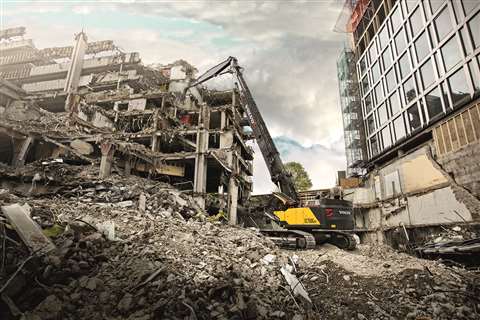 As structures and their uses differ greatly, so must the equipment used to demolish them, when they are either damaged beyond repair or have come to the end of their useful lives.
A superstructure and substructure demolition, as the name suggests, is the taking down of a building, followed by the demolition of its floor slab and foundations.
Often, with larger structures, it's not possible to deploy heavy equipment to pull a structure down. In such cases, explosive demolition might be required, with equipment brought on site to clean up the debris after the site has been made safe.
Either way, for the demolition of large structures, there is an incredible array of machinery and technology on the market to help get the job done.
At the top of most shopping lists is a demolition excavator, and Volvo Construction Equipment claims to have the industry's most productive in the EC750E HR.
The 100-tonne machine is based on the general purpose EC750E excavator, Volvo says the HR version has been substantially re-engineered for the demolition market.
As such, it boasts a maximum pin height of 36m and is designed to be easily reconfigured to use extensions and booms of differing length – and to operate both at height, under the ground and under water.
Mulit-purpose Machinery
One of the largest high-reach excavators available for the stage IV-regulated European market, Volvo offers the EC750E HR with two high-reach demolition boom sets, as well as a digging boom with an extension.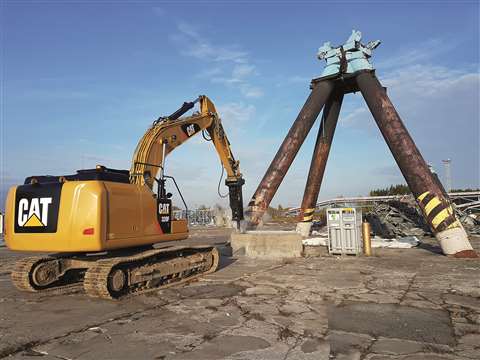 A Cat 320F excavator has a proven and powerful hydraulic system
In its maximum (36m) configuration, the excavator can still carry tools weighing up to 3.6 tonnes, while 5 tonne tools can be carried at the (26m) configuration. The digging boom set allows for an 18m pin height, with numerous configurations even allowing for underground work.
The excavator's flexibility stems from its two hydraulic modular joint – one on the extension boom and one on the digging boom. Each of the joints has a two-pin hydraulic lock mechanism. On the extension boom, this allows the machine to change from high-reach to digging configuration, while the combination of the two joints allow for the excavator to easily switch between 'bent' and 'straight' configurations.
To give the EC750E HR the stability it needs to undertake tough demolition jobs, its undercarriage is heavier and wider even than the larger EC950E excavator, while it boasts an additional 4 tonnes of counterweight.
Adaptable Aattachments
Of course, for demolition excavators to be effective, they require quality demolition attachments, and Caterpillar recently launched a range of them, including its GC S series hydraulic hammers, which, it says, can significantly boost efficiency and lower costs.
The hammers are designed with mounting brackets specifically matched to Caterpillar linkages, ensuring optimal compatibility with Cat machines. Produced for excavators ranging in weight from 13 to 40 tonnes – Cat says they offer the performance to tackle jobs in general construction, quarry and mining work, as well as demolition.
Features of the new hammer range include a gas-fired operating cycle, promising reliable performance and efficiency. Automatic shut-off provides blank-firing protection by stopping the piston from cycling internally when no material is under the tool.
The GC S series hammers also feature a protective housing, designed to lower noise levels for operators.
Cat has also expanded its range of scrap shear attachments, with three new models – the S3015, S3025 and S3035. Designed for excavators with operating weights of between 8 and 40 tonnes, Cat says the shears outperform predecessor models with faster cycle times and force-to-weight ratios.
UK-based Arrowhead Rockdrill uses plasma cutting technology to mill and turn its steel components
The shears feature dual-offset apex-jaw design, promising better cutting performance, while Cat's patent-pending bolt-on piercing tip – located on the upper jaw – not only pierces, but also protects the moving jaw.
Building on the success of its original HB Series hydraulic hammer range and the subsequent S Series hammer, UK manufacturer Arrowhead Rockdrill recently launched the patented R Series compact hammers.
The R Series includes a compact range, for carriers between 0.7 and 10 tonnes, and a heavy range, for carriers between 8 and 29 tonnes. Both ranges feature vibration and sound suppression as standard and narrow round boxes, giving enhanced access to surfaces in confined spaces.
Arrowhead says the gas-fired operation of its hammers uses less oil at lower working pressures, leading to longer maintenance intervals. It also points to the plasma cutting technology it uses to mill and turn all steel components, giving them longer life and enhanced durability.
The latest range of equipment from Swedish cutting tools specialist Sandvik covers most of the attachments required for demolition, including cutter-crushers, shears and pulverisers.
The Rammer Cutter-Crushers (RCC) range is manufactured from HB400 steel for longer life and is suitable for carriers in the 3 to 130 tonne weight range.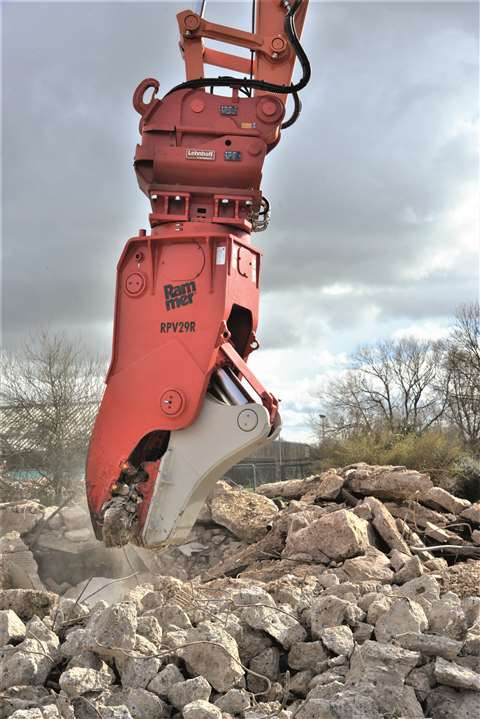 Sandvik's Rammer Cutter-Crushers (RCC) range is manufactured from HB400 steel
Sandvik says the majority of its crushers feature a desynchronised chamfered jaw with a speed valve, offering more precise placement and faster cycle times.
All models have full hydraulic rotation, while larger models feature forged and protected cylinder rods for longer maintenance intervals.
Sandvik also has nine models in its Rammer Scrap Shear (RSS) range, suitable for carriers between 4 and 60 tonnes. Manufactured to the same standard as the crushers, the shears feature a smart jaw design that allows material to fall away from the cutting area, reducing downtime.
The company says the central pin adjustment system on the shears also helps prevent jaw deviation, which can reduce the amount of material stuck between the jaws and enhance performance.
Sandvik has also recently added six rotating pulverisers to its range of demolition tools, suitable for carriers between 10 and 90 tonnes and complementing its range of six static pulverisers.
The Cutting Edge
Indeco also offers a wide range of shears, designed for excavators from 8 to 90 tonnes operating weight. The ISS shears are made from Hardox steel alloy and boast four cutting surfaces on each of the main knives and guide-blades, allowing them to be rotated three times before requiring replacement.
The shears also have a regeneration valve, which Indeco says will speed up no-load movement of the jaw, reducing cycle times.
An integrated dual guide system can be used to adjust the alignment tolerance of the jaw, preventing buckling during the cutting stroke, while wear bushes ensure the optimal alignment of the knives.
Spanish firm Xcentric recently developed a new series of crushing buckets, featuring an updated mechanics system that makes their internal assembly simpler.
According to the company, the new XC design needs neither lubrication nor a drainage line, thus expanding its potential use and minimising maintenance.
Xcentric says its slight alteration of the external design has allowed for increased adjustment of the bucket's granulometry, allowing material to be crushed to a much smaller size, in some cases with sand as the final result.
The new design – within a current range of three crushers – also allows for the bucket to be completely opened when jaws need to be replaced.
For demolition contractors with excavators weighing between 20 and 26 tonnes, French manufacturer Arden has released its 'all in one' quick hitch – the AIO 50.
The tool is designed to work with hydraulic attachments including tiltrotators, grabs, tilt ditching buckets, grabs and concrete crushers, as well as both concrete and metal shears.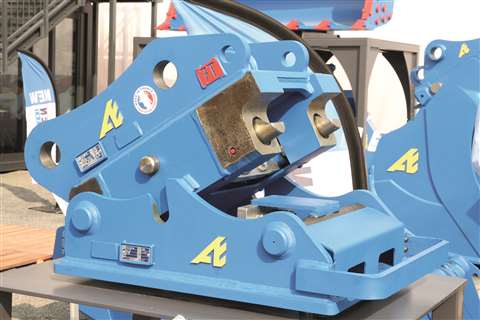 Arden says the hitch allows instant and direct hydraulic connection from the cab. It adds that hoses connecting simultaneously within 10 seconds, allowing fluids and electric wiring to run through the hitch automatically.
The AIO 50 includes a high-flow double-acting line (for jaw opening and closure), a low-flow double-effect line (for tool rotation), two single auxiliary lines and a centralised lubrication line.
Arden is also adding to its demolition equipment portfolio with the CU042, adding to its range of demolition shears.
The new shears promise a 17% increase in power over the predecessor model, with a jaw opening width increased by 18%.
Designed for carriers of between 38 and 50 tonnes, Arden says the new shears feature a patented jaw change system that can be undertaken in less than ten minutes.
Increased Saftey
Earlier this year, the Swedish manufacturer of tiltrotators and tools for excavators, Steelwrist, extended its SQ Auto Connection range of quick couplers with the SQ 65 and SQ 70/55 models.
The company says the market for quick couplers is growing fast and claims that, particularly in Central Europe, the kit is mounted on the majority of new carriers in the 14 to 50 tonne classes.
The new Steelwrist couplers boast a wedge locked system and patented front pin lock technology, increasing safety by preventing tools being mistakenly dropped.
Also, addressing the issue of restriction in connection poles, small contact surfaces and water sensitivity often found with existing electrical connectors for excavator tools, Steelwrist has developed a new connector, specifically for the SQ couplers.
The V14 connector has larger contact surfaces and is designed in such a way that surfaces slide against each other during coupling, ensuring good contact and a self-cleaning effect.
Furthermore, the V14 is designed with 14 pins, as opposed to the usual 10, making it possible to connect the tiltrotator function, as well as a machine control system, or separate valve packages, in the same connector.
Robust Robotics
Renowned for its demolition robots, Brokk, through its sister company, Darda, has brought the TC120 tank cutter to market, which it claims has unparalleled steel cutting abilities.
Used in conjunction with the Brokk 160, 280 or 400 demolition machines, the TC120 boasts 76 tonnes of cutting force at 510kg/cm2, and has 125mm-wide jaws.
With numerous applications, the TC120 was designed with cutting steel tanks, pipes and vessels in mind.
Brokk says using the new cutter with an electric Brokk machine reduces the risk of operators being exposed to toxic emissions, as well as preventing fires, which can occur when open-flame torches are used.
Mike Martin, Brokk's VP of operations, said, "When cutting tanks, you never know what you'll run into. You don't have to worry about that with the Brokk machine and TC120 combination. Since it's electric, you reduce the risk that comes with cutting into potentially flammable tanks."
Getting Into a Scrap
A new entry in the market is Doosan's DX250WMH-5 25 tonne Stage IV compliant material handler.
The new machine, designed to handle scrap metal and other materials, has front and rear stabilisers, as well as a boom and arm.
A hydraulic cab riser is standard on the handler, giving the operator enhanced visibility of both the attachment and the work area. A rear-view camera display inside the cab further improves the operator's view of the jobsite.
The DX250WMH-5 boasts both joysticks and a steering wheel and the machine has two-way auxiliary and rotate circuit hydraulics to improve efficiency. The operator can use buttons on the joysticks or an optional foot pedal to control auxiliary attachments.
Powered by a 6-cylinder turbocharged water-cooled engine, with an output of 129.4kW, the handler meets Stage IV emissions regulations without the need for a diesel particulate filter (DPF), due to its cooled exhaust gas recirculation and after-treatment technologies.
According to Doosan, the machine's Smart Power Control (SPC) system improves efficiency while maintaining productivity through variable speed control and pump torque control, automatically adjusting RPMs according to the load being handled.
Italian style, Swiss precision
Waste management company G Ecorecycling chose Trevi Benne as its demolition supplier for a job in Lugano, Italy.
The company's owner said the decision to use Trevi Benne hinged on its Multi Kit crusher with power multiplier device.
He said, "We deal with very different situations on site, which before now would require an exclusively dedicated excavator for each job. Now with the crusher's four demolition kits, I only need to change the end of the jaw body.
"I can choose the iron shears, the shears most suitable for concrete or the pulveriser, according to where and when I need them on any one site."
He added, "We do not operate in a destructive way, but scientifically, because our aim is to recover and sort as many materials as possible. And thanks to this type of technology, we are able to recover between 80-85% of material.
"With this product mix we are faster and more accurate, but not just that. We have also saved a great deal: four kits cost much less than buying four separate jaws, since the most expensive element is the central body. And then we have also reduced logistical complications, requiring less space in the warehouse and fewer vehicles on the construction site, while maintaining efficiency, thanks to the booster."
Working with Steligence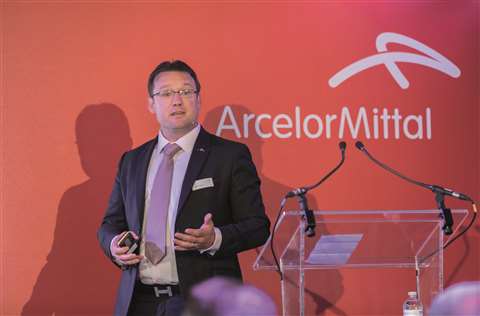 As with so many industries, environmental considerations are primary concerns within both construction and demolition, and the issue of recycling has never been more important.
With this in mind, the world's biggest steelmaker, ArcelorMittal, has introduced Steligence, a new steel concept designed to offer steel solutions for the construction industry.
The company's CEO, Olivier Vassart, describes the concept, saying, "Construction is currently responsible for 40% to 45% of the world's gas emissions, so we have to assess the environmental issues when designing a project. At Steligence, we work with construction professionals throughout the entire lifecycle of a building project to reduce the environmental impact by 15-20%.
"Steel's infinite recyclability surpasses that of other building materials. Once the lifecycle of a building ends, the steel can easily be reused or repurposed and used in other ways, thereby reducing waste and the impact on the environment.
"Steligence has adopted a 'cradle to cradle' approach which will reduce, and eventually remove, waste altogether during the lifespan of a building. Each building is perceived as an all-encompassing entity made up of diverse components that interact in a complementary way to benefit the whole project. Eventually a building can become material banks for future projects.
"Most of the steel used within the Steligence solution is recycled steel. On top of this, we want to promote the reusability of steel that can be done through the deconstruction of a building then using steel parts for other projects."