Denmark distributor for Snorkel
By Euan Youdale18 July 2017
Snorkel has appointed KH Lift as its new official distributor for Denmark.
KH Lift is a newly formed company, launched on 1 July 2017, but behind the fresh branding and new name lies a familiar face to Snorkel's distribution network. Karsten Haahr, formerly owner of KK Materiel, leads the new business, as he moves back into equipment sales following three years running an equipment rental business.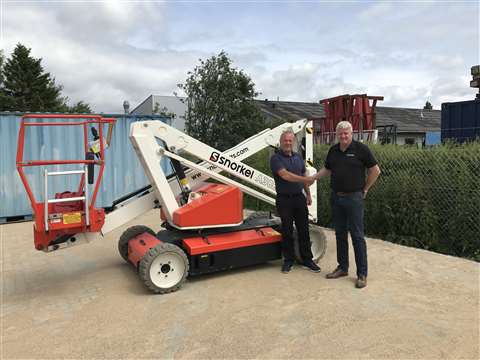 Karsten Haahr has over 25 years experience working with UpRight Powered Access and Snorkel equipment, during his time as a sales manager with Treffco and then at KK Materiel, before it was sold in 2014.
From its new facilities in Vejle, Denmark, KH Lift will provide new Snorkel lift sales, service and spare parts for the Danish market, as well as spare parts for older Snorkel and UpRight lifts within the market. Led by Haahr, KH Lift has launched with a workshop manager and two field service technicians, with plans to expand this team to a total of six people within six months.
Mr Haahr, said, "It is an absolute pleasure to be back within the equipment sales sector and working again with my friends at Snorkel. At KH Lift, we are already investing heavily in our team, premises and spare parts to ensure that we deliver unrivalled levels of customer service and build the Snorkel name in Denmark."
The appointment was managed by Henrik Skibsted, who joined Snorkel in May 2017 as territory manager for Scandinavia, reporting to Enrique Garcia Delgado, Snorkel regional sales director for Europe. Skibsted said, "Karsten has significant experience working with UpRight and Snorkel products, so I am confident that Snorkel is in good hands in the Danish market. In all of his businesses, Karsten has always worked hard to support his customers, and I know that KH Lift will be no different."