Design chosen for India's 'greenest airport'
By Andy Brown24 December 2020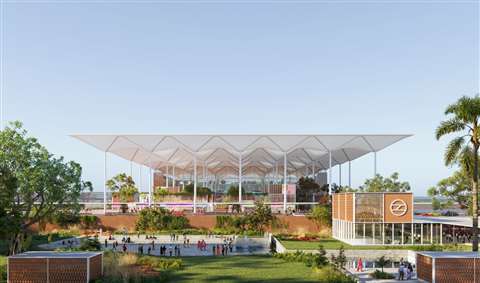 UK-based design company Grimshaw has won an international design competition for the new passenger terminal of Delhi Noida International Airport, India, as part of a design team including Nordic – Office of Architecture, Haptic and Indian company STUP.
The team was selected from a shortlist of three by Flughafen Zürich AG, operator of Zurich Airport, which won the concession to design, build and operate Noida International last year.
The design is said to balance passenger comfort with sustainability and the concept creates a future airport city envisioning green spaces inside and around the building.
Grimshaw Partner Andrew Thomas said, "This new visionary airport is vital to the rapid and continued economic development of the Delhi region and we look forward to working with Nordic and Haptic again drawing on our past experience from Istanbul Airport to create a truly sustainable and innovative new terminal.
"Our design will provide the best possible experience for passenger and staff while focussing on the key issues in aviation today such as passenger flow, digital services and rigorous carbon minimisation targets."
The project aspires to achieve LEED Gold standard and to operate at Carbon Net Zero. Design proposals include an internal landscaped courtyard deep within the terminal plan delivering ventilation, daylight, and an enhanced passenger experience.
Once complete, the airport will serve the fast-developing industrial region between Delhi and Agra, and its investment will support the Governments of India and Uttar Pradesh through infrastructure development and job creation.