Design for London 2012 Handball Arena revealed
By Richard High05 November 2008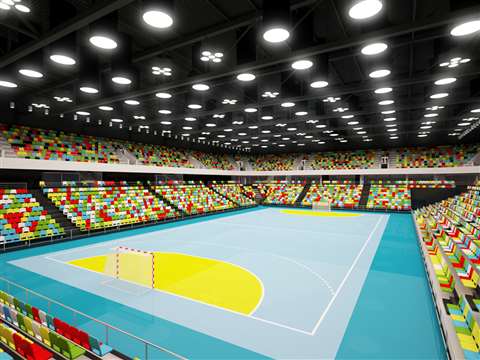 The London 2012 Olympic Delivery Authority (ODA) has unveiled designs for a "simple, efficient and flexible" Handball Arena that will become a new multi-sports facility in legacy.
The Handball Arena will be in the west of the Olympic Park, to the south of the Hockey Centre, less than four minutes from the Olympic Village. It will have up to 7000 seats during the Games, hosting the Handball preliminaries and quarter finals as well as the Modern Pentathlon disciplines of Fencing and Shooting. It will also be the Goalball venue during the Paralympic Games.
In legacy mode after the Games, the Arena will become a multi-sports venue with retractable seating for 6000 spectators and flexible facilities to hold a range of training and competition events of all levels. It will cater for a wide-range of indoor sports including basketball, handball, badminton, netball and volleyball, boosting the sporting facilities provided across the Olympic Park.
The Handball Arena, designed by Make Architects with PTW and Arup, features external copper cladding that will develop a rich natural colour as it ages. The concourse level features glazing that "encircles the building", allowing visitors to the Olympic Park to view sport taking place inside, and illuminating the venue when lit at night.
The venue also features "a vibrant and multi-coloured interior", with retractable seating to create a flexible space and with 100 light pipes in the ceiling to allow natural light into the venue.
Commenting on the designs, ODA Chairman John Armitt said, "This is a simple, sustainable and flexible design that works well for the Games and legacy. The colourful interior will help boost the Games time experience for athletes and spectators, and in legacy will become a modern, practical and attractive facility for local people of all abilities to enjoy a range of sports. The copper-cladding sets the venue in the surrounding parklands and will look even more striking as it changes over time."
Design features in the Handball Arena plans include:
- Over 3000 m2 of external copper cladding, mostly recycled, that changes colour and character as it ages
- Over 700 m2 of glazing which encircles the building at concourse level opening up the venue to the Olympic Park and enabling visitors to watch sporting action
- multicoloured seating that retracts to enable flexible use of the field of play
- 100 light pipes in the ceiling that draw sunlight into the venue, reducing electricity demand
- rainwater harvesting will help reduce water use by 40%
- materials selected for long-term durability and performance
- in legacy mode the venue will include a health and fitness club with changing facilities and a café for use by the local community
- in legacy mode, the venue offers a 2743 m2 field of play hosting sports including: 5-a-side football; netball; basketball; volleyball; badminton; table tennis; handball; and Futsal