Detailing historical monument moving
Statue and monument moving requires highly sensitive rigging and an extreme attention to detail.
Statue and monument rigging are among the most newsworthy jobs in the industry. Moving, rigging and installing a new or vintage statue, monument or object of art requires extra special care and concern. If it's a vintage piece, there are often many unknowns because the original details of the relic have been lost or no longer exist.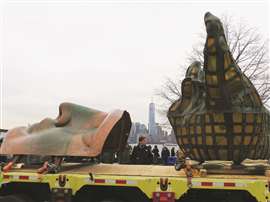 Monument and statue work often involves restoration or rehabilitation, making the work even more tedious. Such was the case with the refurbishment of the Statue of Liberty in the mid-1980s. Lady Liberty's torch had been badly damaged and needed to be replaced. A crane was used to take down the old torch and install the new one. The new torch was fabricated just like the original one, using the same plans and identical structure. The new and old torch are more than 16 feet tall and weigh 3,600 pounds.
More recently, the original torch and a replica of the statue's face were hauled to a new museum on Liberty Island by Phelps Construction. It was a tedious job getting the torch out of the storage area where it had been kept since the mid-1980s. Michael Phelps and a crew of 15 moved the 3,600-pound torch, made of copper and amber glass, from one side of Liberty Island to the other.
"The issue here is it's a precious treasure for our country," Phelps said in news reports. "This is not the most difficult thing we've ever moved. But certainly, it's the most important."
Kid gloves
The Liberty Bell is a sacred artifact in U.S. history. When it is moved, it must be handled with kid gloves. George Young Company, now a division of Mammoet, has moved many statues through the years, including Robert Indiana's LOVE statue, the "Rocky" sculpture and the 103,000-pound Anthony J. Drexel statue, among many others.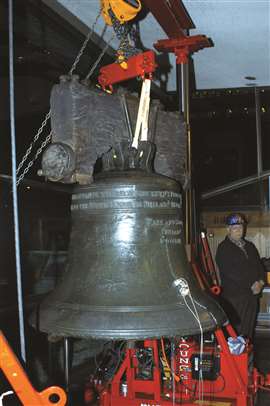 George Young Company moved the 2,080-pound Liberty Bell in 1962 and 2007. One of America's most enduring symbols of freedom, the big challenge for movers of the bell was to not damage the bell's famous crack. According to news reports, sensors were attached to the crack. Alarms would go off if the crack got bigger.
Emmert International is another company that has expertise moving rare statues and the like. Moving a 340-ton boulder on a 105-mile journey through four counties and 22 cities required years of planning. Emmert worked with WCS Permits and Pilot Cars to move the boulder from Riverside County to Los Angeles. Commonly referred to as "The Rock," the boulder was installed at the Los Angeles County Museum of Art in early 2012 for the starring role in the "Levitated Mass," a sculptural installation piece conceived by Michael Helzer.