Deutz marks 150th anniversary at Bauma China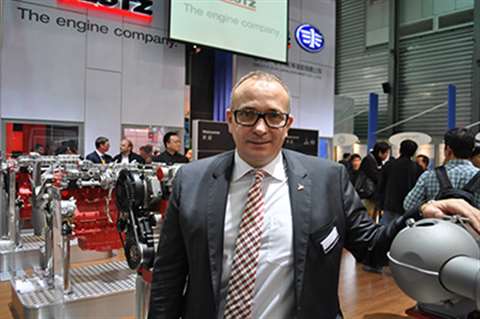 Engine manufacturer Deutz has announced its intention to expand its operations in China, as it marks its 150th anniversary.
The company's sales director Michael Wellenzohn, explained that joint ventures in the region with the FAW group had played a significant role in expanding its global presence.
While he believed there would be strong growth for the German-based firm in the medium and long-term, he explained 2015 could pose challenges, as the construction industry makes the gradual transition in Europe and the US to adopt Tier 4 standards over former Tier 3 regulations.
"Our 150th anniversary is very special for us as it makes a statement of how we have grown over the years to become a large industrial group.
"We are continuing to develop our engine technology and service networks across the world. With the complexity of systems increasing, we need to ensure that we maintain that network of support," explained the senior executive, who is also a company board of management member. He said that China held strong investment potential that would build on its existing partnerships.
Though Deutz acknowledged China is experiencing a slowdown against its previous high rates of growth, it remained a key target as the largest overall global construction market.
For Bauma China in Shanghai, the company marked its 150th milestone in introducing a range of stage III engines that meet regulations that are due to be brought in for October 2015.
Among the core products on display was the TCD 2013 L6 2V engine, which has a power output of 200kw and is used in the five-tonne wheeled loader market.
Deutz initially set up joint ventures in the region in 1998, partnering with WEICHAI Holding in Weifang in eastern China. This involved the creation of a production facility for crankcases, cylinder heads and 226-series engines for the construction sector.
Further expansion in 2006 saw a link develop with commercial vehicle manufacturing group First Automotive Works (FAW) for a major production centre in Dalian employing 2,000 people.
One of the firm's latest key areas of wider development has come with its latest Tier 4 engines - which the company said are will be easily adaptable to the next phase of Tier 5 emissions standards.
Mr Wellenzohn said, "China is important for us. In our production centres we are creating new products for the local market, working with our partners to create technology that is right for the country. We have generated 100,000 engine sales a year within China, which is a good rate of success.
"We will be focusing on three areas including products for the construction market and agriculture, for which there is growing demand. We will be looking at products for fork-lifts, aerial platforms and telehandlers – which are not so well known in China, but there will be growth for them."