Deutz saw significant uptick in 2021
By Mike Brezonick14 March 2022
Deutz, the Cologne, Germany-based supplier of engines and power systems, reported its full year financial results and said the company "can look back on a successful 2021." But continuing supply chain challenges and the ongoing Russian invasion of Ukraine could have significant impacts on current year results, the company said.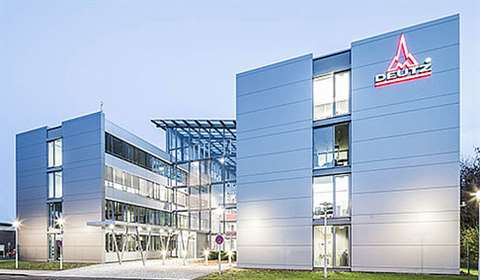 "For Deutz, 2021 was a highly successful year from both an operational and a strategic perspective," said CEO Dr. Sebastian C. Schulte. "We increased our revenue by almost 25% to €1.62 billion and improved our EBIT margin before exceptional items by around 8% points to 2.3%. The book-to-bill ratio stood at 1.24 at the end of the year.
"At the same time, we made substantial progress with transforming our business to focus more on alternative, green drive systems. Our hydrogen engine is just one example of how Deutz is positioning itself in the field of off-highway drive technologies for a sustainable future."
Deutz introduced a new Green segment on Jan. 1, 2022 that will cover all activities connected with the development and production of new non-diesel drives. The new reporting structure will be used for the first time in connection with the results for the first quarter of 2022.
In 2021, Deutz also expanded its high-margin service business – a key pillar of its growth strategy – and tailored it even more closely to the requirements of its customers. This included the launch of S-Deutz Telematics, the Lifetime Parts Warranty and Deutz Lifecycle Solutions. The company said it reached its service revenue target of around €400 million for 2021.
Double-digit increases
At €2.012.6 billion in 2021, Deutz's new orders were up by 52.2% compared with 2020, which had been heavily affected by the Coronavirus pandemic. As at Dec. 31, 2021, orders on hand stood at €676.7 million versus €269.0 million of orders on hand at the same period last year, which indicates continued growth.
With a total of 201,283 engines sold, the Deutz Group registered an increase in unit sales of 33.4% in the reporting period. The number of Deutz engines sold rose by 32.9% to 160,882, while Deutz subsidiary Torqeedo sold 40,401 electric boat drives, 35.1% more than in 2020.
Reflecting the growth in unit sales, Deutz generated consolidated revenue of €1,617.3 million in 2021. All application segments contributed to this year-on-year growth of 24.8%. Service revenue rose by 15.7% to €403.1 million. All regions contributed to the increase in revenue with double-digit percentage growth rates.
Improvement in profitability
EBIT before exceptional items (operating profit) amounted to €37.2 million in 2021, following an operating loss of €74.7 million in 2020. This improvement was primarily due to the jump in revenue, the related economies of scale, and the increasingly tangible savings resulting from the restructuring and cost-cutting measures that have been initiated. However, operating profit was once again squeezed by the loss reported by Torqeedo, which has not yet managed to break even.
Net income amounted to €38.2 million in 2021, following a net loss of €107.6 million reported in 2020.
Uncertainty in 2022
"The supply situation remains difficult, and we anticipate that the supply chain will continue to contribute to the pressure on margins," said Schulte. "Moreover, nobody can predict the economic impact of the war between Russia and Ukraine. We are therefore preparing for a challenging year."
Deutz said none of its direct suppliers are located in the Russian-Ukraine region and its direct business activities in the regions affected by the war account for a relatively small portion of revenue. But it added that the indirect impact for Deutz business is currently impossible to assess.
"We therefore have put the guidance as published in our annual report 2021 under review," the company said. "All new engine business with Russia and Belarus has been discontinued until further notice."