Develon launches new 6-tonne Stage V mini-excavators
By Catrin Jones10 May 2023
Develon has launched the new DX62R-7 and DX63-7 6 tonne Stage V mini-excavators with a new shared global styling design.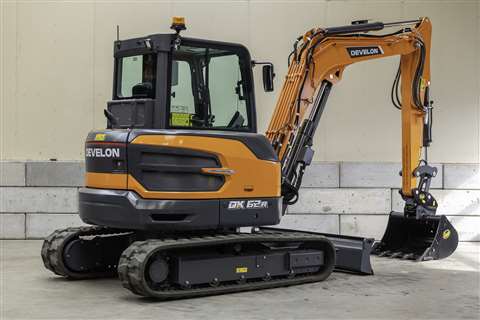 The new mini-excavators are designed to offer maximum performance, optimum stability, increased versatility, enhanced operator comfort, controllability, durability, ease of maintenance and serviceability.
Both models are powered by the new D24 Stage V compliant diesel engine providing 44.3 kW (59.4 HP) of power. Develon says that despite offering an 8% increased torque of 26.5 kgm/rpm, the D24 engine still provides a 7% decrease in engine fuel consumption.
Moreover, the DX62R-7 and DX63-7 employ a Load Sensing System that operates on a new Main Control Valve. The mechanism enables a longer spool stroke, thereby enhancing controllability and work efficiency/performance in comparison to the previous models. 
Both machines provide an auxiliary flow of 90 litres per minute, which improves the efficiency of work with attachments. The flow capacity can be easily monitored on the Develon Smart 8-inch touch screen in 10 increments and can be controlled using the thumbwheel located on the joystick.
The new cab on the DX62R-7 and DX63-7 features a full glass entry door to maximise operator visibility on this side of the machine from inside the cab. A rear-view camera is optional and the high luminance LED work lamps (which are standard) on the cab further enhance visibility and safety. 
The mini-excavators include the latest Develon Fleet Management TMS 3.0 Cellular system installed as standard, which provides a telematics management system for the excavators, by collecting data from sensors on the machines.