Dieci's record journey
By Sandy Guthrie15 April 2014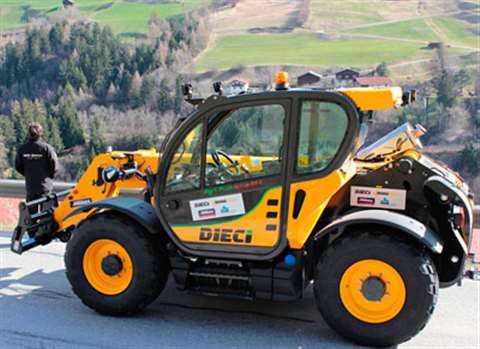 Italian telescopic handler specialist Dieci is claiming a Guinness World Record for the longest journey made by a telescopic lift – 878km from Dieci's factory in Montecchio, Italy, to Humpolec in the Czech Republic.
Dieci and its Czech importer, Manatech CZ, selected an Agri Plus 40.7 VS EVO2 machine for the trip.
Miloš Lesina, owner of Manatech CZ, drove the Agri Plus, alternating with Miroslav Apron and František Fiala, for 36 hours, 32 minutes and 5 seconds. There were five stopovers, and daily distances varied from 140 to 160km. Four countries were crossed – Italy, Austria, Germany and the Czech Republic.
The machine was equipped with standard equipment. Dieci said the most challenging stretches of the route – the Brenner Pass and the Alps – proved to be no problem in terms of comfort and reliability. The telehandler has a Stage IIIB/Tier 4 interim engine and combined Dieci Vario System EVO 2 transmission with continuous speed variation.
It claimed this allowed fuel savings of more than 20% compared to traditional hydrostatic transmissions, with continuous speed variations and without the need to change gears.
Dieci said the combination of the gearbox with two hydrostatic engines made a wide range of applications possible. The second engine can be disconnected at high speeds and re-connected when the wheels require high torque.
Some stages were completed faster than expected, and the total fuel consumption was said to be only 379 litres of diesel.
For every km covered, €1 was donated to the Tango Havlíčkův Brod, a Czech Association which assists people with disabilities.