Diesel Progress Award winners announced in Louisville
By Murray Pollok01 October 2019
Seven engine manufacturers and distributors were the winners at the inaugural Diesel Progress Awards held in Louisville, Kentucky on September 30 before an audience of 200 industry professionals.
Caterpillar and Kohler won the two engine of the year categories; Hatz came top in the achievement of the year category; while Volvo Penta was named employer of the year.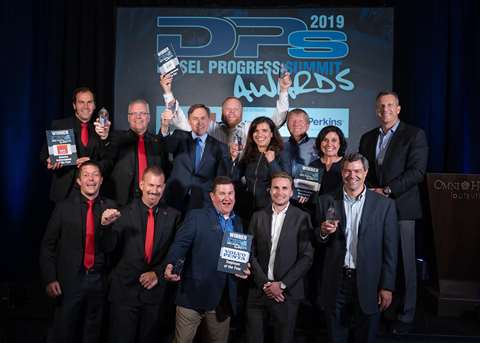 Briggs & Stratton won the electrification newsmaker of the year award, while John Deere was named as electrification application of the year for its hybrid wheeled loaders. Anderson Industrial Engines took away the engine distributor of the year award.
The awards were announced by host Mike Osenga, Editor of Diesel Progress awards, at the ceremony in Louisville following the first Diesel Progress conference.
A delighted Bernd Krüper, CEO of Hatz, paid tribute to his team and said the award proved that smaller manufacturers were capable of innovative developments in engine technology.
The list of winners, and the judges comments, were:
Achievement of the year: Hatz (for E1 electronic control and new level of technology in single-cylinder diesel engines)
The judges said: "Quite simply, Hatz is providing Internet of Things connectivity for small engines. A ground-breaking innovation."
Engine of the year > 175 hp: Caterpillar (3512E engine with dynamic gas blending)
The judges said: "There are lots of aftermarket systems that allow you to use gaseous fuel to offset your diesel fuel cost, but this is the first factory installed system with guaranteed results and emissions. And it cuts greenhouse gas emissions by burning otherwise wasted flare gases."
Engine of the year < 175 hp: Kohler (K-HEM energy modules)
The judges said: "Kohler is pioneering the move in this power sector from pure diesel into the world of electrification with their hybridised K-HEM 1003 and 2504 units."
Employer of the year: Volvo Penta of the Americas
The judges said: "It was clear that Volvo Penta thinks hard about how to attract and keep its workforce. It looks like a great place to work!"
Electrification newsmaker of the year: Briggs & Stratton's Vanguard and Argo (joint development of battery-powered autonomous vehicle)
The judges said: "Briggs & Stratton and Argo are to be congratulated for a very innovative development of an electric unmanned ground vehicle using one of the first serviceable, scaleable batteries in the industry."
Electrification application of the year: John Deere (for 644K & 944K wheeled loaders)
The judges said: "This is an actual production application of a core product – wheeled loaders - with millions of hours of successful operation and demonstrated tangible benefits."
Engine distributor of the year: Anderson Industrial Engines
The judges said: "It is clear that Anderson Industrial approaches everything it does in an extremely professional way. Underscoring that is its impressive sales growth in 2018."
More details to follow in Diesel Progress magazine.