Digital construction must be a priority
On 21 November, under the framework of the European Forum for Manufacturing (efa), ERA participated in a dinner debate hosted by CECE at the European Parliament on the subject 'Digitising Construction Machinery: The Role of Research Funding and Regulation'.
The event, chaired by MEP Paul Rübig, a member of the Industry Committee, brought together a unique blend of representatives from the European Parliament, European Commission, CECE members, trade press and other European industry associations.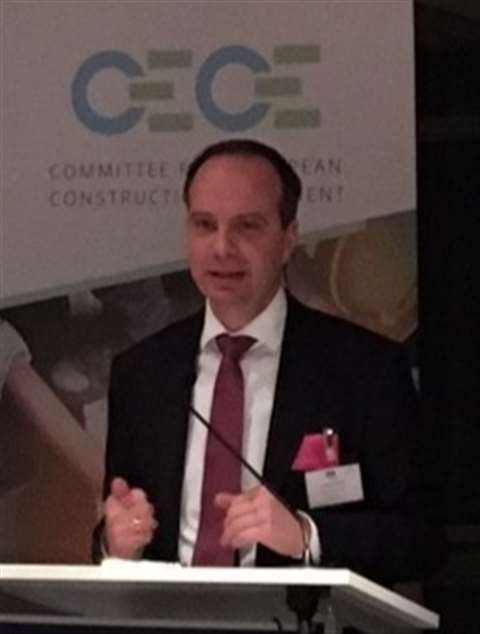 The main themes of the event were the financing of the digital transformation of the construction industry, and the e-privacy regulation as a potential obstacle to digital machines.
Martin Sebestyen, Fleet Manager of Zeppelin Rental and Chair of ERA's Technical Committee, was invited to talk on this second topic and emphasised that digital machines are essential to the construction business and should not be hindered by regulation.
He raised, for example, the issue of machines becoming more intelligent and the need to train operators to use them in the right way. Digitisation makes it possible to organise training in a more efficient way, and with data enabling the analysis of machine usage. Fuel consumption can also be significantly reduced by operating the machines at their maximum potential.
BIM (Building Information Modelling) will help organise construction sites in a more efficient way. Machine-to-machine communication is necessary to plan construction sites and to schedule and monitor the workflow of all the organisations working on a site.
Mr Sebestyen mentioned also the impact of digitised machines on the reduction of theft and on the automatic recognition of attachments such as buckets.
You can find more information about this event on the CECE website, https://www.cece.eu/news/digitising-construction-industry-must-be-a-priority-of-horizon-europe
If you are interested in getting more information about ERA, please do not hesitate to contact the ERA Secretariat, at era@erarental.org